The story of the brilliant artist as raging egomaniac is an appealing one, probably because it allows us to see our worst character traits as somehow contributing to something creative in the world. Playwright Bruce Graham apparently wants to redeem the legendary Walt Disney from the most cynical biographical rumors about him: Allegedly, he was an exploiter of workers, a womanizer, an anti-Semite, and an equal-opportunity bigot.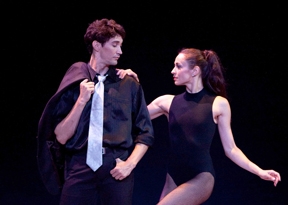 Circle Theatre's Southwest premiere of Graham's show Something Intangible –– directed by Matthew Gray with whirling energy and an appreciation for the profundity of small moments –– offers a bracing, lightly fictionalized character study of Walt and his business partner-brother Roy as they struggle through the making of Fantasia.
Set in the early 1940s, the play follows Walt stand-in Tony (Chamblee Ferguson) just after the success of his studio's first animated feature, The Ugly Duckling. A workaholic with an affection for booze and speed, Tony is both indebted to and overshadowed by his own canine cartoon creation named "Peetie Pup" –– Tony is as protective of the little animated doggie as he is eager to transcend the character professionally. Tony's mild-mannered but sharp-witted accountant brother Dale (a tightly coiled Regan Adair) is determined to keep the family 'toon business in the black while maintaining some semblance of domestic stability with his wife and mentally challenged young son.
Soon, however, the restless Tony discovers his chance at artistic credibility. After attending a live performance of the 1812 Overture conducted by the renowned Austrian composer Gustav Von Meyerhoff (Dennis Maher), Tony begins to pour all of his obsessive-compulsive energy into Grandioso, an experimental feature film that will combine animation and classical music. His young protégé Leo (Daniel Fredrick) quietly bears the pioneering animator's extreme abuse and exploitation while working on the project, but a fed-up Dale is finally driven to Hollywood psychiatrist Sonia Feldman (Nancy Sherrard) to sort out his frustrations with Tony.
Circle Theatre's Something Intangible moves along at an urgent clip, providing its supporting actors ample moments to distinguish themselves. Sherrard is unexpectedly poignant as a "psychoanalyst to the stars," a candy-loving movie fan and shrink who's thrilled to consult on a film project where Ingrid Bergman will play a heroic female psychiatrist. (That's a reference, of course, to Hitchcock's thriller Spellbound.) Maher drips condescension and overfed arrogance as the critically adored conductor whose appreciation for the common man has its limits.
There are moments, though, when the show nearly runs off the tracks due to Ferguson's volcanic performance as Tony. Ferguson is a veteran North Texas actor blessed with tons of bright-eyed charm, but he doesn't always find the delicate line between comedy and pathos that the playwright impressively establishes in the opening scenes. He shouts, shudders, and gestures wildly to defend his character's artistic vision, and the spectacle periodically overflows Circle Theatre's small basement space. At one point when he collapsed on the stage sobbing in a fetal position, a couple of audience members laughed uncomfortably because it wasn't clear whether the display was meant to be tragic or comical. I won't say Ferguson irreparably damaged Something Intangible, but he came so close to making the Tony character intolerable that it occurred to me: If Walt Disney was half this tyrannical during the making of something as disposable as Fantasia, no wonder disgruntled ex-employees referred to Disney Studios as Mauschwitz.
Something Intangible
7:30pm Thu, 8pm Fri, 3 & 8pm Sat thru July 24 at Circle Theatre, 230 W 4th St, FW. $20-30. 817-877-3040.
MCB: Alive and Kicking
For people wondering whether or not Metropolitan Classical Ballet can weather the current economic climate and do more than put on an annual Nutcracker at Christmastime, the answer seems to be yes. A mixed repertory program at Texas Hall on the University of Texas at Arlington campus last weekend showed the group to be alive and kicking.
Certainly the revival of co-artistic director Paul Mejia's Brahms Waltzes, which opened the program, was as fine as anything I've seen the company do. Based on the 16 waltzes from the composer's Op. 39, Brahms Waltzes was a seamless succession of short ballets. Various combinations of dancers followed the music's ebb and flow, and Vilia Putrius and Mindaugas Bauzys, returning principals from previous seasons, offered some rapturous dancing in back-to-back adagio sequences. The dancers were assisted by pianist Gleb Ivanov's sensitive acoustic accompaniment, played from memory, offering a gentle, personal look at these wonderful little gems.
The two dancers were also featured in Mejia's sensuous Café Victoria, set to Argentine composer Astor Piazzolla's tango music, revealing another facet of the dancers' personalities: a smoldering intensity that lit up the hall. Accompaniment, electronically amplified and performed by Ivanov, Eric Grossman on violin, and Hector Tito Castro on bandoneón (an Argentine version of the concertino, a member of the accordion family), gave the proceedings more bite.
Mejia also staged a new pas de deux, Valse-Scherzo, using the Tchaikovsky music for piano and violin, for longtime company principals Marina Goshko and Andrey Prikhodko. While they worked diligently to bring it to life, the piece seemed to consist of one familiar dance move after another that showed off the dancers' skills without going anywhere.
The evening's most ambitious project was co-artistic director Alexander Vetrov's staging of Leonid Lavrovsky's Walpurgis Night, a Soviet-era Bolshoi blockbuster from the 1940s set to the bacchanal music of Gounod's opera Faust and boasting all the leaps, turns, and impossible lifts of the style. Here, MCB's budget restraints were evident. The 14 dancers gave high-octane performances, but the piece looked under-rehearsed and wouldn't hang together. The lighting also was pretty bare bones, not adding much atmosphere. Guest dancer Evgeny Lushkin was competent and secure in his solos, if devoid of enthusiasm. The bright spot was former company member Maiko Abe. I recalled her as pretty and placid. Imagine my surprise, then, when she appeared and took command of the stage, a dynamo of energy in crimson, like some primal forest creature. The transformation was remarkable.
It was good to see MCB back in action and healthy after a six-month absence. Even when things didn't go as planned, the dancing was excellent. If a costly Bass Hall season isn't in the works anytime soon, Arlington will do just fine. –– Leonard Eureka