On paper, Scott Pilgrim vs. the World looks like a dream pairing. Edgar Wright is the British filmmaker who proved his comic genius with Shaun of the Dead and Hot Fuzz, demented mash-ups of disparate genres. Now he's adapting Bryan Lee O'Malley's series of graphic novels, which are mash-ups themselves. On one hand, the books are a delicate study of a young Toronto musician learning how to survive on his own and negotiate relationships.


At the same time, they're also manga comics with fight sequences inspired by old-school video games. When Scott vanquishes his enemies, their bodies disappear, leaving behind coins, power-ups, and extra lives, and at one point he has to win a dance-off against a bad guy and his army of flying hipster demon girls.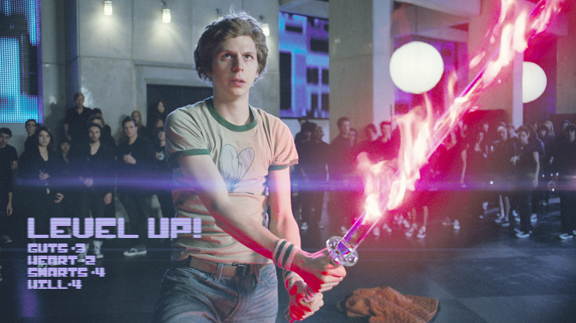 See now, one group of moviegoers just read that last sentence and thought, "Oh, please." Another group read that same sentence and thought, "Yes, please!" I'd be in that second group, which is one reason I went into this movie thinking it might be the greatest thing ever. It's not, but it's still a compelling piece of work.
Michael Cera stars as the titular Scott, a 22-year-old bass player for a three-piece hard-rock outfit called Sex Bob-Omb. Unemployed and living off the charity and mattress of his horny gay roommate Wallace (Kieran Culkin), Scott falls hard for Ramona Flowers (Mary Elizabeth Winstead), a purple-haired package delivery girl who has fled New York City trying to put her past behind her. That past comes back with a vengeance, though, in the form of her seven evil exes. They're in league to keep Ramona from finding love, and Scott must defeat them all in combat to win her. No easy task, since the exes all have superpowers and are hipper and more successful than Scott, despite each one being douchier than the last.
This is Wright's first adaptation of someone else's work and his first movie without co-writer/star Simon Pegg. While he clearly needed a collaborator with a handle on the North American idiom, there are flaws here that Wright's original comedies didn't have. The movie flattens out O'Malley's universe of fully realized peripheral characters, particularly the subplot with Scott unceremoniously dumping his high-school student girlfriend Knives Chau (Ellen Wong) after meeting Ramona. O'Malley uses Scott's battles as an extended metaphor for the way our exes — whether they're yours or the other person's — can be obstacles in our current relationships, but Wright is too busy adding video-game touches to keep sight of this. The ending is botched, with Wright failing to find the right balance between action and character development. Ramona is reduced to a passive observer, pretty much the opposite of how the books play out.
In squeezing six graphic novels' worth of story into 112 minutes, Wright loses the easygoing rhythm that, in the books, mirrors Scott's life. The film is frenetic, with Wright using his trademark violent smash cuts often enough to make Hot Fuzz and Shaun of the Dead look sedate by comparison. The parody techniques run riot. One scene is accompanied by a Seinfeld-style laugh track (replete with the famous synth-bass riff), while the very next one is edited to resemble a slasher-flick murder. All these tricks are done well, but they come so quickly and indiscriminately that the movie is exhausting.
For all that, the director's flair for both comedy and action is everywhere in evidence. The spectacular fight sequences (by relative newcomer Zhang Peng, who also choreographed the fights in Kick-Ass) include a Jackie Chan-inspired bit in which Ramona manipulates Scott like a marionette so he can fight off her ex-girlfriend (Mae Whitman) after he protests, "I can't hit a girl!" The stunt performers do the heavy lifting, but much of the martial-arts action involves actors you wouldn't associate with kicking ass, like Cera and Jason Schwartzman as the boss-level bad guy. The special effects pump things up at the right moments, such as in a battle of the bands when Sex Bob-Omb's music conjures a giant gorilla to fight off two dragons spawned by Ramona's twin Japanese DJ exes (Keita and Shota Saito).
Many of the gags here are O'Malley's, but Wright's own comic material scores too. Trying to find Ramona, Scott draws a doodle that's barely recognizable as a human head, yet everyone immediately identifies it as a likeness of her. The young cast overacts to specific comic effect, with the women in fine form (Alison Pill as Sex Bob-Omb's sarcastic drummer, Anna Kendrick as Scott's sister, and Aubrey Plaza as a bitchy mutual friend) and Winstead somehow delivering an understated performance as a bohemian girl saddened by all the pain that she's caused. The music is fantastic, with Sex Bob-Omb's original songs written by Beck and performed by the actors onscreen, while rival bands' music is provided by Metric and Broken Social Scene. Frustrating and ferociously mannered though it is, Scott Pilgrim vs. the World is funny and unlike anything else in the multiplexes, and it's worth seeing for its sheer uniqueness. Like I said, flying demon hipster chicks.
Scott Pilgrim vs. the World
Starring Michael Cera and Mary Elizabeth Winstead. Directed by Edgar Wright. Written by Michael Bacall and Edgar Wright, based on Bryan Lee O'Malley's comic series. Rated PG-13.