In the summer of 2001, I made my initial foray into the bar biz at a New Orleans-themed "tavern and daiquiri bar" or, if you prefer (and I do), "a daiquiria." For about six months, I worked the door, a thankless task in which I had to put up with arrogant, underage TCU football players and petulant, underage TCU sorority girls. Fat Harry's signature beverage was a jet-fueled daiquiri called the Orange Blitz.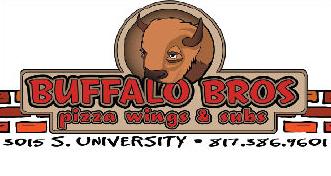 Two of these alcoholic slurpies were enough to get you hammered, and at $4 a pop, nobody bought fewer than three. Needless to say, I mopped up a lot of orange puke. In January of 2002, I got promoted to bartender, and we added Bud Ice to the draft selection, $3 by the pitcher. The other bartenders and I had a lot of fun there. For that whole spring semester and on through the summer, everybody involved got bargain-hammered, and we all made a lot of money. The fall rolled around, and I got fired.
I won't go into the details, but my termination boiled down to giving away a pitcher of Bud Ice. I never went back, not even when the owner sold the place and it became a Texadelphia. For whatever reason, Texadelphia bombed, and the "space for lease" sign went up again. Then came Buffalo Bros.