In the summer of 2001, I made my initial foray into the bar biz at a New Orleans-themed "tavern and daiquiri bar" or, if you prefer (and I do), "a daiquiria." For about six months, I worked the door, a thankless task in which I had to put up with arrogant, underage TCU football players and petulant, underage TCU sorority girls. Fat Harry's signature beverage was a jet-fueled daiquiri called the Orange Blitz.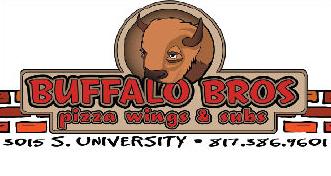 Two of these alcoholic slurpies were enough to get you hammered, and at $4 a pop, nobody bought fewer than three. Needless to say, I mopped up a lot of orange puke. In January of 2002, I got promoted to bartender, and we added Bud Ice to the draft selection, $3 by the pitcher. The other bartenders and I had a lot of fun there. For that whole spring semester and on through the summer, everybody involved got bargain-hammered, and we all made a lot of money. The fall rolled around, and I got fired.
I won't go into the details, but my termination boiled down to giving away a pitcher of Bud Ice. I never went back, not even when the owner sold the place and it became a Texadelphia. For whatever reason, Texadelphia bombed, and the "space for lease" sign went up again. Then came Buffalo Bros.
As you have probably guessed or heard, Buffalo Bros. serves buffalo wings as well as subs and pizzas. The place also serves beer and liquor. I'm not a huge fan of wings, but I certainly like alcohol, so I've popped in a few times for a beer and some fries. A couple of weeks ago, I went up there around 11 p.m. to hang out with some friends, and as I perused the shelf-booze, the beer taps, and the row of margarita machines, it occurred to me that Buffalo Bros. is at least as good a bar as it is a wing spot. (And according to a wing connoisseur I know, Buffalo Bros.' wings are among the best in town.)
As a bar, Buffalo Bros. obviously caters to the college crowd, and its bank of flat-screens perpetually tuned to ESPN qualifies the place as a sports bar. But I still really like it. The staff is among the friendliest in town, which goes a lot further with me than anything else. Every time I've been there, I've had a lot of fun. In fact, Buffalo Bros.' inaugural Wingstock event was a pretty rad afternoon. Held in the spring, long before the triple-digit misery of the past three months, Wingstock featured cheap beer, cheap wings, and a roster of Fort Worth musicians playing on the patio. Since Wingstock, Buffalo Bros. has had a steady stream of local talent performing indoors, including Dave Matsler (Quaker City Nighthawks), Taylor Craig Mills, and Keepin' It Real's Ben Napier. Is Buffalo Bros. a full-on venue? Not quite, but it does a great job of exposing TCU kids to local music. And of course, more importantly, Buffalo Bros. has great specials. During happy hour, domestic pints are $1.50, wells are $3, and wings are 50 cents, and on Thursdays frozen drinks are half-priced.
Fat Harry's had a certain wheels-off appeal that I usually appreciate, but it's nice to see that its descendant is more than just a place for overdressed college kids to get plowed and surly. Buffalo Bros.' prices, ambience, and employees combine to form a neighborhood bar that welcomes everyone. I don't know if everyone knows your name there, but I can bet they'll do their best to learn it the next time you come in. — Steve Steward
Contact Last Call at lastcall@fwweekly.com.