Pizza crust can inspire as much debate as barbecue sauce or fried chicken. Regional geography plays a critical role in crust preference: Specifically, do you prefer thin, New York-style fold-over crust or the deep-dish Chicago version? Without arguing the relative merits of either, there's something almost comforting in tucking into a Chicago-style pie. And that's what the Celio family was counting on when they opened their eponymous restaurant in a small strip mall in Keller earlier this year.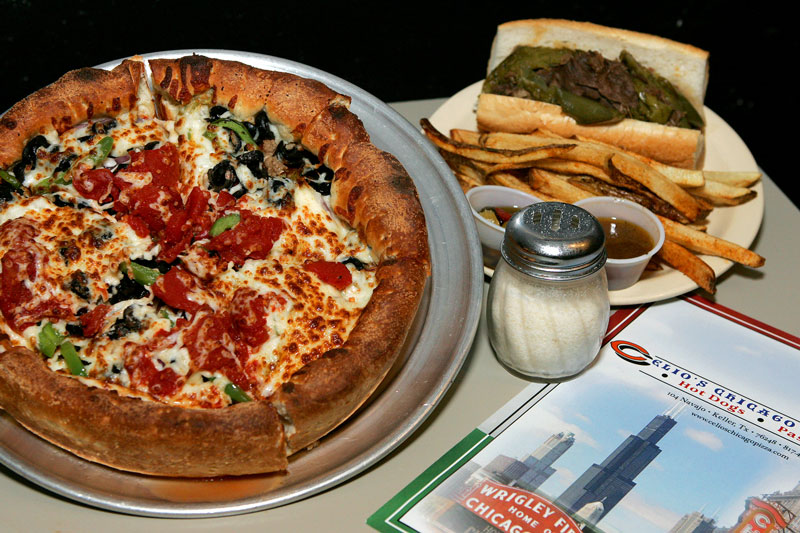 From the outside, Celio's could politely be described as "humble." Half of the space is occupied by a bar, replete with neon signage, big-screen televisions, pool tables, and signs for weeknight karaoke. The restaurant half isn't particularly fancy: The cheerily painted walls, meant to look like the Italian countryside, clash a little with memorabilia from Windy City athletic teams –– a nod to the owners' Chicago heritage. White butcher paper covers the tables at this extremely family-friendly restaurant; kids are handed crayons because drawing on the tables serves as a much-needed distraction. All the food is prepared fresh to order, which takes a little longer than getting a pre-made pizza at a chain place.
We started with a new appetizer, the sweet potato tots. The little gnocchi-shaped nuggets of chopped, smooshed sweet potato come with your choice of savory spice or cinnamon and sugar flavoring. The cinnamon-crunchy sweet goodness was a decadent way to start the meal –– good enough to be dessert.
Celio's offers thin and Chicago-style pizza crust. The thin crust is hand-stretched and is more poufy than flat and crispy, and the cheese version was better than that of most chain pizzerias — a nice balance of simple marinara and wonderfully oozy mozzarella, on top of slightly yeasty, fluffy crust. The Chicago-style pie was absolutely perfect: just a little gooey in the middle and flawlessly crispy at the edges with a light, vaguely buttery flavor. The crust is so good it almost doesn't matter what tops it. Fortunately, at Celio's, most of the toppings are fresh. All of the Chicago-style pizzas come topped with crushed tomatoes bathed in a little garlic instead of the traditional smooth marinara. The veggie version also featured peppers, black olives, red onion, and, unfortunately, canned (not fresh) mushrooms. But that was the only misstep with this chunky, chewy, almost excessively generous pie.
Sandwiches and entrées are also available, and, pleasantly, they all come with your choice of a small house salad or fries. The "traditional" Chicago hot dog is a beef frank boiled in garlic broth and served on a giant poppy-seed bun with onions, sweet pickle relish, tomatoes, spicy peppers, and a dill pickle wedge. The hot dog was pleasant and savory, but the amalgamation of toppings confused the non-Chicago taste buds at our table. The Philly-style beef and cheese sub was the only real disappointment of the meal. The hoagie roll was impressive: the perfect mix of crunchy top and gooey bottom, as the roll soaked up the juices. Unfortunately, the meat had too much black pepper seasoning, the onions weren't actually grilled, and there just wasn't enough cheese on the thing.
But that was a small flaw in the overall experience. The service was exceptional the night we visited. Our server made great recommendations and came back often to be sure we were happy. For a restaurant barely six months old, Celio's appears to have a nice group of regulars, as evidenced by both the volume of take-out orders and the number of folks in the dining room. Co-owner Michelle Celio may be one of the reasons: The friendly Chicago transplant makes her way through the dining room often, welcoming new diners and calling the repeat customers by name. Celio's is unusual: a family-owned, family-friendly joint, part sports bar, part pizzeria, and all homey.
Celio's Chicago Style Pizza
104 Navajo Dr, Keller 817-431-6400. 11am-9pm Sun, 4-9pm Mon-Thu, 4-10pm Fri, 11am-10pm Sat. All major credit cards accepted.
Sweet potato tots $1.99
Chicago-style hot dog $3.99
Chicago-style 10-inch veggie pizza $11.99
Philly sub sandwich $5.99