Pizza crust can inspire as much debate as barbecue sauce or fried chicken. Regional geography plays a critical role in crust preference: Specifically, do you prefer thin, New York-style fold-over crust or the deep-dish Chicago version? Without arguing the relative merits of either, there's something almost comforting in tucking into a Chicago-style pie. And that's what the Celio family was counting on when they opened their eponymous restaurant in a small strip mall in Keller earlier this year.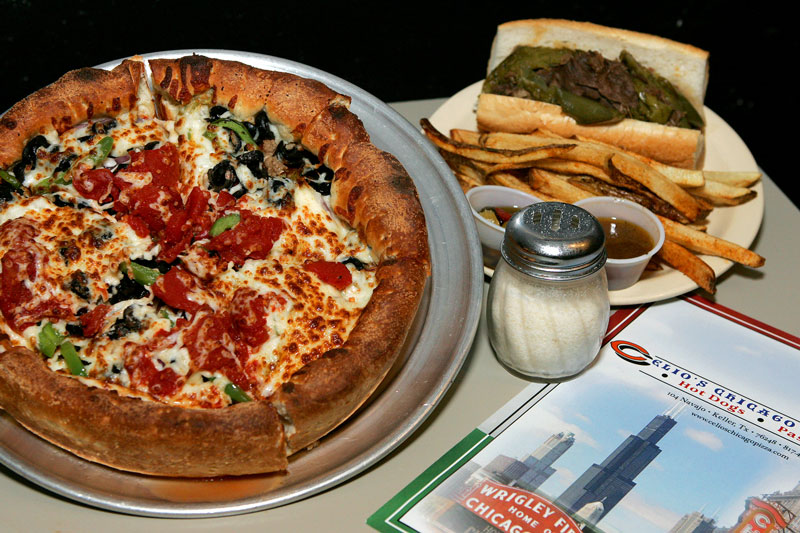 From the outside, Celio's could politely be described as "humble." Half of the space is occupied by a bar, replete with neon signage, big-screen televisions, pool tables, and signs for weeknight karaoke. The restaurant half isn't particularly fancy: The cheerily painted walls, meant to look like the Italian countryside, clash a little with memorabilia from Windy City athletic teams –– a nod to the owners' Chicago heritage. White butcher paper covers the tables at this extremely family-friendly restaurant; kids are handed crayons because drawing on the tables serves as a much-needed distraction. All the food is prepared fresh to order, which takes a little longer than getting a pre-made pizza at a chain place.
We started with a new appetizer, the sweet potato tots. The little gnocchi-shaped nuggets of chopped, smooshed sweet potato come with your choice of savory spice or cinnamon and sugar flavoring. The cinnamon-crunchy sweet goodness was a decadent way to start the meal –– good enough to be dessert.