People don't usually think of graphic novels as a medium for delicate literary satire, but that's what Posy Simmonds accomplished when she wrote Tamara Drewe, which has now been turned into a dense and funny comedy film. It takes place at a writers' retreat in the English countryside run by a wealthy, serially adulterous detective novelist (Roger Allam) and his long-suffering wife (Tamsin Greig).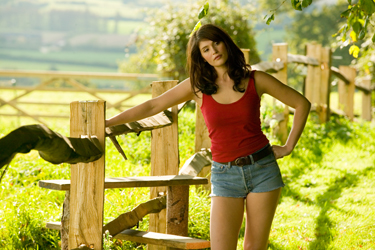 The place is thrown into chaos by the arrival of Tamara (Gemma Arterton), a hot young local girl turned London gossip columnist who has inherited the farm down the road and is looking to prep it for sale. Even more upheaval ensues when two bored local schoolgirls (Jessica Barden and Charlotte Christie) hack Tamara's e-mail and majorly screw up everybody's love lives.
Director Stephen Frears knows how to play this all for fizzy farce. The movie notably gives Arterton (best known for serving as eye candy in Quantum of Solace and Prince of Persia) a chance to prove that she can actually act a fair bit. However, the movie also has deliciously literate dialogue and layered characterizations that contain withering portrayals of writers' tics and pretensions. The girls are great comic creations, too, inflating the romantic comings and goings of these literati and glitterati with their own luridly melodramatic imaginations, before helping bring about some soap-opera twists of their own. This hugely enjoyable romp plays at the Modern this weekend.
Tamara Drewe plays Fri-Sun at Modern Art Museum of Fort Worth, 3200 Darnell St, FW. Tickets are $6.50-8.50. Call 817-738-9215.