Gary Patterson looked deflated during the press conference following Texas Christian University's final home game of 2010. "I guess I should just cheer up," he said. "We'll move on."

His wasn't the demeanor you'd expect from a head football coach whose team was one game away from a second consecutive year of being undefeated in regular-season play. TCU had just beaten San Diego State, with a hard-fought 40-35 final score, despite injuries to key players.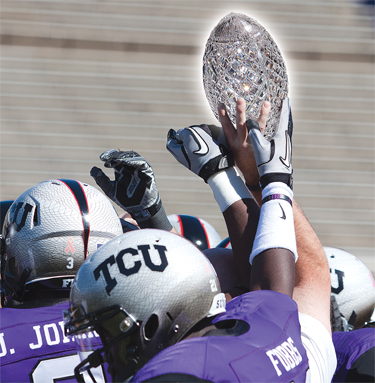 In fact, his team is nearing the end of another Cinderella season. His players had run onto the field that day to the cheers of a sellout crowd, with roses and hugs for his 26 seniors. To commemorate the last game to be played at historic Amon G. Carter Stadium before the start of a $105 million renovation, a thousand former players from eight decades of TCU football had marched onto the field at halftime, to give the Horned Frogs an enthusiastic welcome back for the second half. The team's defense is tops in the nation. Quarterback Andy Dalton was even on the cover of Sports Illustrated that week.
That cover story, by Dan Wetzel and Austin Murphy, was a clue to Patterson's glum remarks at the press conference. The story was a scathing report on the financial dealings of the Bowl Championship Series, the set of bowl games put on by a consortium of the country's top football conferences. It purports to match the country's best two teams in a national championship game.
The system was set up to provide an actual on-the-field championship game rather than have No. 1. bragging rights decided every year by wire service rankings. But since it started in 1998, the BCS has become one of the most cussed-at trios of letters in the world of sports. In effect, its detractors charge, the BCS has devolved into a cartel that controls entry to all the most important bowl games, gives unfair preference to teams in certain conferences, makes it almost impossible for teams from "outsider" conferences to make it to the championship game, and along the way has vacuumed up far too much money for bowl games while exacerbating the growing financial difficulties of college athletic departments across the country. The Associated Press, which has published a Top 25 ballot for decades, pulled out of the flawed BCS system in 2005. It didn't work, AP directors said.
The BCS controversy has just about reached a fever pitch, and TCU is right in the middle of it. Because, for the second year in a row, it looks like TCU might have an undefeated season with wins over some formidable foes — and still not get invited to the championship game, or perhaps any BCS bowl game.
Which explains why the win over San Diego State had left Patterson grumpy. The game was expected to be much more one-sided in TCU's favor, and the coach, like many other observers, knew that the close outcome could cost the Frogs points in the rankings — maybe even jeopardize its shot at a BCS game. It's not a situation that could happen in any other college sport.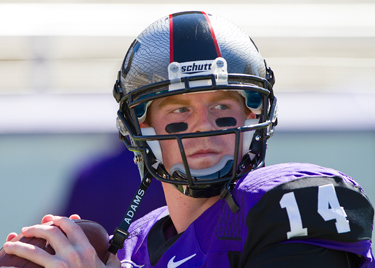 After having to beg people to pay attention to his team in 2006, Patterson, in his 10th year as head coach at TCU, now can turn on ESPN and hear a constant stream of discussion about his team, almost all of it positive. He spent last weekend making the rounds of ESPN's talk shows, calmly explaining why his team deserves a chance. He has taken a TCU program that was mediocre or worse for five decades and turned it into a perennial top-10 contender. And yet his team's ultimate fate remains in the control of BCS polls and computer rankings. The NCAA refuses to crown an official champion in college football.
"It's unfair the BCS does not allow the team to settle it on the field," Wetzel, told Fort Worth Weekly. He co-wrote Death to the BCS, a book that could end up revolutionizing college football. "TCU could win all its games and not be champion because they are not in the right conference, the stadium is not big enough, or [because] of how they were five years ago or even 15 years ago. It's not based on points in a 60-minute football game," he said.
Two weeks remain in the 2010 college football season, and a lot can still happen. TCU could possibly slip up against 1-10 New Mexico on Saturday. TCU's BCS title competitors — Oregon, Auburn, and Boise State — all have tough games remaining.
If the Frogs end up with a perfect record and no shot at a title again, TCU's legion of fans may explode. And perhaps their combined fury would then play a role in changing the system that has frustrated them for so long.
Gary and Peggy Lewis have been tailgating at Frog games since about 1980. Peggy graduated from TCU in 1966, her mom in 1938, and her son in 1990. Her husband is a University of North Texas grad, but he is such a loyal TCU fan that he painted his pickup truck purple and adorned its doors with decals of the school's horned frog mascot.
Tailgating is a family affair as well — the Lewises' son and daughter, grandchildren, aunts and uncles and cousins, along with friends from their 30 years in the parking lot, all congregate to drink beer, eat chopped barbecue sandwiches, and sample from tables full of chips and dips.
The Lewis entourage has been through the good times and bad of TCU football. And it's that historic perspective that gets Peggy Lewis hot when she talks about the Frogs' chances of playing for a national title.
The college football pundits "keep saying we don't play a good schedule, but no one wants to play us anymore because it could hurt their BCS ranking if we win," she said. "The University of Texas won't play us anymore, and getting non-conference games with other Big 12 schools is very difficult. We play our schedule and go undefeated or win at least 10 games every year."
The Frogs had hoped for a spot in the championship game last year as well, but ended up instead in the Fiesta Bowl with a disappointing loss to Boise State. This year, with two top-10 finishes behind it, the Frogs started at number six in the polls. And fans responded: The school broke an all-time attendance record in 2010, with an average crowd of more than 42,000.
---
Led by Dalton, currently college football's winningest active quarterback, the Frogs have an impressive offensive line, outclassed only by its defensive unit — TCU is on pace to be the only program in the history of college football to field the top-ranked defense for three consecutive years. If opponents get past the big Frogs upfront, they're usually silenced by linebackers Tank Carder and Tanner Brock. Other teams' receivers have had such problems shaking cornerback Jason Teague that their quarterbacks seldom throw on Teague's side of the field.
Sophomore running back Ed Wesley has emerged as the leader of a talented pack of runners. Injured twice during the season, he wasted little time getting back in the game. He's the first Horned Frog to appear on the Doak Walker semifinalist list since LaDainian Tomlinson won the award in 2000.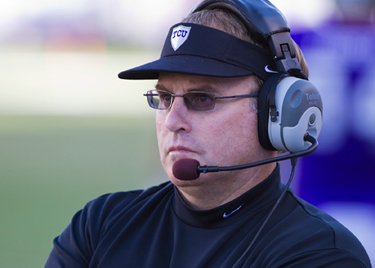 BCS championship game or no, it's been a wonderful ride for TCU fans — and a long time coming.
"It's amazing what they have done," Wetzel said of the Frog football program.
Until the last couple of years, Patterson and his staff usually didn't have their pick of top high school players. But the TCU coaches have made the most of their recruiting classes turning two- and three-star players into a positive, driving force behind the program. Five-star players often tend to be prima donnas, sometimes relying more on talent than hard work. High school coaches who identify kids with a good work ethic and positive attitude know to recommend such players to Patterson's crew, who can work wonders with motivated players.
Consider senior wide receiver Bart Johnson. An all-state cornerback and all-district wide receiver at Brownwood High School, he's neither the biggest (6', 195 lbs.), nor the fastest guy on the field (that would be receiver Skye Dawson). Johnson got good grades in high school and was known as a team leader. But even with his long list of positive qualities, he only received offers from two schools — Abilene Christian and a little non-football power known as Harvard.
The TCU coaches didn't have any more scholarships available in 2006 but invited Johnson to be a "preferred walk-on," meaning he could participate in pre-season workouts and have a decent chance to make the team.
"I decided to come in as a walk-on because I wanted to stay in Texas, and I was impressed with the school's academics," Johnson said. From the beginning, he said, he was treated the same as the players who had full rides. "At some schools, I've heard they keep the lesser-regarded players separate from the big stars, catering to their egos," Johnson said. "Coach Patterson never lets that happen here. Maybe it is because he was a walk-on at Kansas State."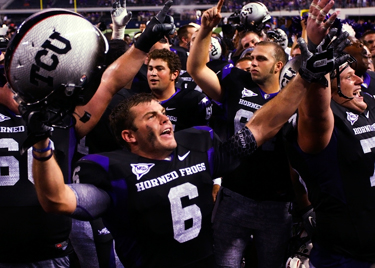 Johnson is now a key contributor on offense, having caught a pass in 33 straight games. More importantly, he will graduate in December with a degree in marketing and plans to go to law school next fall.
Now things are changing. "They are starting to make a name for themselves all over the country, and it is a little easier to recruit the main names," said Fred Herzer, who contributes heavily to the killerfrogs.com web site, which closely follows TCU football recruiting.
A perfect example of TCU's new reputation in recruiting battles is Los Angeles area high school star Greg Townsend Jr., ranked as one of the top five defensive ends in the country. His dad is a TCU graduate who played many years in the NFL. According to news reports, TCU is one of three colleges Townsend is considering, and he has said publicly that TCU has the edge because of the success of the program and better academics.
Success and national exposure may have made recruiting easier, but TCU wouldn't be where it is now without guys like Bart Johnson. "A lot of the guys who play here are like the school itself," Johnson said. "Smaller schools sometimes don't get respect in the polls, and we have a lot of guys on this team working hard to get our respect. We have a chip on our shoulder to prove people wrong. That motivates us a lot."
The chip on the shoulder is probably a good description of the Horned Frog Nation right now, as the faithful chew their fingernails and try to fathom the mess that is BCS.
College football's current bowl system dates back more than a century, to the decision by the city of Pasadena, Calif., to put on an exhibition game on New Year's Day, in order to draw tourists and their money to the area. Over time, other cities saw the financial allure of post-season games, and the Cotton Bowl Classic in Dallas, the Orange Bowl in Miami, and the Sugar Bowl in New Orleans were created in the 1920s and '30s.
The bowl organizations made alliances with college conferences — the Rose Bowl, for example, invited the champions of the Big 10 and Pac 10 conferences to play. The result was that the two top-ranked teams in wire service polls rarely faced one another, and wire service rankings became the only method of picking a national champ.
In the 1990s, the bowl groups started working on an answer to that challenge. What they came up with, in 1998, was the Bowl Championship Series, which gave flexibility to the old bowl-conference alliances in order to try to match up the first- and second-ranked colleges in the country in a season-ending game. The series, which includes four top bowls and the national championship game, has had little effect on the other bowls around the country. In fact, the hunger of cable TV for such sporting events and cities' hunger for income has led to an increase in those games.
From the start, the BCS system has been weighted heavily in favor of the insider conferences. The winners of the "cartel" conferences automatically qualify for the BCS games. Only one team from all of the outsider conferences, like the Mountain West, is guaranteed a spot, and even then only if the team has an exceptional season. BCS rules don't require that any of those conference champions, even undefeated champions, be included. It's a recipe for rage from schools like TCU and, not surprisingly, one that's being challenged more and more widely.
Bill Hancock, the executive director of the BCS, said, in essence, that there's no way to make everyone happy and that BCS procedures are fair. "Any time there are more than two undefeated teams, there will be contention," he said. "It has happened before. … It's awkward." But, he said, "Everyone knows the process before the season."
---
The BCS system is also a recipe for wealth for bowl officials — the top official of each of those six bowls makes $500,000 a year or more. Outsider conference schools also complain that the BCS system cuts them out of major bowl revenues: Cartel conferences took 82 percent of the $155.2 million in BCS revenue last year. The other half of college football teams split the rest.
The bizarre truth is that, with today's setup, even the teams that play and win in major BCS bowls may end up paying for the privilege rather than making money off it.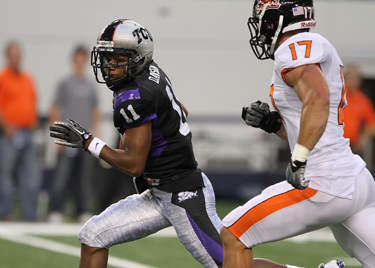 In his Sports Illustrated story, Wetzel gave the example of Ohio State in the 2010 Rose Bowl. The payout for its appearance was $18.5 million, but that had to be shared with other members of the Big 10 conference, leaving the Buckeyes  only  $2.2 million. Subtracting the tickets Ohio State was forced to buy plus travel costs for the team, band, and administrators and other expenses, Wetzel found that Ohio State actually lost about $80,000 on the game — which it won. Another example: Notre Dame gets a $1.7 million payout from the BCS bowls when it doesn't participate.
The formula is contributing to a situation in which college athletic departments around the country are hemorrhaging money.
The NCAA reported earlier this year that of the 120 football playing colleges in what used to be called Division 1-A, only 14 were operating with surpluses, compared to 25 schools in 2007. The reason is that costs are escalating fast. Football coach salaries at the big schools rose an amazing 46 percent, on average, between 2006 and 2009, a period when the rest of the country, and college budgets in general, were suffering financially. Last year, the athletic programs at those same 120 schools received a combined $826 million in public and university subsidies.
TCU, as a private  school, doesn't  re-lease financial records. But the renovation of its stadium, university officials said, will be done mostly through private donations. For TCU to keep up with the Joneses, have nice facilities, and pay its coaches comparable salaries, the school has to rely on the generosity of private donors and student-contributed fees. Last week, TCU announced the cost of tuition would rise eight percent, to $32,400 per academic year for full-time students.
The Knight Commission on Intercollegiate Athletics concluded that costs are far exceeding revenues and likely to get worse. "The biggest problem is that growth is just not sustainable at 95 of the 120 … schools," said Amy Perko, the commission's executive director. "University presidents are very concerned … but it is very difficult to scale these costs back."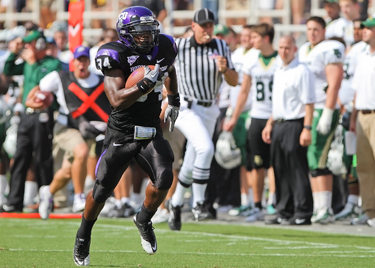 Colleges used to justify the huge expenses of their football programs by pointing out that football revenue supported other athletic programs. Now, however, many schools are dunning the student body to help pay for football program overruns — a situation that Perko called outrageous, especially considering that tuition rates are "going through the roof." The University of North Texas, for example, will assess a $10 per credit hour fee to students to help pay for a new football stadium.
Would a reform of the BCS system help with that? Wetzel and others believe it could.
Wetzel and co-authors Josh Peter and Jeff Passan begin their book with a model for a 16-team playoff that would funnel major amounts of money away from BCS executives and back to college athletic departments. He estimates that such a playoff system, which would involve all conferences, would generate about $750 million in revenues, compared to $250 million in total post-season revenues now. Because top-seeded teams would host games, more of the profits would go back to the schools.
Mountain West commissioner Craig Thompson proposed an eight-team playoff last summer. Boise State's athletic director Gene Bleymaier is begging for a playoff system. His teams have suffered as much as TCU's.
Perko said more money in the bowl system wouldn't guarantee that it would be distributed more equitably. "The major problem here is the myth that colleges profit from bowl games," she said.
She thinks the NCAA should get far more involved in post-season football decisions, just as it does in other collegiate sports. In basketball, for instance, the NCAA chooses teams for the post-season tournament, decides on the venues, and runs everything.
"The NCAA [could] change how these bowls are run, but they do little more than license the bowls, and they've never turned down a license," she said. "They could tell the directors that their revenue disbursement and high salaries for officials are out of line, but they don't."
The screams about the current system have been coming from plenty of folks beyond the coaches and fans of teams that don't make the championship game. The Washington Post's Sally Jenkins wrote in a recent vitriolic piece, "The Bowl Championship Series must be destroyed down to the ground and the people behind it made to answer for their money-grasping arrogance."
A TCU fan and blogger who writes under the alias of Lyle Lanley at spitbloodtcu.com concurred: "Absolutely the BCS must die."
---
Perhaps because of the number of voters who watch football and the amount of taxpayer money used to support it, Congress also is paying attention.  U.S. Rep. Joe Barton of Ennis proposed in 2009 that Congress forbid the BCS to use the word "championship" in its title. Two veteran U.S. senators asked the Justice Department almost a year ago to investigate whether the BCS system violates anti-trust law.
Alan Fishel
, a Washington lawyer and anti-trust specialist who represents the Western Athletic Conference, said Justice officials are still looking at it, "so I would think they see there's something to this."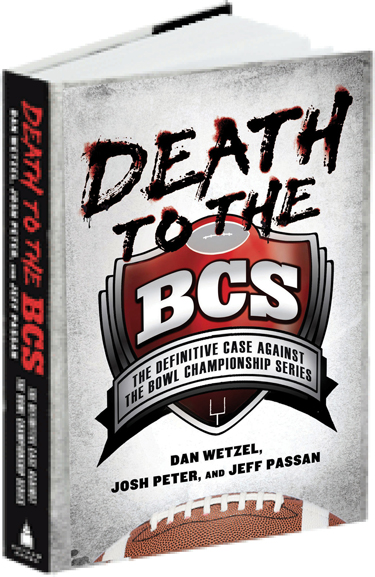 In 2005, pressure from Congress convinced the BCS to open the championship door just a crack for non-cartel conference participation. That produced the rule that allows for one team from outside the cartel conferences to play in a BCS game if it has an exceptional season. The BCS has to invite one outsider school to one of its bowls only if the school finishes in the top 12 of the BCS rankings or in the top 16 and above a cartel conference champion. To date, no team from outside a cartel conference has managed to earn a spot in the mythical national championship game.
How a school does earn one of those rankings is a major bone of contention with BCS critics. It's based on two polls, one of coaches and the other of a hand-picked amalgam of people, plus a computer-generated average of six other rankings. The BCS won't release the formulas of the computerized rankings, and there's no way to know how they're put together.
Another question is whether the BCS voters really undertake the onerous task of watching and weighing games played by all the contenders.
"Quantitative analysts are calling for a boycott of the computer ranking system," Wetzel said. If mathematicians claim that one plus two doesn't equal three, something is probably broken within the system.
So where does that leave TCU? For the moment, the Frogs are still ranked third behind Oregon and Auburn (both members of the BCS cartel). However, Boise State, another outsider school, is just behind TCU in the BCS point system, and closing fast. If either Oregon or Auburn loses in the next two weeks, then TCU or Boise State could advance to the championship game or, at least, to a major bowl game. If one of the pair gets left in the cold, many people will cry foul. In the minds of many observers, both might deserve a shot ahead of the two higher-ranked teams.
The outcome may be clear in the next two weeks. Final BCS rankings come out on Dec. 5 — the same day that half the Amon G. Carter Stadium will be imploded. If TCU makes it to the championship game, it will be its first shot at a title since 1938 — when "The Carter" was only eight years old.
Come next year, TCU will have a new stadium and probably still will be one of the hottest names in college football. It also might have a new conference and maybe even a new overall bowl situation.
Boise State will join the Mountain West next year. Automatic qualifying provisions are recalculated every few years, so perhaps the Mountain West will one day join the cartel.
And there are whispers that TCU might join the cartel-member Big East Conference, if a deal can be struck. TCU would benefit financially form the move, and Big East would get a top–10 contender school, which it currently doesn't have. But after jumping through four conference homes in the last 15 years, how many more moves does TCU want to make?
TCU Athletic Director Chris Del Conte has tried to stay out of the fray over the BCS and the potential for major changes in the universe of college football in coming years. As for Patterson, he has ended up sounding either conflicted or perhaps like he's having a change of heart.
On the BCS web site, in a collection of quotes justifying its existence, the first is from Patterson, in which, rather generically, he talks about the importance of bowl games to the student athletes. But on ESPN's First Take show last week, his comments, not surprisingly, were more pointed.
"I think our team deserves a chance to play in it [the national championship game]," the TCU head coach said. "What college football has got to be careful of is that we don't lose the fans because we're not fair. … That's the American way."