Disney's latest animated musical is a fractured take on the Rapunzel story. Presumably it's called Tangled because there's already a musical entitled Hair.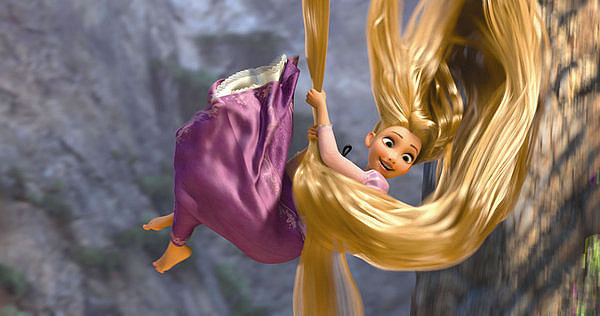 Anyone familiar with the Grimm brothers' original fairy tales knows that they offer up some pretty hard-core violence, so it's up to Pixar screenwriter Dan Fogelman (Cars) to revamp the story extensively. In this version, Rapunzel (voiced by Mandy Moore) is the only daughter of a kingdom's royal family. She's kidnapped as a baby by an old sorceress named Gothel (voiced by Donna Murphy), who raises Rapunzel as her own daughter so she can tap the magical powers in the girl's hair to keep herself eternally young. All that changes as Rapunzel's 18th birthday approaches, when a thief named Flynn Rider (voiced by Zachary Levi) sneaks into the tower where she's being kept, mistaking it for a hideout. Curious about the world outside the tower, Rapunzel cuts a deal with him to show her the kingdom, seeking what turns out to be a key to her past.
It's no surprise that the movie follows the Shrek films' lead and has these fairy-tale characters talking in modern argot — Flynn tries to charm his way out of Rapunzel's clutches by proclaiming, "Here comes the smolder!" and making the sexiest facial expression he can conjure up. (Rapunzel is, to her credit, unimpressed.) The filmmakers seem to have fun thinking of new uses for the heroine's long hair during the movie's many action scenes, which include a complex sequence in which rival groups of palace guards and outlaws trigger a dam burst while pursuing Rapunzel and Flynn.
The trouble is, the movie bites off more than it can chew trying to be both an action-adventure film and a musical. That's a difficult combination to pull off, and the weak songs by Alan Menken and Glenn Slater don't help. Fans of TV's Chuck may be interested to know that Zachary Levi can sing a little bit, but that's slight recompense for the overdose of lyrical numbers that slow the movie down when it should be speeding up.
The only number that works is "Mother Knows Best," a lilting song by Gothel exhorting Rapunzel to stay in her tower. It's always nice when a Broadway veteran like Murphy gets a juicy role in a high-profile film like this, and she sinks her teeth into a villain who's arguably the best thing here. Gothel is a smothering drama queen of a mother who exaggerates the evils of the outside world as a way of keeping control of her kid. When Rapunzel steps outside her tower, a great montage captures her wildly conflicting emotions at disobeying her mom. ("This is the best day ever! I am a despicable human being!") Tangled could have done more to, uh, straighten out this mother-daughter relationship, but its element of psychological complexity is one thing that raises this movie above the run-of-the-mill.
Tangled
Voices by Mandy Moore and Zachary Levi. Directed by Nathan Greno and Byron Howard. Written by Dan Fogelman, based on the Grimm brothers' fairy tale. Rated PG.