The last time I went drinking at the T&P Tavern downtown in the historic T&P Railway Station was a little more than a year ago. While the bar was cool, so was the night air –– the tavern sat in an open-air lobby, protected from the elements only by a roof. As much as I enjoyed watching train travelers come and go, the few space heaters sprinkled around the seating area didn't do enough to offset the late-fall chill. Thankfully, the T&P folks realized they had a good thing going with their tavern. A few months ago, the place closed down for a while, only to reopen recently as a bar with inside seating. Hallelujah is right.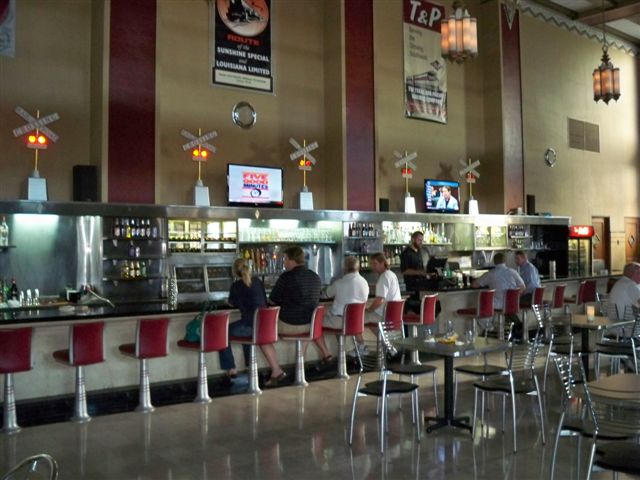 Guests are still free to sit outside, under what the tavern calls its "big-ass" fan that hangs from the ceiling, but the spotless (and smoke-free) inside environs are far more welcoming. A friend and I were the first ones in for happy hour last Thursday, and the room looks as if it had been modeled after an Edward Hopper painting. Like the ornate main lobby nearby, the barroom has a two-story ceiling decorated with copper and brass molding. Various artworks, either railroad-themed or done by local artists, hang on the walls. The natural lighting, coming through high old windows, made me feel as if I were entering a photograph from the 1950s. My friend said he felt like he was in the movie The Untouchables. Fitting, as the Art Deco building dates back to 1931.
Luckily for us, the beer selection was far more modern than the setting. Bartender Christa Russell (who's also a fantastic singer and guitarist) even offered to let us sample any unfamiliar drafts. A sign outside advertised $3.50 bottles of Shiner Cheer, but the bottles were still chilling, so Christa suggested St. Arnold's Christmas Ale. Choosing a drink was the most difficult part of the visit. In addition to wine and liquor, T&P Tavern has beer –– lots of it. In fact, the place probably has the best tap selection in town: two kinds of Rahr brews, Fireman's 4, Spaten, Ace Pear, Dunkel, something called Moose Drool, and about a dozen others. (Plus a bottle of Bud Light Lime goes for only $1.50.)
The Christmas Ale suggestion was a good one. The amber-colored liquid was light and spritzy yet full of those sweetly zesty seasonal spices like cardamom and nutmeg. Making happy hour even more, well, happy, Christa informed us that on Thursdays at 5 p.m., the bar sets out free appetizers. Score! Before the remodel, the T&P Tavern was also a grill, but aside from chips and salsa, food at T&P Tavern comes only on Thursdays. The cheese and cracker plate and the Santa Fe chicken enchiladas were winners.
Someone had taken the time to adjust the stereo system to the awkward acoustics in the room, and the effort was apparent. Other downtown drinking establishments that play jazz during happy hour assume that patrons want Frank Sinatra-like pablum, but the fine folks at T&P know better. They also know that the quality of a sound system will make or break a room. T&P gets it right, and I strongly encourage anyone who wants to listen to jazz during happy hour to choose this place. I also heard a few songs that were more modern and tastefully electronica-influenced along with some good but not overly familiar classic rock. The volume was at a level that wasn't overbearing, but any time I stopped to pay attention to what was playing, the selection made me happy.
T&P Tavern plans on hosting live music too. Christa explained that anything more than a person and a guitar would be too much for the high-ceilinged inside room, but when things warm up again in the spring, artists will be playing outside. Upcoming indoor solo acts include Luke Wade (on New Year's Eve), Brad Thompson, and, I hope, Christa Russell. As good a bartender as she is, she's much better on the microphone.
While my friend and I enjoyed our second round of beer and extra plates of cheese and crackers, other folks meandered in. The crowd was mixed, from people who had just gotten off work at the nearby Dickey's complex to downtown professionals to young adults who obviously enjoy permanent flex-time like my friend and me. The Tavern has this hard-to-pinpoint warm and hospitable vibe going on, and I imagine that just about anyone would be comfortable hanging out there. It doesn't have that grimy feel that haunts most bars or the sterility that plagues others.
T&P's location is also a bonus. Once people discover where it is (next to the old post office on Lancaster Avenue) and its plethora of free parking spaces, I'm sure its popularity will rise. Modern, classic, and quintessentially Fort Worth, T&P Tavern has only made itself better with the inside addition. Folks who enjoy a cocktail in character-filled surroundings would be missing out by not giving T&P Tavern a try. –– Caroline Collier
Contact Last Call at lastcall@fwweekly.com.