Last year, my favorite boozy companion, Emily, led a group of women in revelry celebrating St. Stephen's Day. Em, who has more than a bit of Irish in her, told us that in the British isles, Dec. 26 is a day of drinking at every pub whose door is open. (Some other parts of Europe honor St. Stephen on Dec. 27.) Last year, we feted good ol' St. Steve at several places in the West 7th Street corridor. How the drinking-at-any-willing-pub ties into a saint's day remains unclear. Actually, after one of those fishbowl drinks at The Pour House last year, everything was unclear.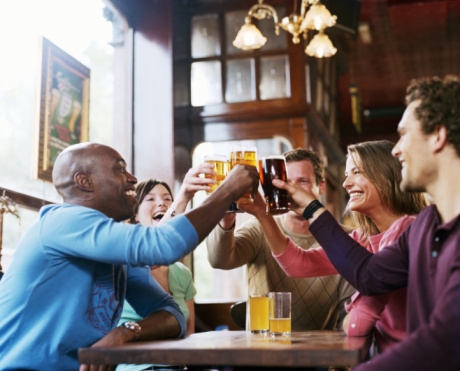 This year, Emily was nowhere to be found on St. Stephen's Day. But in her honor, I found another part of the 817 where there is a collection of boozy places approximating Irish pubs. And, perhaps fittingly, the area is Gaelic. Or Gaelically named. The Arlington Highlands are home to a number of places that are all good for a St. Stephen's Day beverage. Actually, the full name of the sprawling acreage is the Arlington Highlands Lifestyle Center, but no matter. You've got to love a place where you can park, walk, dine, and drink, even if a majority of the restaurants are outright or regional chain joints.
We started at P.F. Chang's, which some snobs claim is about as authentically Chinese as La Madeleine is authentically French. But, snobbery aside, you can't beat the Chinese bar/restaurant's happy hour specials. Weekdays from 3 to 6 p.m., assorted food and drink specials are $3 to $6. Your draft beer? $3. Your large jar of sake or well drink? $4. Premium wines are $5, and there's even a fancy $6 agave margarita that, while not being traditionally Chinese, is pretty fabulous.
At Houlihan's up the parking lot a little, we discovered that we'd missed the place's Boozeday Tuesday, since St. Stephen's Day fell on a Sunday this year. Although half off a bottle of wine (the Tuesday special) would have been nice, we still made Houlihan's "Happier Hour." Monday through Thursday from 4 to 7 p.m. and from 9 p.m. 'til close, house cocktails and draft beer are both half off, which puts both at between $2 and $4 apiece. Appetizers are also 50 percent off, which made me realize that I had started things off backward. Save Houlihan's for last –– between the late-night cheap hooch and the sublime calamari appetizer, Houlihan's is the place to end the evening, not begin it.
But discovery is part of the fun, and we marshaled our spirits like brave Gaels to partake in more revelry. However, we quickly came upon a little quandary: Should we go the breastaurant known as Bone Daddy's or somewhere, well, that I could tolerate? Since I've already, um, covered the Hooters-ish joint, we opted for BJ's Brewhouse. BJ's is a brewtopia, highly recommended if you like beer and can't get over to the Flying Saucer in Sundance Square or Ginger Man in the Cultural District. With 20 signature brews on tap (and we're not talking Keystone Light here), there's a little something for everyone, even someone like me, who doesn't like beer that much. I tried the Nutty Brewnette. (Hey, if the label fits me, I should try the beer.) It was dark and brown and nutty, just as advertised. My second beer, the Nit Wit, was more up my alley, though. Billed as a "traditional Belgian-style" white beer, it had just a little hint of coriander to kill the beer-ish taste. Cleaner than your average tavern, if a little slick, BJ's was a nice way station on our St. Stephen's Day quest.
I was well into my second pint at BJ's when I remembered the perils of last St. Stephen's Day, when we never made it to more than three pubs. So we left and headed toward the back of the Highlands, dodging the SUVs as we went, determined not to crash after three hours at three bars. Would it be Gloria's for more margaritas? Or Chuy's for a Mexican martini? Both establishments were vetoed, as we were well past happy hour time at this point. Weirdly, the winner for the final St. Stephen's stop this year was … the Cold Stone Creamery. Because, really, an ice cream headache trumps a hangover any day. –– Laurie Barker James
Contact Last Call at lastcall@fwweekly.com.