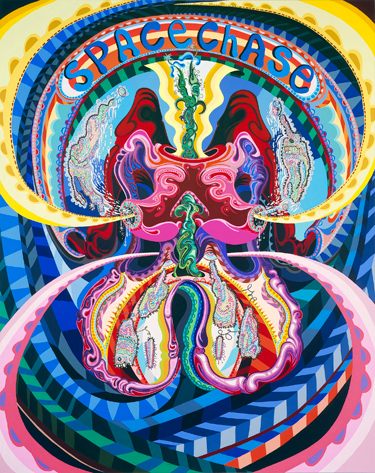 WED ? 29
The swirling, psychedelic, nightmarish visions of Erik Parker are on display at the Modern in their show entitled Focus: Erik Parker. The Stuttgart-born, San Antonio-raised artist's paintings have been called "zany" and "a trip" by The New York Times. With the holiday rush past, now's a good time to catch his exhibit. The show runs thru Feb 6 at 3200 Darnell St, FW. Admission is $4-10. Call 817-738-9215.



THU ▪ 30
Former In Living Color star Tommy Davidson has done a lot of work recently as a commercial pitchman, though he had a prominent role in last year's blaxploitation parody Black Dynamite. He'll be at the Improv in Arlington all weekend, and you can ring in the New Year with him on Friday. His show runs Thu-Sun at 309 Curtis Mathes Way, Arlington. Tickets are $22-35. Call 817-635-5555.
FRI ▪ 31
As always, there's no shortage of New Year's Eve parties this evening. We like the New York-themed affair at BlackFinn, the traditional shindig at Stagecoach Ballroom, and the ritzy one at Gaylord Texan. Check the head of our Calendar section for times, locations, and ticket prices. Then get your evening wear and your dancing partner to ring in 2011.
SAT ▪ 1
Even though many folks around here think TCU should be playing in the football game that's scheduled nine days after this, contesting the Rose Bowl against fifth-ranked Wisconsin will surely give the Horned Frogs the day's biggest share of TV exposure. You can take them in at 8.0's Purple Pride Rose Bowl Watch Party. Spare a nice tip for those bar employees who will be back on their feet after having worked until the wee hours of the morning. The event is at 3pm at 111 3rd St, FW. Admission is free; to eat from the buffet, you must purchase a cocktail. Call 817-336-0880.
SUN ▪ 2
The Fort Worth Nature Center & Refuge is staying busy all through the week. They have their bison feeding hayride on Wednesday, then Saturday there's a "resolution hike" for everyone who resolved to lose weight in 2011. Today a fossil hunt will send children and their parents looking for fossils on Caprock Trail. Check the weather reports and dress accordingly. The event is at 1pm at 9601 Fossil Ridge Rd, FW. Admission is free-$5. Call 817-237-1111.
MON ▪ 3
First the Monty Python guys killed every piece of entertainment about King Arthur with Monty Python and the Holy Grail. Then they killed it all over again with Spamalot. What's left for Lerner and Loewe's Broadway musical Camelot? Artisan Center Theatre's production will try to come up with an answer as they kick off their new season. The show runs Jan 1-29 at Belaire Theater, 420 E Pipeline Rd, Hurst. Tickets are $9-16. Call 817-284-1200.
TUE ▪ 4
It'll be great to recap the year in local music when Thor Christensen appears at the Fort Worth Museum of Science's PUBlic Knowledge series. The music critic will discuss the influence of local musicians in the global industry, and he'll be doing it in the lovely confines of Brownstone Restaurant, one of the city's best new places. The talk is at 7pm at 840 Currie St, FW. Admission is free. Call 817-255-9300.