Los Angeles has always seemed like a big, fake city in comparison to the friendly streets of Fort Worth, but this time, the trip west for the Rose Bowl turned the glitzy town into a truly magical place. Still wearing a big, goofy postgame smile, I actually got a little sad when the mountains outside Pasadena disappeared in the rearview window of the SUV delivering me back home.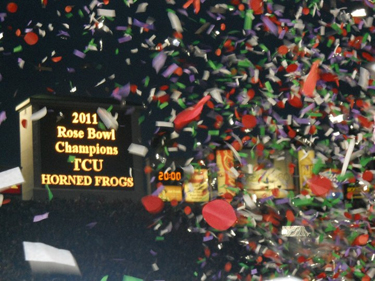 The combination of seeing L.A. through the eyes of someone with roots in the Fort and watching college football turned upside down by the effort of some future legendary Horned Frogs made for a spectacular few days. I'd like to think the experience can be repeated, but I've witnessed enough to know that the beginning of 2011 will be one of the highlights of a lifetime. I'd love to go back and do it all over again tomorrow, but instead, I'll try to preserve some of this feeling and share it with the
Weekly faithful.
I was a little skeptical when TCU's young-alumni association arranged a Thursday night party on the rooftop of a fancy Hollywood hotel, but other than the premium liquor and dance music, the event reminded me of college. TCU has many different social groups that don't interact enough, and our gracious hostess Gina pointed out that for all the good things about TCU, it still needs more diversity –– nearly all of the folks on the roof were white and certainly not impoverished. Still, I couldn't help feeling that they were all kind and loyal people — and certainly each and every one of them wanted to talk about the incredible football team and the upcoming game. I sensed that Horned Frog Nation was feeling calm and confident that the team would prevail over the big, bad Wisconsin Badgers.
After a NYE morning tour of the sunny beaches of Malibu and the pedestrian malls of Santa Monica, which had been overtaken by Wisconsin fans (I heard all the Fort Worthians were hanging out on Rodeo Drive), I spent a few hours on Venice Beach with one of my favorite former local Fort Worth musicians. He asked about so many different people from the scene, and our conversation led me to reflect on how much has changed here while the degrees of separation grow smaller and smaller. My friend moved out to L.A. to expand his music and screenwriting career, and his efforts are progressing steadily, if not yet transforming his life. He asked me if I ever wanted to move, and I answered that I doubted it –– I just love Fort Worth too much. I can succeed here. He looked wistfully out at the sunset over the Pacific and admitted he missed this town.
Either I'm getting old or I smartly considered the 22-hour return drive looming in my near future, because I celebrated the New Year when it changed over in Central Time. If anything exciting happened in L.A. at midnight on the 31st, I missed it. I was asleep, which ensured I would be well rested for the Rose Bowl and all of its festivities.
Although bowl games in general have fallen out of favor thanks to the BCS mess and the roaring anti-BCS furor, the Rose Bowl has retained its legitimacy. I never thought I would see TCU play in the historic stadium nestled in the hills of Pasadena. Not that I believed TCU wasn't good enough, because I did, even in the midst of disappointing seasons back in the '80s and '90s. However, I never expected the Big 10 and Pac 10 conferences to release their stranglehold on the game. The BCS may have prevented TCU's teams in 2009 and 2010 from claiming a national championship –– I'll just have to assume the Frogs were the best team in the nation then –– but the championship series is responsible for opening up the Rose Bowl. And considering that the whole bowl system might collapse in the near future to make way for playoffs, I'm glad TCU (and I) got to be guests on some of the most sacred ground in all of college football.
As for the game itself, well, several days have passed, and I'm still wearing that goofy grin. When Tank Carder batted down Wisconsin's two-point conversion attempt in what fans now refer to as the "immaculate deflection," the Horned Frogs officially legitimized their position on top of college football's mountain.
To anyone around town who has argued with me over the last several years and tried to claim that TCU was overrated and undeserving of the attention, it's time to admit you were wrong, way wrong.
It doesn't matter whether or not you went to TCU — the team represents this city, and for years now it's been doing a danged good job of it. The 2010 Horned Frogs worked hard, and they did it together, despite the negativity from ESPN blowhards and even people in the city. The Frogs did it with honor, integrity, and that special kind of togetherness that should epitomize the "Fort Worth Way," rather than the shenanigans that have been pulled at city hall under that banner.
Although this Rose Bowl experience in some way punctuates TCU's return to greatness after more than 70 years of not being able to claim it was the best, the game could also be a beginning of something more special. Plenty more inspirational moments will unfold in the new and improved Amon G. Carter Stadium. It's never too late to start believing.
Contact Kultur at kultur@fwweekly.com.