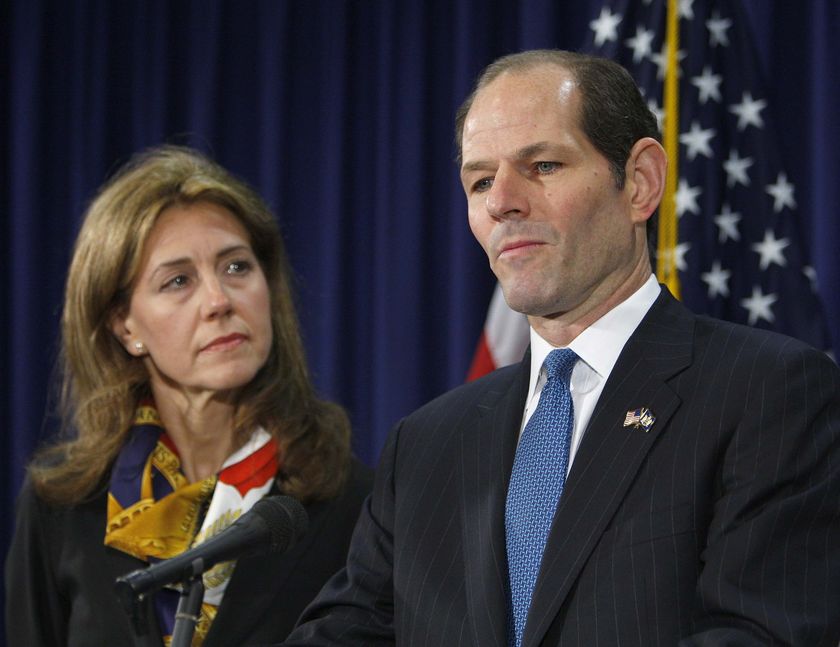 WED ? 12
One of four documentary films made by Alex Gibney in 2010, Client 9: The Rise and Fall of Eliot Spitzer is a frustrating viewing experience, because even though the former New York governor is interviewed extensively for the film, Spitzer is stubbornly unrevealing on why he had sex with those prostitutes. The film screens at the Modern this evening, with a Q&A session from Peter Elkind, who authored a book about Spitzer. The film screens at 7pm at 3200 Darnell St, FW. Tickets are $6.50-10. Call 817-738-9215.
THU ▪ 13
The plot summary of Melissa James Gibson's This doesn't sound like much — group of friends tries to fix up a recently widowed, not-quite-middle-aged mother — but the play won rave reviews when it debuted in New York. That debut took place only 14 months ago, so Stage West has been notably prompt to bring it here now. (See an interview with star Morgana Shaw on page 22.) The show runs Jan 13-Feb 13 at 821 W Vickery Blvd, FW. Tickets are $15-30. Call 817-784-9378.
FRI ▪ 14
What's with all the Marc Camoletti? The work of the late French farceur is enjoying a revival this year among local theater troupes. Circle Theatre is doing his Boeing Boeing next month, while the folks at Theatre Arlington are putting on the sequel, Don't Dress for Dinner, this weekend as a replacement for their own planned production of Boeing Boeing. Anyway, a guy tries to use his best friend to keep his wife and mistress apart, not knowing that the friend is screwing his wife, and it's all great fun. The show runs Jan 14-30 at 305 W Main St, Arlington. Tickets are $12-17. Call 817-275-7661.
SAT ▪ 15
Fort Worth Symphony Orchestra goes all Slavic this weekend — with a Catalan conductor. Guest maestro Josep Caballé-Domenech takes the podium to conduct Zoltán Kodály's prickly, whirling Dances of Galánta and Dvorák's Eighth Symphony. Cellist Jan Vogler joins the orchestra for Shostakovich's First Cello Concerto, a piece that finds the composer in one of his darkly humorous moods. The concerts run Fri-Sun at Bass Performance Hall, 555 Commerce St, FW. Tickets are $10-79. Call 817-212-4280.
SUN ▪ 16
Arts Fifth Avenue hosts a unique catchall event this afternoon called Salon. The event, organized by A5A voice instructor Rachel Shirk, features a recital by her as well as spoken-word, live music, dance, and other pieces by performing artists of various stripes. The show starts at 4pm at 1628 5th Av, FW. Tickets are $10. Call 817-923-9500.
MON ▪ 17
With all the sordid stories about performance-enhancing drugs swirling around the event, is there any romance left in cycling or the Tour de France? Perhaps Wired to Win can bring it back. The IMAX film looks at the event from a biological and neuroscientific perspective as it follows two competitors. It's playing thru May 31 at the Fort Worth Museum of Science and History, 1600 Gendy St, FW. Tickets are $6-7. Call 817-255-9300.
TUE ▪ 18
TCU art professor Mark Thistlethwaite is back in our museums with another of his periodic lecture series. This one's entitled People and Places in American Art, and it runs at the Amon Carter Museum of American Art every Tuesday except one through the end of April. The series begins today with a talk on early American portraiture. It's at 3pm at 3501 Camp Bowie Blvd, FW. Admission is free. Call 817-738-1933.