To call North Texas stage, film, and TV actor Morgana Shaw "versatile" is an understatement. Onstage during the last couple of years, she has played a limbless sideshow freak; a foul-mouthed, leather-clad disco singer at a sleazy gay club; and Bette Davis from her early 20s to the age of 81 in the one-woman show All About Bette. On film and TV screens, she has played Jim Carrey's mother in I Love You Phillip Morris (shot in New Orleans); actress Jaime King's mother in the first season of the now-cancelled network show My Generation; and a white-trash mom named Myrtle in the 2010 Sundance Film Festival flick Skateland, which is slated to be released this year.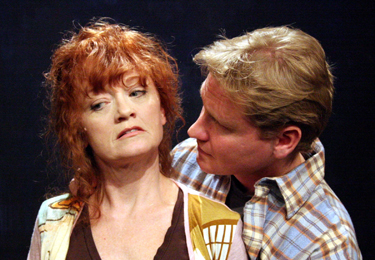 "In the theater, I get a lot of glamour parts," said Shaw, who frequently plays women older than her real age, which is somewhere in the "middle age" range. "I don't get those parts in movies. I can play old, or I can play young, but [onscreen] my niche is that I'm not afraid to look really, really bad."
Right now the Dallas native is looking great and playing middle age in the regional premiere of Melissa James Gibson's dramedy This, which opens this weekend at Stage West. The script concerns a group of adult friends who are slowly, unhappily accepting the fact that they've already lived more than half of their lives. Gibson plays Jane, a recently widowed poet and parent who stumbles into an act of betrayal that complicates everyone's relationships.
Although Shaw has performed regularly in Dallas theater since she got her Equity card in the mid-'90s, this will be her first performance on a Fort Worth stage. (Director Jerry Russell offered her the lead role of Jane after she came to see The Miser last fall at Stage West, in which he starred.) She is, however, very familiar with Tarrant County filmmakers –– she's starred in Tom Huckabee's bittersweet road trip movie Carried Away and in Frank Mosley's experimental drama Hot/Cold. Her willingness to work on independent movie projects for very little money comes down to one fact: She likes to stay busy.
"As an actor, I want to work constantly and hone my craft," she said. "I don't want to work just for the money, though I have to take some roles for that reason. I had an agent once who only submitted me for big films. My attitude is, if the story's good but the budget is low, I still want to do justice to this character. And Tom and Frank were great to work with."
Speaking of doing justice to a character, Shaw admits that Jane in This is a very complicated woman. The character is essentially depressed and confused after the loss of her husband, but the actor had to find enough sympathetic layers so the audience didn't feel like they were watching someone mourn for two hours onstage. The style of playwright Gibson is also very naturalistic, including the use of incomplete sentences and overlapping dialogue. ("I love the fact that there is no punctuation written for the dialogue," Shaw said. "It's very freeing to an actor.") And unlike some of the intense character roles that Shaw has played recently –– like, say, the limbless sideshow freak or Bette Davis from youth to old age –– Jane is closer in age, vocation, and temperament to Shaw. Coming back down to earth for this "slice of life" play is a nice change for her.
This year will be a busy one for Shaw. In addition to Skateland, a ghost story that she made with Cicely Tyson called The Haunting in Georgia is scheduled for release later this year. She also shot a pilot for a TV show called Final Witness. Best of all, Tony Award-winning Broadway producer (Legally Blonde, Boeing-Boeing) and Dallas Summer Musicals president Michael Jenkins still wants to bring Shaw to the New York stage in All About Bette. It's a project he's been working on for two years now. The stalled economy has been a big problem, but he's still committed to the show, Shaw said.
So it looks like the actor will continue her thrill ride of glamour parts on the stage and eccentric, often unkempt mother roles on the screen. Shaw relishes the variety, saying she is living her dream as a performer right now.
"I love it when I play one of these mom roles for a movie and then I show up [looking good] on the red carpet for the premiere," she said. "People are like, 'Is that you?' And I say, 'You didn't think I looked like that all the time, did you?' "
This
8pm Thu-Sat and 3pm Sun thru Sun, Feb 13, at Stage West, 821 W Vickery Blvd, FW. $26-30. 817-STG-WEST.