There are no strangers at La Superior Taco Cantina, only diners who haven't been introduced to owner Steve Martinez and his extremely friendly crew. If you're new, Martinez or one of his peeps will hand you samples of whatever you'd like to try off the simple steam-table assembly line. The queso blanco is more traditional, they'll warn you, and not too thin. The chips are a house specialty and are a little thicker than what you'd find elsewhere.


Martinez is proud of his tortillas, made from a family recipe. Be warned; they're not vegetarian. Martinez started mass-producing them for other local restaurants and then for the catering outfit that serves Cowboys Stadium in Arlington. Martinez also owns Superior Tortilla y Mas on East Seminary Drive, which, he says, is more of a take-out kind of place, where people can get a large batch of barbacoa along with the signature tortillas. The cantina, which opened late last year, is a place where people can come in, dine, and sit awhile.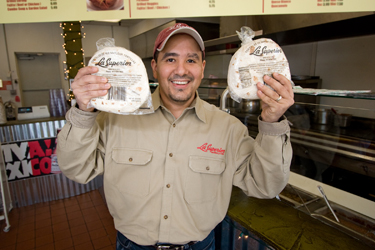 The concept is simple: Order at the buffet-style line and then migrate over to the front counter, where the fridge is stocked with almost every kind of Mexican beer you'd want along with agua frescas and Mexican Coca-Cola. Martinez also offers "wine-a-ritas" in peach and cosmo flavors. And, yes, he'll give you a sample if you're a little on the fence about the non-tequila drink.
Everything that my lunch date and I sampled tasted good, which didn't help us with our decision. So we just started pointing to the menu. The chicken fajita nachos starter was a sight to behold: thick tortilla chips piled high with that gooey, slightly spicy queso blanco, deliciously thick and salty refried beans, and chicken fajita meat that was pre-cooked but grilled up so it was hot when we got it. Add to the plate an entire salad's worth of shredded iceberg lettuce, tomatoes, and cheddar cheese, and you have more of a meal than an appetizer. Martinez brought out green and red salsa in little plastic cups for us to try. The non-chunky red had visible pepper seeds but packed only moderate heat. The chunkier green salsa was deceptively mild at first, but a fire erupted in the back of my throat after about 90 seconds. And the brownish salsa on the table, in the squeeze bottle? Martinez referred to that as "gringo salsa."
"It's actually pretty spicy," he said, with a grin. A little vinegar, a lot of heat, and a bit of hickory smoke actually combined to make the gringo salsa our table's favorite.
Ask for a meal suggestion, and Martinez will recommend one of the plates "so you get to try a little of everything." The two-taco plate starts with those famous tortillas grilled until they're warm and toasty. Scoops of your choice of chicken or beef, a generous helping of lettuce, tomato, and your choice of the salsas are piled on. The plate comes with more of those tasty beans and fairly standard Mexican rice.
The table was split over which taco was better, the chicken or the beef. The chicken taco filling had a mildly spicy tomato base, while the beef taco meat was a little more unusual, containing chunks of green pepper, onion, and some spices that we couldn't readily identify. Overall, the plate was a scrumptious bargain, as was the enchilada plate. One beef enchilada and one cheese enchilada came out of an under-the-counter fridge pre-made, to be reheated, which was a little disappointing. However, both tasted exceptionally good, and the flavorful, slightly mild red sauce covering the enchiladas benefitted from just the slightest hint of that gringo salsa. The cheese enchilada especially was a mass of perfectly oozy cheese, wrapped up in a comfortingly old-fashioned thick corn tortilla. Enchiladas are a fairly high-maintenance food to prepare, and the prepared-ahead method seems to work. Credit the homemade corn tortillas, though, for standing up to the processing.
La Superior's menu offers more than we could stand to eat at one sampling, including big salads, veggie tacos, and barbacoa burritos. Homemade sopapillas and buñuelos are available for dessert, as well as some homemade pre-sliced cake. Sadly, we were too full to even contemplate dessert. Completely full and happy at under $7 for lunch? Now that's really superior.
La Superior Taco Cantina
901 N Sylvania Av, FW. 817-222-0474.
7am-9pm daily. MasterCard, Visa accepted.
Chicken nachos………… $6.49
Taco plate………………… $5.99
Enchilada plate………….. $5.75