You've got to laugh. Now that North Texas is veritably the center of the sports universe, Fort Worth has never seemed so, well, small compared to Big D. Just go online and check out some of the national headlines. The stories leave no indication that anyone outside of North Texas is even remotely aware that the game will be played in Arlington, not Dallas, and that the AFC-representing Pittsburgh Steelers are staying and practicing in Fort Worth, not Dallas. Dallas, Dallas, Dallas! I understand that Big D is longer established than Fort Worth and is the center of our media market, but, c'mon! Fort Worth is the 17th-largest city in the country, which makes our little town of cow bigger than Denver, Miami, Seattle, and several other older, seemingly larger cities, including, yes, Pittsburgh and Green Bay.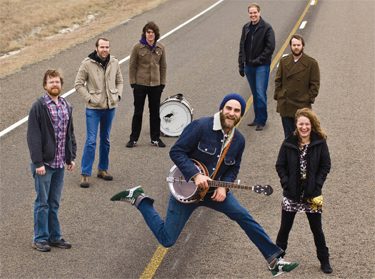 I was born and raised in Pittsburgh, and I'm going to feel bad for all of my Steel City brethren who'll wind up staying in Dallas instead of Fort Worth because they just didn't know any better. And, yes, I'm actually losing sleep over the prospect of some 60-year-old Pittsburgh warehouse workers who've spent their last dimes getting to North Texas for Super Bowl XLV being forced to sip $25 martinis while listening to techno music in some P. Diddy-afflicted Dallas nightclub.
To think of all that those Dallas-trapped Pittsburghers and un-lucky Green Bayians (or whatever they're called; I don't really care) are going to be missing. One event that looks great –– and not only because the Weekly is a sponsor –– is the Wonderland Music Festival at the Capital Bar (3017 Morton St., Cultural District, 817-820-0049), one mighty fine-looking drinking establishment with a sleek, spacious rooftop patio. Running from Thu., Feb. 3, through Super Bowl Sunday, Feb. 6, Wonderland offers performances by Candlebox (yes, that Candlebox), Bruce Robison, Micky & the Motorcars, Vallejo, The Gourds, and the Zach Edwards Band, plus Fort Worthians Telegraph Canyon, The Orbans, Josh Weathers and the True+Endeavors, and Scott Copeland. Tickets are $20-100 and are available via www.frontgatetickets.com.
Though outsiders might consider Fort Worth "Cowtown," nightlife is pretty important down here. Local music is especially prized, and we're not just talking about C&W. The sepia-toned indie-rock sextet Telegraph Canyon recently received props from Rolling Stone and Paste magazines. (Full disclosure: I wrote the Paste article.) A song off the roots-rocking Orbans' most recent album, When We Were Wild, was recently featured as NPR's Song of the Day ("Like a Liar"), and the post-punk trio The Burning Hotels made a performing cameo in last summer's Bandslam, starring Vanessa Hudgens and Lisa Kudrow. Another Fort Worth band poised to break out is My Wooden Leg. The title track from the alt-country trio's new album, A Circus, will appear in Sinners & Saints, directed by William Kaufman and starring Tom Berenger. My Wooden Leg will be celebrating the release of A Circus on Sat., Feb. 5, at the Chat Room Pub (1263 W. Magnolia Ave., South Side, 817-922-8319), an underground but non-pretentious Fort Worth hangout known for its smiling, efficient bartenders; local art on the walls; and hipster regulars.
Some of the local musos here also like to give back to the community. The Fort Worth Music Outreach was formed not too long ago to bring music education to Fort Worth school district students affected by cuts in arts education. The group is currently seeking nonprofit status and will be holding a fundraiser on Sat., Feb. 5, at The Where House (a DIY venue at 2510 Hemphill St., South Side, 817-913-7777), featuring some of Fort Worth's most talented and esteemed artists: epic indie-folkies Telegraph Canyon, the Spaghetti Western-ish Whiskey Folk Ramblers, the soulful Luke Wade & No Civilians, C&W chanteuse Ginny Mac, and Fort Worth/Brooklyn indie-rockers Oh Whitney. Cover charge is $15 per person, and while there won't be any free hooch, you-call-its will be only $2 a pop. All proceeds will benefit the outreach. Anyone who can't make the show but is interested in donating an instrument (or money) can contact the organization via www.fortworthmusicoutreach.org and arrange a pickup time or payment option.
Fort Worth also is home to one of the hippest live music venues in all of North Texas. Lola's Saloon (2736 W. 6th St., W. 7th corridor, 817-877-0666) has hosted the likes of The Sword, Local H, Heartless Bastards, and dozens of other marquee touring acts, and Fort Worth's biggest bands (Telegraph Canyon, The Burning Hotels, EPIC RUINS, The Orbans) prefer Lola's over just about every other 817 venue. For Super Bowl weekend, Lola's will welcome Two Tons of Steel on Fri., Feb. 4; Nelo and North of Autumn on Sat., Feb. 5; and Stephen Beatty (Stella Rose), Sally Majestic, and country singer-songwriter Scott Copeland before the big game on Sunday.
ESPN will be doing more than broadcasting from Sundance Square. The sports network also will be throwing a couple of parties in the Stockyards at River Ranch (500 NE 23rd St., 817-624-3207). The first event, on Fri., Feb. 4, is closed to the public, though yokels are more than welcome to stand outside of the bar/restaurant and gawk at all of the celebrity VIPs scheduled to attend. (I'm no celeb-worshipper, but if Marisa Miller's there, I'm there.) The public event, ESPN The Magazine's NEXT "tailgate party," on Sat., Feb. 5, is free, goes from noon 'til 6 p.m., and features performances by Red Dirt Fort Worth singer-songwriter Stephen Pointer, plus the Gary Kyle Band, Soul Track Mind, and DJ Ross One.
Right across the street from ESPN's Sundance Square headquarters is Reata Restaurant (310 Houston St., 817-336-1009), home to some superb cowboy cuisine and, on Thu., Feb. 3, the second annual Jaws Cigar Party. Hosted by Ron "Jaws" Jaworski, a former NFL player and current analyst on ESPN's Monday Night Football, the cigar party offers premium cigars and Johnny Walker single-malt scotch. Tickets are $500 per person, and all proceeds will benefit Jaworski's foundation, the Jaws Youth Fund, and also the United Way of Metropolitan Dallas and United Way of Tarrant County.
Out in Bedford, Duke's Original Roadhouse (2250 Airport Fwy., 817-354-1002) will be getting in on the Super Bowl action. Duke's Super Bowl Weekend Kickoff Party is on Fri., Feb. 4, and will be hosted by Dallas Cowboys running back Tashard Choice. Amber Leigh Hartman, some hot young blonde, will also make an appearance.
Since Fort Worth is the host city for the AFC champion Steelers, let's hope that a lot of yinzers –– Pittsburghers say "yinz" instead of "y'all" or "you guys" –– will be staying in Fort Worth. They're having the red carpet rolled out for them by several 817 bars/restaurants. One Steelers-friendly joint is the 7th Haven (2700 W. 7th St., 817-744-8550), the self-appointed home of the "Fort Worth Steelers." Right in the heart of all of the action in the West 7th Street corridor, the Haven, as it's lovingly known, intends on handing out Terrible Towels during the game and (hopefully) offering some Iron City and I.C. Light, beers originally brewed in Pittsburgh. In honor of the "Stillers" ("Steelers" in Pittsburghese), Sherlock's Baker St. Pub & Grill (251 Lincoln Square Center, Arlington, 817-226-2300) is serving up black pints of beer and faux-Primanti Brothers sandwiches (your choice of meat and cheese, topped with fries and cole slaw) throughout Super Bowl week. On Thu., Feb. 3, the winner of the Guinness Pro Challenge will enjoy a pint with NFL legend and former Steelers great Jerome "The Bus" Bettis, and on Fri., Feb. 4, at 3 p.m. Sherlock's will host a Black & Gold pep rally.
Most of us locals probably know that Woody's Tavern (4744 Bryant Irvin Rd., Ste. 946, 817-732-4936) is where Fort Worthian Steelers fans regularly gather to watch the black and gold on TV. For the Super Bowl, Woody's is going all out, bringing in an on-air personality from Pittsburgh's KDKA to broadcast live from the bar on Thu., Feb. 3, and Fri., Feb. 4, from 6:30 to 7 p.m. and on Sat., Feb. 5, from 6 to 7 p.m., coinciding with a Saturday Steelers "fan rally" from 2 to 10 p.m. On Super Bowl Sunday, Woody's is putting on its ninth annual Super Bowl of Chili Cook-Off starting at 1:30 p.m. Happy hour prices will be in effect all day Sunday and until 9 p.m. on Saturday ($2 drafts, $3 wells, $4 frozen drinks, and $8 pitchers).
Some other tastes of Pittsburgh are here all year long. At Magnolia Motor Lounge (3005 Morton St., West 7th corridor, 817-332-3344), you can get a faux-Primanti Brothers sandwich, and the owner of J&J's Oyster Bar (612 University Dr., Cultural District, 817-335-2756) is a native Pittsburgher and is touting "JJ's," as the place is commonly known, as "The Oyster Bar of the Pittsburgh Steelers" (though I don't know if he'll be serving any Iron City).
Hard to believe, but there are folks among us who could care less about either the Packers or Steelers but probably want to watch the game out of a sense of pigskin fandom –– the Super Bowl is the last football game for months! –– or, of course, a sense of owing a bookie a large sum of money. For our non-Packers/non-Steelers friends, the Eagle's Nest Sports Bar & Grill (8455 Boat Club Rd., 817-236-8881) sounds like the place to be between 3 and 10 p.m. on Super Bowl Sunday. The Lake Worth sports bar is offering a pretty sweet deal, two sweet deals, in fact. For $30 per person, there's the End Zone Special: unlimited draft beer, wells, and appetizers (no shrimp). For $50 a head, there's the Suite Special: unlimited beverages of your choice (excluding Patrón) and unlimited menu items. The Nest sounds like a go-to spot, especially if you're an all-around gourmand. And like our Pittsburgh and Green Bay friends, aren't we all?