I heard a bar advertise an Aggie Bomb on the radio last week. I'd never heard of an Aggie Bomb, and beer was the only thing I remember drinking while visiting the great public institution in College Station. So I asked my favorite Aggie buddy, Leonard, who's been behind more bars than Mike Tyson. I figured he'd know.

"Legend has it," Leonard said, "it's two parts 'red ass,' one part spirit, one part burning desire to beat the hell outta TU, and a splash of pond water, served out of the cleavage of a nice Southern girl."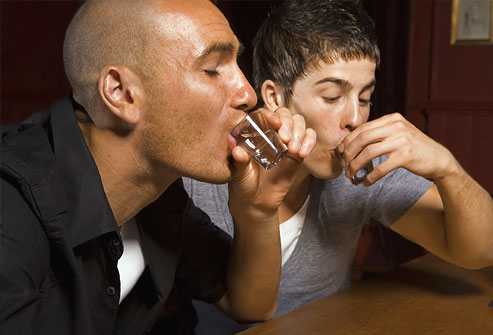 "Oh, come on, Leonard," I said. "Where would a bar get 'red ass' at this time of year?" (The term actually refers to a pumped-up Aggie.) The real Aggie Bomb recipe? Vodka and raspberry liqueur or schnapps along with equal parts Red Bull and, for that lovely maroon color, cranberry juice. I played around with the recipe. Too acidic.
All of this got me thinking about other schools –– and other drinks. In Austin, there's a philanthropic beverage called H2Orange. It's regular water in a bottle that's shaped like the UT Tower. When you purchase H2Orange, part of the proceeds funds UT scholarships. You can't buy it in Fort Worth, although there are retailers in Dallas who sell the stuff, presumably to the vast Longhorn Nation over there.
However, I know my Texas Ex friends didn't make it through college on water alone. Some of them sip tea, and the recipe I found for Longhorn Iced Tea includes equal parts reposado tequila, light rum, vodka, triple sec, lime juice, simple syrup, and orange juice. If you're fancy, top the drink with a little grenadine and garnish with a lime wheel. I didn't have any orange juice, grenadine, or simple syrup, but with Sprite, lime, and the alcohol, I thought my version was tasty if a little mind-numbing. It was like the trashcan punch we used to make in the '80s, appropriately called Delta Death.
I also went looking for a drink that was unique to the University of Texas at Arlington, and I started with the nearby Mavericks Sports Grill. I figured that a place named for the school's mascot would have a special university-related drink. But according to Jordan, the daytime bartender, it's whatever beers are on tap.
Last year when I was a non-Greek, nontraditional TCU student, my classmates and I enjoyed the Frogarita (a margarita with purple liqueur, rimmed with purple sugar) at Los Vaqueros on West Berry Street. Sadly, Los Vaqueros gave up the TCU location, although management says you can still get a Frogarita in Los Vaqueros' original location in the Stockyards. A little ways up from Berry in TCU-land on Bluebonnet Circle, Rock Bottom offers a Toadtini (grape vodka, blue Curacao, triple sec, and a little grenadine) and Patterson Punch (Malibu rum, tequila, vodka, raspberry liqueur, and fruit juice, named after Horned Frogs football coach, Gary Patterson). In Sundance Square, the 8.0's got a Horny Frog (a martini of Southern Comfort, blue Curacao, amaretto, and cranberry juice).
I suppose that the official drink of TCU should be Rahr beer since it's brewed in Fort Worth by TCU alumnus Fritz Rahr. Back during my first college days, Shafer Light was about all we could afford. I asked some of my Austin College Kangaroo alumni if they remembered an official drink of the 'Roos. "Well, there was the Pink $hit," recalled my friend Lisa, referring to her sorority's version of trashcan punch. Nobody remembers what was in it, which leads me to think it had some amnestic power. My friend Chris shared her smartphone app for finding useless information, which produced a drink named a Kangaroo (an ounce of Martini d'Oro vermouth and half an ounce each of orange and lime juice). Bleh. I think I'll take a Frogarita. Or even a Longhorn Iced Tea.
It could be worse. I asked my buddy who went to Baylor what the drink was back when he was a Bear. He giggled. Ah. Baptist school. Pass the Dublin Dr Pepper, please. –– Laurie Barker James
Contact Last Call at lastcall@fwweekly.com.