WED ? 23
Remember the Three Tenors? Some years after Luciano Pavarotti's death we're getting the Ten Tenors, a dectet of fine-looking young Australian guys singing popular and classical favorites, some suggested by audience vote and all in drippy arrangements. A concert like this will leave you yearning for the sound of a single soprano. The performances run thru Sun at Bass Performance Hall, 555 Commerce St, FW. Tickets are $22-60.50. Call 817-212-4280.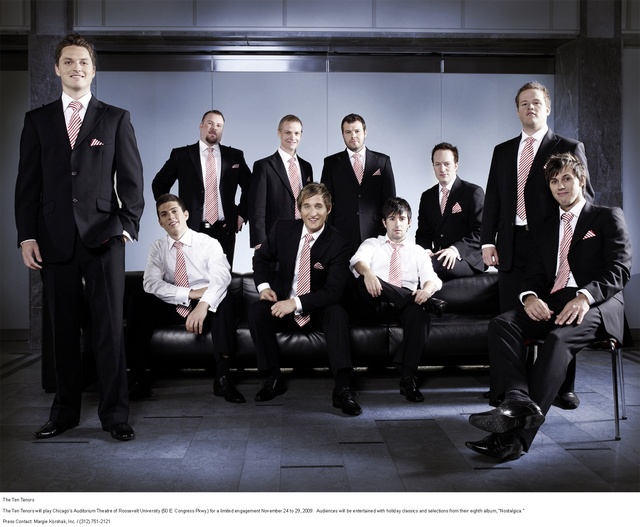 THU ▪ 24
Engineer's Week is going on at Fort Worth Museum of Science and History, and one of the highlights figures to be a lecture by Saul Thomas Griffith. The chief scientist at Other Labs, an engineering and design studio devoted to sustainability and energy efficiency, Griffith will discuss the role of Innovation and Creativity in science. The lecture is at 7pm at 1600 Gendy St, FW. Tickets are $10-15. Call 817-255-9540.
FRI ▪ 25
Fans of Lillian Hellman's play The Little Foxes or the 1941 film version will want to head up to UNT this weekend. That's because UNT Opera will put on Regina, Marc Blitzstein's opera version of the story. The mid-20th-century composer imitated parlor music to capture the play's turn-of-the-century Southern ambience. The opera is at 8pm Fri & 3pm Sun at Winspear Hall, I-35E & Av D, Denton. Tickets are $15-35. Call 940-369-3782.
SAT ▪ 26
Among the first American painters to make an impression in Europe were Thomas Cole, Asher Durand, and the other landscape painters of the Hudson River School. The Amon Carter Museum's new show, The Hudson River School: Nature and the American Vision, is a comprehensive look at their work, including some paintings that have rarely been displayed outside the New York Historical Society. The show runs Feb 26-Jun 19 at 3501 Camp Bowie Blvd, FW. Admission is free. Call 817-738-1933.
SUN ▪ 27
A play called The Pillowman might be a comforting fairy tale, but when Martin McDonagh is writing it, you know it's going to be disturbing and funny. His play about a children's writer in a fictitious dictatorship whose gruesome stories resemble a string of real-life murders enjoys its last weekend at Texas Wesleyan. The play runs thru Sun at 1201 Wesleyan St, FW. Tickets are $4-8. Call 817-531-4211.
MON ▪ 28
It's a banner day for chamber music. The Spectrum Series puts on a French program tonight, but we're spotlighting the Faculty and Friends Chamber Music Series at TCU. Tonight they're examining the influence of Gypsy music on composers as different as the Czech Dvorák, the Swiss Ravel, and the German Brahms. The concert is at 7pm at PepsiCo Recital Hall, 2800 S University Dr, FW. Tickets are $5-10. Call 817-257-7602.
TUE ▪ 1
The British pianist Stephen Hough comes to Fort Worth as part of the Cliburn Concerts Series. He'll play sonatas by Beethoven, Scriabin, and Liszt, as well as Janácek's 1. X. 1905, an unabashedly emotional piece composed in memory of a Czech carpenter who was killed during a street protest against the country's Austrian government. In light of current events in the Middle East, that selection seems rather timely. The concert is at 8pm at Bass Performance Hall, 555 Commerce St, FW. Tickets are $15-90. Call 800-462-7979.