Mixed repertoire programs can be a tough nut to crack. Without the unifying music and storyline of a full-length work, success depends on lining up shorter ballets that make a satisfying evening together. Texas Ballet Theater, in celebration of its 50th anniversary, performed two mixed programs last weekend in Bass Performance Hall.


TBT offered a little bit of everything, in sort of a bride's costume formula: something old (revivals of Ben Stevenson's Four Last Songs and Three Preludes), something new (Peter Zweifel's Love Always Remains), something borrowed (George Balanchine's Theme and Variations, staged by Ben Huys of the Balanchine Trust), and something blue (Stevenson's Jazz Lovin', which made its world premiere). Sandwiched in among all that was a performance of the Grand Pas Classique, new to the company but not to the dance world.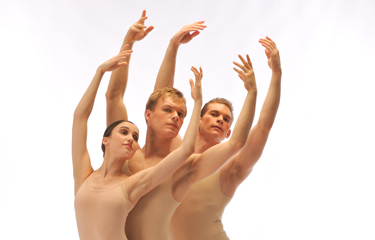 For the most part, the pieces balanced well, except, perhaps, the pairing of Four Last Songs with Love Always Remains. The two are brooding, introspective ballets exploring death, dying, and unfulfilled love, and presented in sequence they made for some heavy going. Richard Strauss wrote his Four Last Songs for soprano and orchestra at 84 (he died before the first performance), and the sometimes surging, sometimes melancholy ruminations of an old man as he contemplates his mortality were poignantly dramatized in the ballet. The final sequence, in particular, was pure theater gold. One by one the dancers sat and gently reclined backward while a giant white silk canopy slowly descended, arranging itself in individual tomb-like tents over the bodies as the lights dimmed and the curtain fell.
Zweifel's Love Always Remains, while relieved at times by some raucous rock music courtesy of MGMT and Wolf Parade, was still somber. Featuring a heartbreaking duet exquisitely danced by Carolyn Judson and Lucas Priolo set to Arvo Pärt's haunting Spiegel im Spiegel, the ballet ended in death and despair.
Which may be why the audience, when the curtain rose on the evening-closing Theme and Variations, seemed stunned for a moment by the brilliance of the full company, frozen in line formation and gloriously costumed, the women in maroon velvet tutus and glittering tiaras and the men in matching velvet jackets and white tights, visually evoking 19th-century Russian ballet at its grandest. The audience ahhhh'd at the sight, and spontaneous applause broke out before the music started. The dancers performed with wonderful precision, ending in a rousing polonaise for all 26 of them. Surprisingly, some roughness came from Leticia Oliveira, the company's leading ballerina, who didn't seem altogether confident in the pas de deux or in the next night's Grand Pas Classique. Little flubs were noticeable in her dancing with Eddy Tovar, as if she required more rehearsal time, and she had trouble ending some sequences on a dime, making last-minute balance adjustments that robbed her solo work of its full glory.
Priolo had the same problem when he first joined the company, but his technique has improved. Today, he's the company's strongest dancer –– literally. In major duets in three ballets, Four Last Songs, Love Always Remains, and Three Preludes, Priolo encountered more lifts than I've seen any dancer face in one weekend, including a grueling one-arm sequence supporting his partner overhead with a hand in the small of her back as he slowly walked offstage.
Stevenson's new Jazz Lovin' featured a terrific jazz quintet from the Booker T. Washington Performing Arts High School in Dallas: percussion, trumpet, sax, bass, and guitar, playing the only live music of the weekend. If there were an American Idol for jazz bands, this one would probably run off with the first prize. Stevenson showcased his whole company to the band's music, offering energetic sections for couples, all the women, all men, and everyone at once. A thread holding the ballet together broke for this viewer with the casting of Judson, an elfin beauty persuasive in classical ballet, as a femme fatale and hard-nosed vamp giving the men a hard time. She didn't even pretend to be sexy, settling for a nice girl playing naughty. The audience loved it, though, and gave everyone a rousing ovation.
The programs will be repeated in Dallas early next month.
Texas Ballet Theater
Fri, Mar 4, thru Sun, Mar 6, at Winspear Opera House, 2403 Flora St, Dallas. 214-443-1040.