It's been no secret that David Shaw and Ann Diakas-Shaw, co-owners of Shaw's Burgers and Shakes on the Near South Side, have had a little difficulty opening their new joint (see: "Bar Fight," May 26, 2010). Shaw's operates out of the old location of Scampi's Mediterranean Café, also run by the extended Shaw family. When head chef Theo Diakas, Ann's father, decided to retire, David and Ann came up with the restaurant-with-a-bar concept.


Fate intervened, however, in the form of city regulations that limit alcohol sales because there's a Fort Worth public school across the street. So when Shaw's finally opened, it was as a BYOB establishment but with a little twist. Bring your own tequila, and David will make you a really tasty margarita, with honey-sweet Rose's lime juice and a secret mixer. During a recent lunch visit, I thought the concoction was better than some I've paid twice as much for. But people don't go to Shaw's for the booze. The food's the main feature.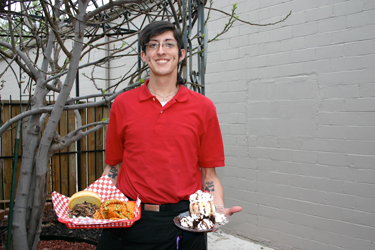 The fried green bean appetizer was insanely good. If veggies tasted like this all the time, we Americans would definitely be eating more of them. The beans were fresh, covered in spice, then rolled in a crunchy, mildly zesty batter and fried. The unique appetizer came with a little wasabi ranch dressing, which itself was tasty enough to bathe in.
The burger list is overwhelming, but our table of five just plowed in. The mushroom burger was absolutely perfect, dripping with provolone cheese and crowned with perfectly sautéed mushrooms. There's something deeply satisfying about the combination of the grilled-until-almost-melty mushrooms and slightly tangy cheese, all atop a beautifully cooked burger. Burgers and sandwiches come with your choice of fries, baked beans, homemade chips, or coleslaw. The fries were better than average, as were the sweet potato fries, available for a small additional charge. The coleslaw side accompanying the Texas grilled cheese was not spectacular. However, the sandwich made up for the side's lackluster flavor. The drool-worthy adult version of the classic comfort sammy featured buttery Texas toast layered with creamy brie cheese and topped with thick applewood-smoked bacon.
There were some misses. The crab burger –– chunks of crab with a standard panko crumb crust, classic Old Bay seasoning, and a red pepper sauce –– was tasty. But the execution left something to be desired. The crab "patty" was texturally not different enough from the soft, deliciously moist and slightly sweet bun. The lamb burger also suffered a little in the execution. Slices of lamb, smothered in excellent tzatziki sauce, came piled on one of the good buns. The meat tasted fine and was definitely fresh, but it was a bit overdone. The lamb served atop the iceberg wedge salad did not suffer from overdone-ness, but it also didn't come with the yogurt and cucumber sauce. The wedge salad itself benefitted from giant chunks of blue cheese and what was described on the menu as "brandy-soaked cranberries." Perhaps my taste buds were addled by the margarita, but I did not notice the brandy on the plump little chunks of fruit.
But save room for the walnut cake, which does feature a hefty dose of brandy on top. Even if you don't like nuts, the dessert, served with a scoop of Blue Bell homemade vanilla ice cream, is a luscious, moist cake (you'll barely notice the walnuts) that tastes like baklava, without the crunchy, flaky texture. Seriously. It's Ann's mama's recipe, according to David, and it's the best non-chocolate cake in town. Also certainly worth the calories are the thick and creamy old-fashioned malts and shakes, which can be ordered to go.
One thing you should know before dropping by: The restaurant seats only about 50, and the biggest table seats six. But the place is comfy regardless, and the welcome is warm, thanks to Ann, who continuously circles the dining room, greeting long-time Scampi's customers and new diners with equal enthusiasm. Shaw's Burgers and Shakes manages to be both homey and sophisticated, and it's a unique addition to the Near South Side's burgeoning list of independently owned restaurants.
Shaw's Burgers and Shakes, 1057 W Magnolia Av, FW. 817-926-2116.
Closed Sun, 11am-2:30 pm Mon, 11am-9pm Tue-Thu, 11am-10pm Fri-Sat. BYOB.
All major credit cards accepted.
Mushroom burger $8.59
Fried green beans $7.99
Crab burger $10.49
Texas grilled cheese $8.99
Walnut cake $5.98
Malted shake $3.99