"Never trust a skinny cook." That old saying seems to be the motto at Arlington's Buck n' Loons, and, although I didn't actually see the cook when my family ate dinner there on a weeknight, I could sort of tell by the menu that the cooks might be a little gordito if their food breaks involve Buck n' Loons' fare. There are the token salads: iceberg lettuce, spinach, caesar. But the restaurant mainstays are the fried chicken, chicken-fried steak, cheese fries, half-pound steak burgers, and Frito pie.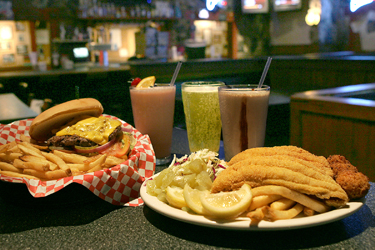 The Munchie Sampler seemed a good place to start, especially since we couldn't agree on appetizers. The menu promised three wings, three cheese sticks, three tacos, and your choice of the nachos or cheese fries. Nobody at the table particularly likes tacos, but the kitchen wouldn't make any substitutions. The buffalo-sauced wings were a pleasant, slightly spicy, vinegary treat, served with an excellent garlic-laced ranch dressing. The cheese sticks were nothing fancy, but the tart marinara sauce was tasty. The wings and fried cheese were semi-homemade, but the drool-worthy cheese fries were all homemade: thick but not as thick as steak fries, smothered in melted cheddar cheese and a little bacon. The tacos were the only disappointment. The beef was greasy. With so much food on our table, we almost didn't mind.
The plate-envy meal of the evening turned out to be the chicken-fried chicken: a voluptuous breast pounded flat to half-plate size and breaded in a batter that was peppery and thick but surprisingly delicate. The plate came with home-style, please-may-I-have-some-more mashed potatoes and white gravy, along with fresh steamed veggies. The al-dente broccoli, carrot, and squash were really good, and not just when we dipped them in the gravy.
The combo plate is a good deal. Choose from soup, chili, or Frito pie, then choose a salad and a sandwich. The Frito pie was, sadly, a letdown. The beef chili was salty and, coupled with the salty Fritos, just too much. Yes, Frito pie is often heavy and greasy. But Buck n' Loons was a heart attack waiting to happen. The turkey melt also was nothing to write home about. The sliced turkey was definitely freshly cooked, but the sandwich lacked flavor. And cheese. The Thousand Island dressing that came with the sammy was overbearingly sweet. Maybe that yummy gravy would have worked better.
The lovely, buttery Texas toast kept things interesting.
The dessert menu resides on the appetizer side of the menu, because the owners believe that life is short (especially, perhaps, if you eat here too often). The strawberry cheesecake fried pie had a delightful, not-too-sweet filling surrounded by a plethora of pastry. Actually, the homemade pastry was good when scooped with the accompanying side of vanilla bean ice cream. But the Chocolate Chip Goodness was even better. The name was magnificently truthful advertising: a huge, warm, gooey chocolate chip cookie with vanilla bean ice cream covered in chocolate syrup and whipped cream.
Or you might just try the Loon's Juice. The restaurant's signature drink packs three kinds of rum with coconut milk and orange, pineapple, and cherry juices. It's the kind of potion that tastes so sweet and dessert-like that you don't notice you're getting tipsy until someone has to count out your tip money and drive you home.
The restaurant's inside looks like an old-timey log cabin gone mad. Instead of stuffed animal heads and vintage photographs, however, the restaurant features memorabilia from every high school –– public and private –– in the Arlington/Pantego area. Celebrating its 12th anniversary next month, on Fri., Apr. 1, this locally owned institution has not only survived but thrived in an area where other restaurants (Tia's, Chuy's) have failed. It's hard to disrespect a local stalwart, especially a community-friendly joint that doesn't take itself too seriously.
Buck n' Loons
3517 S Cooper St, Arlington. 817-466-2825.
11am-10pm Sun-Thu, 11am-11pm Fri-Sat.
All major credit cards accepted.
Munchie Sampler…………….. $11.99
Chicken-fried chicken……… $10.49
Fried pie………………………….. $3.99
Chocolate Chip Goodness…. $3.99