WED ? 6
The next time some string player makes a joke about the viola, you should point out that no less than Béla Bartók didn't think the instrument was a joke. His Viola Concerto is part of UNT Symphony Orchestra's concert tonight, played by FWSO principal violist Susan Dubois. It'll be paired with Saint-Saëns' "Organ" Symphony. The concert is at 8pm at Winspear Hall, 1200 N Texas Blvd, Denton. Tickets are $8-10. Call 940-369-7802.
THU ▪ 7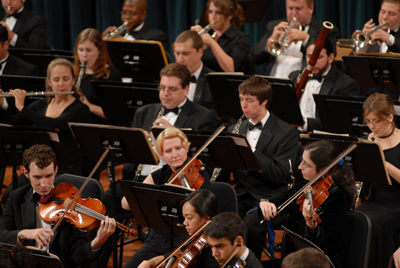 You may not need a good excuse to drink beer, but here's one anyway: The Camp Bowie Pub Crawl takes place tonight. Each of the three stops along Camp Bowie Boulevard (Blue Sushi, Ginger Man, and the Wild Rooster) will pair its food with a type of Rahr beer. Proceeds will benefit beautification of the historic street. The event lasts 5:30-9pm, FW. Tickets are $10 per location. Call 817-966-6353.
FRI ▪ 8
Arlingtonians with a taste for the music of Fats Waller won't have to drive to Jubilee Theatre to catch Ain't Misbehavin'. This revue of Waller's songs (including classics like "Honeysuckle Rose," "I Can't Give You Anything But Love," and the title song) is being put on by Theatre Arlington. The show runs Apr 8-May 1 at 305 W Main St, Arlington. Tickets are $12-17. Call 817-275-7661.
SAT ▪ 9
Somebody different always seems to win the Samsung Mobile 500, and this year there'll be a different start time as well. The 2011 race will be run on Saturday night instead of Sunday afternoon, as well as the first race in this year's Sprint Cup Series that's under the lights. The green flag waves at 6:30pm at Texas Motor Speedway, 3545 Lone Star Cir, FW. Tickets are $20-140. Call 817-215-8500.
SUN ▪ 10
Arlington Museum of Art's new exhibit, The Innovative Eye, is a mixed bag of works by four artists. The work here ranges from Bonny Leibowitz' abstract works in encaustic and oil to Enrique Fernandez Cervantes' provocative photographs of posed human subjects. In one of the museum's side galleries, there's also a show of photographs of Ballet Folklórico de Azteca. The Innovative Eye runs Apr 6-May 29 at 201 W Main St, Arlington. Admission is free. Call 817-275-4600.
MON ▪ 11
It's all about the obscure Beethoven this evening at TCU's Faculty & Friends Chamber Music Series. Pianist José Feghali joins the group for the master's Variations on "Bei Männern," "Ein Madchen oder Weibchen," and "See the Conquering Hero Comes," an aria from a Handel opera. They'll also play Schumann's famous Piano Quintet. The concert is at 7pm at PepsiCo Recital Hall, 2800 S University Dr, FW. Admission is free-$10. Call 817-257-7602.
TUE ▪ 12
Robert Wynne has the hero of Homer's The Odyssey on the brain, as a number of his poems are imagined from Odysseus' point of view ("Odysseus at the Alamo," "Odysseus Reads the Obituaries," "Odysseus Leaving Las Vegas"). The poet will be the guest of honor at the 2nd Tuesday Poetry Reading this evening in Benbrook, reading from his new collection of poems, Odysseus. The reading is at 7pm at Benbrook Public Library, 1065 Mercedes, Benbrook. Admission is free. Call 817-249-6632.