Hate when this happens: Chow, Baby ate at Fireside Pies (2949 Crockett St.) more than a month ago, but the review kept getting pushed back for higher priorities, like filling an entire column with a rant on smashed burgers. Now, having had possibly thousands of meals in the interim, Chow, Baby has a very strong impression that it liked Fireside Pies — but the details are lost to memory. Good thing it took notes. If only they were legible.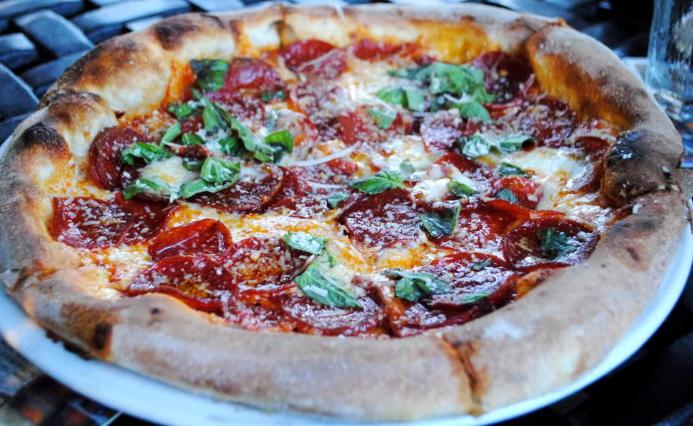 "gd noise/ltg design." Ah, yes: Fireside Pies lives in a big, open warm-and-woody room overstuffed with happy-screechy West 7th-ers — but the sound baffling or whatever you call it reduces it all to a pleasant rumble, and the soft lighting seals the comfy-cabin feel. Bustling but not irritating: very gd design indeed.
"life svgs." Really? True, our visit ran about $100, but that's because Chow, Baby can't resist over-ordering (planning ahead for midnight-snack time) and the beloved can't resist "craft" cocktails (peach basil gimlet, $9). You could spend half that much and be varietally happy by ordering three dishes per two people (most dishes are $10-$14). Start with one of the large organic and/or artisanal salads (we probably picked the Texas Bibb, $13, with mutual faves like bacon, goat cheese, hearts of palm, and cherry tomatoes). And of course you have to get one of the ultra-crispy-crust pizzas, with luxurious toppings like housemade lamb sausage, smoked provolone, and oven-dried tomatoes; bet that was good.
For a third, either a pasta or — whoa, memory rush on the cavatelli ($13), dense, gnocchi-like pasta with hedgehog mushrooms and flecks of thyme; utterly delightful. There are also wonderful small plates, here non-snobbily called "appetizers" … whoops. Chow, Baby just realized it had misinterpreted its "life svgs" note. With a five-point star superimposed, it means that at first we didn't think the butter-poached prawns, just six of them, could possibly be worth $14 — until we took our first salsa-verde'd bite, whereupon we decided we would happily pay our life svgs (coincidentally, also $14) for this dish. OK, that makes more sense.
Finally, here's a note on our server, John: "if the Violent Femmes covered a Tom Waits song and Steve Buscemi starred in the video." So a thumbs-up on service, I guess. For any other info, you're just going to have to go to Fireside Pies yourself. The last note here, double-circled and triple-underlined, says you'll lv it.
Long Lunch, Good Stuff
Probably nine-to-fivers/lunch-at-nooners won't care, but Chow, Baby, tearing in to MK's Sushi (2801 W. 7th St.) at 1:50 p.m. because many restaurants stop serving at 2, was thrilled to find that MK keeps its lunch specials going until 4 p.m. And wonderful specials they are, starting at a mere (mere for this area) $7.25. The heaping Beef Bowl ($7.50), a stir-fry of sliced beef and crisp veggies with garlic sauce (or teriyaki or seasoned soy), is under consideration for the coveted Chow, Baby Best Buy™ designation. And the sushi bento box ($9.95) came with the good stuff: tuna, salmon, yellowtail, and shrimp sushi, and a California roll that barely fit in its box segment, it was that big.
The good food and extended hours aren't the only stress relievers — trance-inducing music, the low-key competence of server Samir, and a mellow-mood-making décor of blue-glow and bubbles and swoops all go to make MK's a great place to chill, no matter what time it is.
Contact Chow, Baby at chowbaby@fwweekly.com.