Saviano's proclaims, "If you ain't had Saviano's, you ain't had Italian." Grammatical issues aside, that's a bold statement. But the new downtown restaurant has the goods to back it up.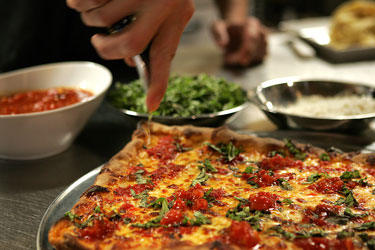 This Saviano's is the second location of a Mid-Cities fixture. The new restaurant is as sleek as most of the other new places downtown, with black banquettes, pendant lights, and a marble-topped bar, along with a pretty handkerchief-sized patio from which diners can observe passersby. But the menu features Old-World Italian comfort, especially the version from Southern Italy, where the restaurant's namesake town is located.
The calamari appetizer proved to be a nice combination of rings and tentacles fried up in a crispy, salty, slightly spicy batter. The plate came with a gravy boat full of deliciously fresh, garlicky marinara sauce. The crushed tomatoes and slivered garlic, along with some sweet herbs, were barely heated and deliciously fresh. Seconds were warranted, not because the squid was dry but because the sauce was so tasty.
My young daughter ordered the picky-eater standby: spaghetti and meatballs. After really digging into Saviano's delicate, almost fluffy balls of goodness, she refused to continue sharing her meal. (The meatballs also come as an appetizer, should you want more than the two that accompany the lunch-sized plate.) Fortunately, we also ordered pizza with fresh mushrooms and meatballs. Sliced atop the cheese and tomato sauce, the meatballs tasted a little more like sausage than they did in their natural state. We opted for the gluten-free crust (at the Euless location, Saviano's also has gluten-free ravioli). The pizza could have used a little more sauce, but the abundance of toppings, along with the leftover marinara sauce from the appetizer, made up for that small issue.
But you can get pizza anywhere. What you can't readily obtain are excellently done versions of classic Italian comfort-food items. The chicken parmigiana managed to be both tender and slightly crisp. Turning the breast into a cutlet can sometimes give the poultry the consistency of a shoe insole. But not here. The meat came smothered in more of that delectable marinara sauce and a little gooey cheese. The lunch entrée came with both a fresh mixed-greens salad and ziti, which proved a little much. We were obsessed with the garlic knots that had been served after the calamari but before the entrée and so didn't even get around to the pasta side.
And the lasagna was absolute Italian soul-food deliciousness. Occasionally when you order lasagna at a restaurant, you get a greasy square with burned edges. Saviano's generously sized slice appeared bubbly and cheesy, courtesy of the ricotta-and-meat-sauce middle and mozzarella topping.
Saviano's offers only three desserts, two of which, the cannoli and tiramisu, are made in-house. The tiramisu was the traditional confection of coffee-and-cream filling atop a superbly moist cake, which had been generously anointed with something that added even more coffee flavor. Traditionally, that "something" is espresso with either rum or Marsala, but I wasn't sure here. To say the cannoli was huge is an understatement. One custard-filled shell almost covered the entire dessert dish. Stuffed with sweet mascarpone filling studded with chocolate chips, the cannoli was sweet, insanely rich, and, as my lunch partner commented, "like diabetes on a plate." Plan to share the dessert or shoot up a little insulin later.
The service during our visit was exceptional. Everything was made to order or at least assembled to order. The only problem seems to be that to validate Saviano's claim, you would have to sample more of the extensive menu than is possible at a single sitting. And that's not a bad problem to have.
Saviano's Italian Pizzeria and Restaurant
400 Houston St, FW. 817-332-6622.
Sun 11am-6 pm, Mon-Thu 11am-10pm,
Fri-Sat 11am-midnight.
All major credit cards accepted.
Calamari ………………………. $8.95
Pizza…………………………. $13.95
Chicken parmigiana………. $8.95
Lasagna ……………………… $8.95
Spaghetti and meatballs … $7.95
Cannoli ………………………… $4.95
Tiramisu ………………………. $6.95