Late in the afternoon a few days ago, I went looking for a place to have a beer and a sandwich. The obvious choice would've been Finn MacCool's, but they stop serving food at 2 p.m., and I take serious issue with people who drop into restaurants right before the kitchen is shut down. I learned of this place near Euless called Trinity Tavern, so I said a prayer for light traffic and headed to the Mid-Cities.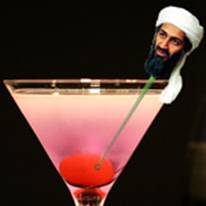 Located next to a Double Dave's in a mixed-use development near the CentrePort/DFW Airport railway station, Trinity Tavern is a handsome watering hole of dark, rustic wood and flagstone walls, with a spacious, if modestly appointed, back-bar and a kitchen serving light apps and hearty sandwiches. I guess "modestly appointed" isn't totally accurate, because the joint has all the booze you could ever need (including every flavor of Three Olives vodka) and two frozen-drink machines. My only gripe is that for such a big bar (the counter looks like it seats at least 25), there were only five draft beers. In all fairness, I've been going to the Flying Saucer a lot lately, and anything fewer than 5,000 taps is a little disappointing. No big deal, though. I was just a little bummed that my choices were mostly beers I didn't want. I'm sorry. I just don't get excited about Stella or Kurs Laht.
Anyway, I got a Bud Light and a roast beef sandwich, featuring Boar's Head meat and cheddar, plus a scoop of creamy twice-baked potato salad. Affixed to the wall above the bar were three flat-screen TVs: The two on the ends were showing sports; the one in the middle had Fox News.
Now I despise Fox News. I won't get into the specifics, because if you hate Fox News, we're probably on the same page; if you don't, well, you must be my hedge fund manager, in which case, "Hi!" But suffice it to say, that network involves waaaaaaay too much shouting for me. But at Trinity Tavern, the sound was off, and when you can't hear Fox News' branded vitriol, Rupert Murdoch's little soapbox isn't so bad — for one thing, the ticker is marginally informative. Scanning it, I learned that Congress is thinking about pulling $1.5 billion in aid to Pakistan if we discover that the Pakistani government knew about Osama Bin Laden's palatial hiding place and didn't tell us. Then this bald, soul patch-sporting, middle-aged business guy sat down two seats over. After his second Macallan 12, he struck up a conversation with me.
According to this guy, teachers have it really good right now, gas is only $2 a gallon in Mexico (I didn't bother to point out that it's sold per liter there), and Obama got Osama because the president "is not doing much of anything, anyway." This last bit was framed with everyone's favorite cringe-inducing clause, "I'm not racist, but …" The pretty blonde bartender and I exchanged winces.
He kept at it, but I paid my tab and left. I don't know if Trinity Tavern has regulars, but I hope that guy isn't one, as I'd like to go back there for another sandwich and form my own half-baked opinions in peace and quiet. –– Steve Steward
Trough. Mmm. Good.
The food-truck trend keeps a' rollin'. The latest late-night purveyor of greasy booze-sponging grub is a mobile joint called simply and appropriately the Trough, serving up hamburgers and hot dogs right by The Durty Crow, furthering expanding West 7th's eating options, probably in direct proportion to our collective guts. –– S.S.