In a cozy corner at North Main and 20th streets near the Stockyards sits Zippy's All-American Grill, a no-nonsense restaurant that was located downtown for nearly a decade. In an area oversaturated with Mex-Mex and Tex-Mex options, Zippy's now has a niche all its own.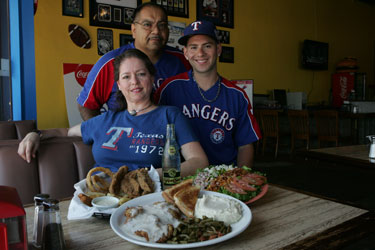 The walls are brightly painted yellow, blue, and red and decked with an eclectic mix of vintage Coca-Cola signs and sports memorabilia. Pumping through the air are classic tunes by the likes of Abba and Barry White. Clearly this diner is going for a neighborhood-dive feel and mostly succeeds. Gumball machines, a toy-grab machine, an antique popcorn popper, and tabletop versions of Ms. Pac-Man and Galaga round out Zippy's visual shtick.
The menu is extensive: hot dogs, nachos, burgers, sandwiches, salads, fried chicken, seafood, kids' meals, and grilled fish.
Warning: Be prepared for queso overload, for better or worse. The jalapeño poppers oozed with glorious, spicy melted cheddar at the slightest suggestion of a utensil. But an overabundance of the stuff ruined the otherwise great GQ Burger. From what could be detected, the Angus patty was juicy and tender, the pico de gallo was just the right amount of zesty, and the guacamole was thick and rich. If you get the GQ, ask for the queso on the side.
Zippy's chicken-fried steak may not be the largest portion you've ever seen, but it is melt-in-your-mouth good: peppery and succulent. The breading had been fried to flaky perfection, and the two side dishes were both above average. The mashed potatoes were light and fluffy, and the broccoli-cheese casserole was hearty.
Zippy's goes all in for novelty. On the menu is the Rexosaurus Burger: three kinds of cheese (American, cheddar, and Swiss), grilled onions and jalapeños, mushrooms, bacon, chili, lettuce, tomato, and pickles, all on 32 ounces of beef. (!) The price tag for this unnecessary beast? A whopping $35.99.
Zippy's also offers a philanthropic burger of sorts. A dollar from every sale of a David's Jalapeño Cheeseburger goes to H.I.K.I.D.S., a Fort Worth nonprofit dedicated to inner-city kids at risk. Chopped jalapeños and onions are mixed into the meat before cooking — the standard order of H.I.K.I.D.S. founder and longtime Zippy's regular David Carrizales.
Everything about this family-owned diner is consistent with classic American comfort. The servings are plentiful and the prices pocketbook-friendly, as long as you don't order that ridiculous $36 burger.