In its 65-year history, the Fort Worth Opera had never performed a Baroque opera until last week, when Handel's Julius Caesar was presented in Bass Performance Hall (with a reprise on Sunday). And what a debut: visually stunning, intelligently staged, and filled with some of the most distinctive singing to be found anywhere.


So why did it take so long? Some might argue whether early opera appeals to contemporary tastes. The style tends to be formal and dramatically static though blessed with beautiful music. (The operas are also long. Twelve arias were cut from this production, and it still ran three hours.) A sold-out house showed that, yes, early opera can appeal to contemporary listeners. Another obstacle was lining up singers who could handle the acrobatic vocal lines of early-18th-century opera, in particular the men, some of whom sing in the soprano range in imitation of the castrati singers of Handel's time.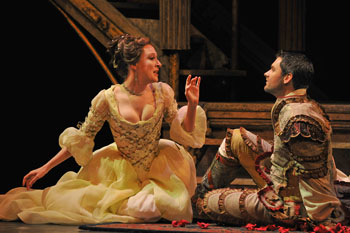 The cast here was strong. Countertenor Randall Scotting was a tall, commanding Caesar, tossing off the coloratura music with assurance and bringing compassion to the many lamentations that dot the piece.
But it was the brilliant performance of TCU alumnus Ava Pine as Cleopatra that raised the evening to another level. The soprano didn't just sing the complex vocal lines but luxuriated in the florid possibilities. Seamless scale passages, every note in place no matter the tempo, and all of the other vocal demands were met with joyous skill. The only thing missing was a trill (used as an accent in early opera), the repeated singing of two adjoining notes so quickly they blur together: at least none discernible to this listener, only what sounded like increased vibrato.
As staged by David Gately, Julius Caesar might not have worked with any other cast. Cleopatra's half brother, Ptolemy, was played as a partly comic, partly vicious sicko of ceaseless sexual appetites by counter-tenor Jose Alvarez. A delicious bathing scene found him in a suds-filled tub flirting with his guards, repeating a musical figure higher and higher as his back was scrubbed by an attendant. However, Ptolemy's murder at the hands of Sextus and his mother Cornelia (forget historical accuracy) struck a discordant note. A thrust or two from a sword or dagger would have sufficed, but the repeated blows, and his agonized screaming, introduced a moment of realism that was at odds with the rest of the highly stylized opera.
Michael Maniaci, as Sextus, was a high-voiced tenor, although he is listed as a male soprano. His voice evidently changed little in adolescence and has ripened to an open, unique sound that he uses with impressive musicality. Mezzo-soprano Meredith Arwady was a full-voiced, full-bodied Cornelia, bringing intensity and drive to the role, and Donovan Singletary's rich bass highlighted his time on stage with some powerful singing as the betrayed Egyptian general Achillas.
Baroque specialist Daniel Beckwith was brought in to coach the singers and lead the Fort Worth Symphony in the pit, and the evening's musical success can be attributed to him. An attractive platform set was brought in from the Lyric Opera of Kansas City, and the handsome costumes, designed by Robert Perdziola to suggest what singers in Handel's time might have worn, were made locally by Eric Winterling Inc. Surprising in all of the attention to detail was a lack of wigs for the men, who walked around in short, modern haircuts much like the actors in The Tudors, an HBO series that features Henry VIII and his people in period costumes but contemporary hair.
As the third of the FWO festival's major productions in Bass Performance Hall this year, Julius Caesar is another triumph for FWO director DarrenWoods, who is celebrating 10 years with the company in grand style.
Cliburn Amateur Winners
I'd never been to a Cliburn International Piano Competition for Outstanding Amateurs until last week, and I didn't know what to expect. Certainly nothng like the playing of Dr. Christopher Shih, a 38-year-old gastroenterologist from Maryland who took first place, offering an extraordinary performance of Brahms' heroic Variations and Fugue on a Theme of Handel.
He wasn't far into the piece when I forgot I was watching a competition and just listened, enthralled by the music, the structure of the piece firmly in place, the phrases sensitively shaped, every note beautifully articulated. It was a polished performance filled with musical insight, and it came to a majestic conclusion that brought the audience to its feet with a roar. My own reaction was "Wow! This guy could hold his own with just about any pianist on the concert circuit today."
Shih had actually returned to Fort Worth from the 1997 regular Cliburn competition for young hopefuls, where he didn't advance. What a difference 14 years makes. In addition to the first prize, Shih took home awards for best performance of a Romantic work and Audience Favorite.
Second-place winner Clark Griffith of Fort Worth, a 47-year-old retired database programmer, placed third in the 2007 meeting of the Cliburn Amateur. He played Bach in his final performance: an elegant reading of the "Ricercar" from The Musical Offering that was a marvel of clean voicing and sympathetic sound. In addition to the second prize, Griffith took best performance of a Baroque work and most creative programming, along with the Fort Worth Piano Teachers Forum Award.
Third place went to Barry Coutinho, also 47, a family physician from Pittsburgh, after a mesmerizing performance of Ravel's Gaspard de la Nuit. He lost me in "Le gibet," but the beginning "Ondine" and ending "Scarbo" were marvels of shimmering sound. He also won for best performance of a post-Romantic work.
Fort Worth Opera Festival
Thru June 5 at Bass Performance Hall, 525 Commerce St, FW, and Sanders Theater (inside the Fort Worth Community Arts Center),1300 Gendy St, FW. $15.40-157.80. 817-731-0726.