The Lois Weber Film Festival in Grand Prairie is devoted to movies directed by women. Looking over the selections on offer, you might be struck by how little the films have in common. Yet no one would bat an eyelash if a festival of movies directed by men turned up a wide range of subjects and styles.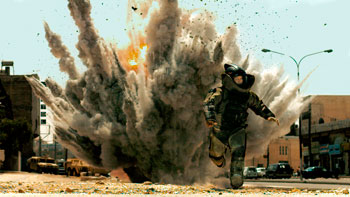 Some of the fare at this first-ever event is unabashedly commercial: A League of Their Own, Wayne's World, Twilight, It's Complicated. These are balanced out by films that take in the history of women who've found their way (through struggle or happenstance) into the director's chair. The Ocean Waif, a 1916 film about an abused wife finding love with another man, is directed by Alice Guy-Blaché, who started out as a secretary with the legendary Gaumont-Paris company in the 1890s and likely was the first female filmmaker. Full-length features include Frances Marion's 1921 silent drama The Love Light and Dorothy Arzner's 1940 music-hall drama Dance, Girl, Dance, early examples of women producing entertainment for general audiences. Cynthia Mondell's documentary Sisters of '77 captures the feminist movement in full ferment during the National Women's Conference in Houston.
The festival ends appropriately with Kathryn Bigelow's The Hurt Locker, which won Oscars for Best Picture and — in a first for women — Best Director, but which still drew criticism from some observers (male and female) who said a woman shouldn't direct a film with that type of subject. Misguided as we find that to be, it's food for thought as cinema and women's place in it continue to evolve.
The Lois Weber Film Festival runs Jul 24-30 at Uptown Theater, 120 S Main St, Grand Prairie. Single tickets are $6, passes are $36. Call 972-237-8786.