Ah, Fort Worth Library, or should we say, "The artist formerly known as Fort Worth Public Library"? You are now so much more than mere depository of books or, as we like to call them, "stupid things that are hard," although, indeed, any poor soul in desperate need of IBM PC Assembly Language (copyright 1983) or The Billboard Book of Top 40 Hits (copyright 1987) can find solace in your clean, well-lighted, soporific embrace.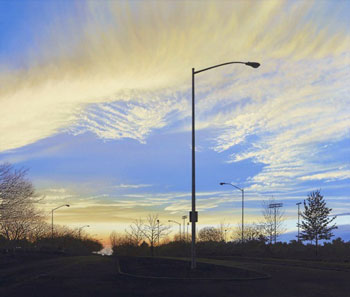 Yes, Fort Worth Library, you have evolved beyond your original mission: to do something or other having to do with reading or the First Amendment or education or something. For starters, you are the anti-Netflix. Your free rentals of DVDs and books-on-CD have made cheapskates out of us all. You are also homeless bathhouse, loud-talking center, and internet super-alley, your modest kiosks of computers serving as veritable buffets of opportunities for grammatically mangled virtual flirtations among adolescents prohibited from Facebooking at home.
But a funny thing happened, Fort Worth Library, on your way to manifesting the fractured, digitized, book-hating age.
You became a pretty decent art gallery.
Sure, the eye-crossing handiwork of assorted local watercolor societies has graced your walls, but most of the pieces to appear under your lofty roof recently have felt the hot breath of genius on their necks. In your halls has fluoresced the brilliance of such Fort Worth masters as photographer Peter Feresten; painters Ron Tomlinson, Billy Hassell, Sedrick Huckaby, and Benito Huerta; and multimedia artist Christopher Blay. And your winning attitude is asserting itself again with your latest exhibit, perhaps your best yet.
The curiously titled Contem?oraries: A Survey of 21st Century American Art is quite an achievement, a group show of more than three dozen exemplary two-dimensional artworks on display now through October. We will forgive Fort Worth Library the rather grandiose "American Art" in the show's subtitle –– most of the artists are (to our delight) from Fort Worth, hardly making for an "American" survey. (Not sure about the "?" in place of the "p" in the title, though. A little too Wyld Stallyns-y for us.)
The ostensible point of Contem?oraries, according to a statement by the curators, is to bring viewers to the happy crossroads where representational art meets photography and cinema, where painters channel cameras and photographers achieve abstractions via film. And, no, there's no WiFi there. But before you say, "Hey, Fort Worth Library! 1974 called! It wants its art exhibit back!" pause to consider that the internet is merely an extension of photography and cinema, not really a medium to itself, with its own tools and materials (camera, film, paintbrush, canvas, hands, clay). The content of Contem?oraries further suggests the curators aren't above winking at us –– the average viewer may marvel that there are actually people out there capable of disconnecting themselves from Facebook and Twitter long enough to make art by hand. By hand?! Sho'nuff!
The 15 artists, the curators say, were selected "because of the breadth of their techniques and influences their works represent and for the interesting juxtapositions to be found in bringing them together." Can't figure out the antecedent to "them," either, huh? No worries. What the curators are probably trying to say is that they chose really good artists whose work is mostly representational. The show succeeds often, whether delving into pure fantasy and photographic abstractions or highlighting photorealism.
The three major photorealist painters –– Daniel Blagg, Nancy Lamb, and Pat Gabriel –– are equally skilled but demonstrate three very distinct approaches. In Gabriel's moody landscapes, depicting "the collision of the natural and the man-made," according to his artist's statement, he wields his paintbrush like a sword –– the stuttering lines in his stratus clouds are staggeringly precise and his partially silhouetted trees solid. Blagg, an appreciator of urban blight, has a touch that, especially in the shadowy "Lonesome Cowboy," occasionally borders on impressionistic, and Lamb adds depth to even the daintiest strand of hair or wrinkle in fabric in her colorful mises en scène.
The other photorealist painters, though much less idiosyncratic than Blagg, Lamb, and Gabriel, are also ridiculously talented. Nathan Madrid, most notably in his still lifes of a white porcelain washbasin and a shiny blue couch, layers on the paint but still manages to pull off a sublime textural minimalism. Eric Stevens and Jane Hansen go all in for intricate detail (but don't often emerge unscathed).
Leslie Lanzotti, represented by only one piece, isn't as much a photorealist as a trompe l'oeil painter. In her colorful, pop-culture-obsessed canvases, she creates the impression that the image is a painted photograph.
Looking at some of the pieces in Contem?oraries, you'd be forgiven for wondering whether some of the artists here have ever even heard of the internet. All they must have time to do is make freaking art. Sam Ivie renders his incredibly lifelike portraits on paper semi-neurotically, minuscule ink blot by minuscule ink blot, and sweat equity practically surges from Georgian Justine Stevens' intaglio bouquets of flowers with human limbs and faces. A different though no less intense species of wildly obsessive behavior comes in the form of several aerial photographs of the Texas landscape by Bruce Jordan, who achieved his Texas from the High Wire series (2006) by standing atop soaring towers. (!) The simple, elegant, geometrically patterned results call to mind Diebenkorn and Rothko, and a similar kind of abstract-expressionism announces itself in Jill Johnson's hyper-flat photos of blighted structures. Elaine Taylor's circles in graphite on paper are so accurate they look machine-made, and two of James Lassen's three vertical drawings make a weird sort of visual sense despite their chaotic content. (The other piece is an eerie self-portrait.)
Perhaps the most obsessive artist here is Daniel Scott Jr., who assembles his portraits from candy wrappers, drink labels, gum wrappers, sugar packets, tea packaging, "anything from the marketplace that shows a label," he writes in his artist's statement.
The boogeyman of consumerism also has a home in Oklahoman Clint Stone's frenetic, zany acrylic tableaux, whose cartoonish vibrancy from the golden age of advertising summons an imagined collaboration between Basquiat and Rauschenberg.
In offering yet another superlative local-centric show, Fort Worth Library, you are distancing yourself from local galleries (for-profit and non-) and the museums, whose curators really can't be bothered to even tip their berets in the direction of local artists. Buoying your current show's beguiling but hardly novel scholarship is a fundamental reality: Fort Worth needs more exhibits like Contem?oraries, if only to broadcast the wealth of talent in our backyard. Could the show have used some R-rated zip? Of course. Could the curators have chosen better artists? Probably not.
Contem?oraries: A Survey of 21st Century American Art
Thru Oct 14 at Fort Worth Library, 500 W 3rd St, FW. Free. 817-392-7323.