After several decades' worth of movie directors' sons taking up their fathers' line of work, now we're seeing directors' daughters do the same, and not a minute too soon. The results have been unsurprisingly mixed. On one hand, Sofia Coppola's films have borne no resemblance to the ones that made the reputation of her father, Francis Ford Coppola. At the other end of the spectrum is Texas Killing Fields, the first movie directed by Ami Canaan Mann, and it's exactly the sort of story that would attract the interest of her father, Michael Mann. The comparison doesn't flatter this cop thriller, with its extensive echoes of the elder Mann's Manhunter and Heat. Yet if we see this movie purely as a directorial debut, it's not an unpromising one.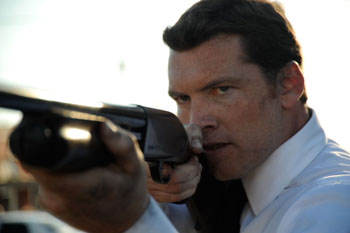 The bulk of the film takes place in Texas City, on the Texas coast, where transplanted New Yorker Brian Heigh (Jeffrey Dean Morgan) works as a homicide detective, partnered with hotheaded local boy Mike Souder (Sam Worthington). A hideous case comes their way when a 15-year-old runaway girl turns up murdered in their jurisdiction. Heigh thinks their case is related to similar killings in other counties, but Souder wants them to stick to their own neighborhood, not least because working with other law-enforcement agencies might bring him back into contact with his ex-wife Pam Stall (the ubiquitous Jessica Chastain), a homicide cop in the next county. Heigh and Souder kick into high gear when the killer taunts them by phoning them from his latest murder site, just so that the cops can hear the victim's dying screams.
As is often the case with her father, Ami Canaan Mann isn't content with treating this story merely as a police procedural. She uses the murders to take a look at the ins and outs of rural policing and the challenges of retrieving crime scene evidence from a swamp during rainy weather. The racial tension between Texas City's white and African-American communities is an element in the background, as is the uneasy cooperation between those communities' criminal elements. A significant subplot is given over to a local girl called Little Anne (Chloë Grace Moretz), a drug addict's daughter whom Heigh tries to protect from her mom's unsavory friends.