Walking down Magnolia to the convenience store on College Avenue the other day, I had the idea that I would grab a beer on my way to buying a Red Bull. I was procrastinating, avoiding writing at home, you see, and I figured that on a Sunday night, the new brew pub Zio Carlo would be sparsely populated.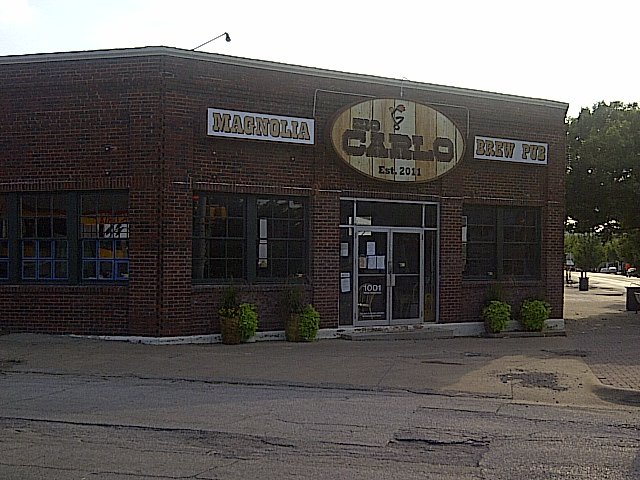 Boy, was I wrong. For one thing, the outside wall of the joint (where a patio will go) was cluttered with bicycles. I guessed correctly that the Fort Worth Night Riders had made Zio Carlo a stop on their weekly pub crawl ride, but when I pulled open the double doors, I was surprised to see the seating areas crowded by people in church clothes, delicately eating snacks from a table set up against the wall. The crowd was not what I was hoping for, especially since it seemed that I was interrupting something. Even the cyclists looked a little uncomfortable. I went to the store and walked home.
Then Monday rolled around. My work came in fits and starts, and at one point I decided I needed another break, so I went to the store again. Lo and behold, Zio Carlo was open. I stepped in for a pint and took the time to absorb the scenery.
When the brew pub's proprietor and namesake Carlo purchased the spot a couple of years ago, he was essentially taking ownership of a condemned building, and the exposed wood everywhere seems to be a testimony to Zio Carlo's humble origins — this isn't to say that the joint looks like the roof is going to cave in; most of the rafters and accents are stained and intentionally distressed, giving the oxblood paint on the walls some old-world warmth. Indeed, with its high ceilings and dark wood, the place looks like an Italian restaurant minus the kitschy paintings of gondolas and the Tower of Pisa. Carlo plans on serving gourmet pizzas and specialty pasta dishes soon, once the city approves his permits; paperwork hurdles, evidently, are also currently keeping him from brewing his own beer.
I asked about the brews. Of the 15 or so taps behind the bar, four are reserved for Carlo's Gr8 Ale homebrews. I didn't get a chance to talk to him about the house's beers, but bartender Rowdy Dugan told me he'd sampled one (at Carlo's insistence) before leaving a backyard barbecue a couple years ago. Rowdy assured me Carlo knows what he's doing. I am eagerly waiting for him to fire up the tanks visible from the windows on the College Avenue side of the building. Rowdy said that if all goes according to plan/schedule/the whims-of-TABC, Gr8 Ales will be available to the public in time for the holidays.
Zio Carlo is interesting to me because it definitely reflects the character of the neighborhood. Near Southside entrepreneurs have been infusing the neighborhood with semi-upscale restaurants for several years now, and this new watering hole is more in line with a place like Lili's Bistro than the Chat Room. A classy place with high-end beers is a good thing, though, and Zio Carlo's burgeoning popularity is a sign of Magnolia's economic resilience and its residents' commitment to building a successful community. After my third beer, I figured I probably needed to get back to work. Happy hour was on its way, so I left before more people started to trickle in. I didn't want to get stuck having a good time. –– Steve Steward
Speak-a da Rumors
Speaking of classy Italian joints, I stopped into Sardines Ristorante Italiano for a cocktail and an appetizer the other night — if you're curious, mushrooms with lemon butter go great with Jim Beam — but I also wanted to confirm a bit of scuttlebutt that I'd heard, that the venerable Cultural District staple was undergoing some cosmetic changes, perhaps even eschewing the eats in favor of the drinks. And while the bartender pointed out that the bar had a new countertop, he insisted that Sardines was still going to offer food –– and live music –– and refrained from elaborating. As legendary Fort Worth jazzman Joey Carter tickled the ivories, I left my contact info with bartender and promised not to perpetuate any gossip. So, um, is Sardines turning into a bar, one that doesn't serve any food, just hooch? I have no idea. What I do know is that you can get a cocktail, wine, or beer there now, and if you haven't stopped by in a while, do yourself a favor and drop in for dinner. Or for some of those mushrooms at least. –– S.S.
Zio Carlo Brew Pub
1001 W Magnolia Av, FW. 817-923-8000.
Sardines Ristorante Italiano
509 University Dr, FW.
817-332-9937.
Contact Last Call at lastcall@fwweekly.com.