We wondered how Lone Star International Film Festival would fare now that it's no longer the new kid on the block. Well, this year LSIFF has rounded up its most prestigious lineup yet, giving us a chance to see some entries that may well be cropping up again come Oscar season.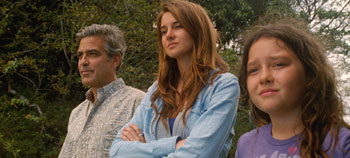 It starts on opening night with The Descendants, a dramedy starring George Clooney as a Hawaii man trying to cope with his family and his past after his wife is rendered comatose by a boating accident. A parade of award-winners follows: Shame, a multiple prize-winner at the Venice Film Festival that stars Michael Fassbender as a man battling sex addiction; We Need to Talk About Kevin, fresh from its top prize at the London Film Festival, starring Tilda Swinton as a mother whose teenage son has gone on a shooting rampage at his school; and Pariah, a Sundance laureate about the travails of a young African-American lesbian.
Looking for lighter fare? There's The Artist, a French silent black-and-white comedy that's set in Hollywood in 1927 — it won an acting prize at Cannes. Slacker 2011 is a Richard Linklater-approved remake of his 1991 indie film, with each individual scene done by different filmmakers. Andrew Disney's locally shot comedy/noir thriller Searching for Sonny will finally be unveiled here, too, as will Butter, a political satire starring Jennifer Garner that's set at a butter-carving contest. The heavyweights even show up in the documentaries, with Joe Berlinger's Paradise Lost 3, detailing the freeing of the West Memphis Three. With all this, LSIFF looks to provide an embarrassment of riches this year.
The Lone Star International Film Festival runs Wed-Sun at various locations, FW. Single tickets are $7-10, passes are $25-200. Call 817-924-6000.