A few months ago, I wrote a column about locations that are restaurant sinkholes — places where, for unknown reasons, restaurants go to die (Lift the Spell: Eat at Tie's, Aug. 31). One glaring omission on that list was 400 Houston St. downtown. It's been a Whataburger and a Tommy's Hamburgers, and more recently it housed Zippy's All American Grill — which didn't die, but got the heck out of Dodge before the bad juju kicked in. I don't know whether the building sits on an Indian burial ground or the rent is just too high, but it's a fantastic location that can't seem to hold onto tenants.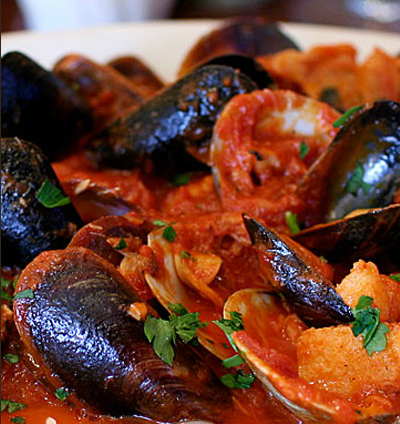 The current occupant is Saviano's Italian Pizzeria and Restaurant, the second location for a family-owned restaurant based in Euless. On a recent Thursday visit, only two other couples populated the room of about a dozen tables, and they were getting ready to leave. Fearing the psychic chill of dining amid emptiness, we opted to cozy up to the remaining humans by eating at the bar.
The décor is comfortable but modern, with faux brick walls that pay homage to its old-world Italian roots. It looks more like a neighborhood eatery than a chichi metropolitan restaurant that would appeal to the Zagat crowd, but therein lies the charm.