A few months ago, I wrote a column about locations that are restaurant sinkholes — places where, for unknown reasons, restaurants go to die (Lift the Spell: Eat at Tie's, Aug. 31). One glaring omission on that list was 400 Houston St. downtown. It's been a Whataburger and a Tommy's Hamburgers, and more recently it housed Zippy's All American Grill — which didn't die, but got the heck out of Dodge before the bad juju kicked in. I don't know whether the building sits on an Indian burial ground or the rent is just too high, but it's a fantastic location that can't seem to hold onto tenants.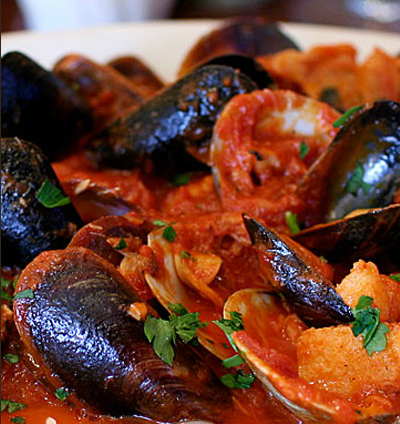 The current occupant is Saviano's Italian Pizzeria and Restaurant, the second location for a family-owned restaurant based in Euless. On a recent Thursday visit, only two other couples populated the room of about a dozen tables, and they were getting ready to leave. Fearing the psychic chill of dining amid emptiness, we opted to cozy up to the remaining humans by eating at the bar.
The décor is comfortable but modern, with faux brick walls that pay homage to its old-world Italian roots. It looks more like a neighborhood eatery than a chichi metropolitan restaurant that would appeal to the Zagat crowd, but therein lies the charm.
As we dined, one of the staffers played guitar and sang for his co-workers. While I found that endearing, having an open-mic session during peak hours on a Thursday night can't be a good sign regarding the health of a restaurant.
The menu is classic Italian fare and specialty pizzas, with a few fancier items for gourmands. My guest and I started with the house salad, which consisted of iceberg lettuce and a variety of veggies, with red wine vinaigrette. It seemed to have been crafted to be inoffensive. It was that and no more. The garlic bread served with the salads was a little chewy, as though it had been microwaved.
Against my wishes, my guest ordered the Margherita pizza ($16.95). Since I am supposed to remain anonymous, I couldn't really argue too loudly that we needed to try something more adventurous, in order to better judge the place. But, for what it's worth, the pizza was excellent. The basil and tomatoes were fresh, and the crust was thin and crispy and tasted hand-rolled. My fancy food-critic entrée choice, the lobster ravioli ($14.95), was other-worldly rich, as though they used Fabergé eggs and the tears of angels to thicken the cream sauce. The menu had promised a "light cream sauce," but what the kitchen delivered was so rich I could have drizzled it over pancakes. Needless to say, the sauce overpowered the flavor of lobster ravioli, which were cooked al dente.
Feeling as though I hadn't really had a representative meal, I went back a couple of days later. I'm pleased to report that the dining room was almost full, and no one was wielding a guitar. The special recipe lasagna ($9.95) had the perfect amount of ricotta and mozzarella cheeses, so as not to over power the rest of the dish. The meat sauce was bright and strong, as though it had been simmering for hours. The meat had the perfect consistency, and the pecorino romano cheese topping elevated the dish to something more elegant than your run-of-mill lasagna.
I really do hope Saviano's can stick around. It's a cozy little place with a friendly, efficient wait staff and decent wine list. If the problem is the parking situation or competition in the area, that's not fixable. If the problem is more spiritual, I hope they'll get a shaman or a young priest and an old priest and exorcise whatever demon is haunting the spot, because I'm going to need a steady supply of that lasagna.
Contact Chow, Baby at chowbaby@fwweekly.com