If you've lived in Tarrant County for more than a decade, you might hear "Colleyville" and think "pasture." Although Colleyville just made Money magazine's list of the 100 best places to live, the concept of fine dining is not necessarily something you'd associate with the now-sprawling suburb. But Colleyville is now home to the relatively recently opened Next Wood Fired Bistro & Vino Bar, a casually elegant establishment in a repurposed fast-food joint, offering some lovely down-home Italian fusion.


And even rarer than such cuisine in such environs is the chef's background: Ying Aikins left her native Beijing for the United States with a degree in industrial engineering decades ago. From industrial engineer to home cook to caterer to, now, restaurateur, she seems to be a late bloomer.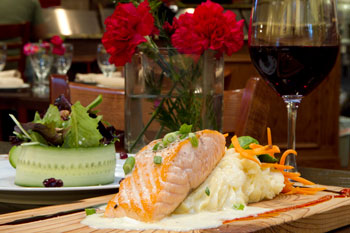 My table of three started with the crab cake appetizer and one of the grilled flatbreads touted as a house specialty. The two cakes, each a little larger than a golf ball, arrived artfully presented on a plate of pesto-infused olive oil and rich balsamic vinegar with dollops of slightly spicy ground Dijon mustard accented with salty capers, to even out the balsamic's sweetness. The cakes, filled with a lot of sweet lump crab meat and a minimum of breading, were, simply, amazing.
The flatbread was meant to have an onion marmalade, escargot, truffle "crème," and camembert cheese on top but came out somewhat differently. The bread's consistency was pleasantly between super-crisp and doughy, and the gooey cheese was lovely. However, we didn't get a lot of the onion flavor, and the escargot were in fairly good-sized chunks on a little of the bread instead of thinly sliced over the entire thing. The truffle was mostly a whisper in the creamy camembert cheese. The idea was fabulous, but something was lacking in the execution.
The chicken Marsala included a whole moist breast, complete with wing. The bird wasn't pounded flat –– kind of risky, because there aren't many things worse than biting into undercooked chicken. However, the bird was cooked just right, and the meaty portobello mushrooms and classic Marsala wine sauce were especially nice with the whipped potatoes and tiny carrots that accompanied the entrée.
From the pasta menu, the chicken Jerusalem featured the same chicken breast with artichokes and mushrooms, everything bathed in a beautiful blend of wine and cream atop angel hair pasta. Not too rich and not too light, the dish was nicely balanced.
But the stellar entrée was the daily special: fresh salmon in a brandy cream sauce atop homemade egg noodles. The salmon was just slightly underdone, making it moist and incredibly flavorful. The noodles were al dente, and the slightly sweet pink sauce made us wish we'd saved some of the flatbread for dipping purposes.
There's no printed dessert menu, but since all of the goodies are made fresh daily, anything will probably go down smooth. The vanilla-tinged panna cotta (an Italian version of flan) was sweet and creamy, not too firm and not too goopy. The crème brûlée had the ideal crunchy caramel atop luscious custard. The chocolate bouchon is the restaurant's take on molten lava cake: rich chocolate cake with a gooey center, surrounded by whipped cream.
Everything was fresh, and nothing we ate had been sitting for a long time. The service was of the caliber you'd expect at a fancier, white-tablecloth place. The menu is fairly broad, but our server had a good command of the various dishes, as well as the interesting wine list that we, unfortunately, didn't get to sample: something to enjoy next time.
Next Wood Fired Bistro & Vino Bar
5003 Colleyville Blvd, Colleyville. 682-325-4046.
Sun 10am-2:30pm, 11am-2:30pm Mon-Sat, 5-9pm Mon-Thu, 5-10pm Fri-Sat. All major credit cards accepted.
Crab cake………………………………… $6.50
Grilled onion, truffle flatbread…….. $6.00
Chicken Jerusalem……………………. $9.50
Chicken Marsala……………………….. $10.50
Salmon pasta special………………… $13.50
Panna cotta, crème brûlée, or chocolate bouchon……………. $13.50