The 23rd annual Merry TubaChristmas event moves to a different location this year. Instead of downtown, it'll be held outside TCU's Jarvis Hall. In honor of this event, we at Fort Worth Weekly present fun facts about tubas, tubists, and TubaChristmas.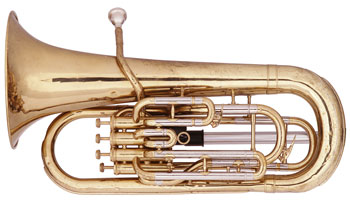 1. Though the instrument is sometimes mocked (most recently on Saturday Night Live as "music's answer to the fart"), there's no shortage of music out there that exploits the tuba's expressive capabilities, such as Ralph Vaughan Williams' Tuba Concerto.
2. The first TubaChristmas was held in 1974 in Rockefeller Center with more than 300 musicians participating. The Christmas carols were arranged for the ensemble by songwriter and music scholar Alec Wilder, who ironically died on Christmas Eve six years later.
3. The tuba is one of the newest additions to the modern symphony orchestra, having been patented in 1835 in Germany. It replaced the ophicleide, an upright brass bugle that previously provided bass notes from the brass section.
4. In addition to ophicleides, TubaChristmas is open to other instruments from the tuba family, including the hélicon (a tuba that wraps around the body to facilitate its use in marching bands), the sousaphone (a hélicon with the bell pointing forward instead of up), the euphonium (sometimes called a "tenor tuba," pitched one octave higher than a standard tuba), and baritone horn (a physically smaller cousin often confused with the euphonium). If you like your Christmas music nice and bass-heavy, here's your concert.
Merry TubaChristmas starts at noon Thu at TCU, Jarvis Hall, 3589 Bellaire Dr, FW. Admission is free. Call 972-898-2922.