Tell Badcreek's five members they're in a Southern rock band, and they won't grouse much about it. It's when you classify these Fort Worthians' music as "Texas Music" that they cringe.


Which may seem strange, considering Badcreek's tuneage rings much more Texan than Southern. Vocalist Eric Waldron's raw and throaty crooning sounds unmistakably C&W. The same goes for bassist Bobby Nash's rockabilly bass-walking. Even guitarist Linc Campbell's grungy picking, despite its rock roots, leans toward countrified.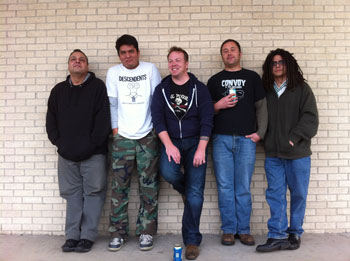 Still, the guys spurn the whole subgenre. The band's umbrage at the state of today's Texas Music traces back to sometime around the arrival of Nashville money. Band members blame the style's devolution from a distinct sound into a poppy cliché on corporate Tennessee's push for homogeneity a la Fort Worth transplant Pat Green.
"I hate anything labeled 'Texas country,' " said Campbell, a financial adviser. "In general, I think it's so pasteurized, and it reminds me of the 23-year-old guys at the Zeta House with their hats on backward drinking Pabst out of a keg."
Waldron, the group's main songwriter, nodded his head. "It used to be real. It used to be genuine."
This frustration about lost authenticity weighs on just about everything the group writes. Members insist they don't aim to invent a new sound. They say they'd rather carry the torch and hew to country music of yore, the folksy machismo that Willie Nelson and Townes Van Zandt blazed before the big money attracted all that cheap imitation.
"Winter's Day" is arguably the track that best epitomizes Badcreek's homage to the rough cut of the early pioneers without any kitschy imitation. It's a catchy blend of Waldron's Texas drawl backed by a honkytonk tempo.
But this music is not for the wide-eyed. It ultimately saddens. Waldron's voice is nothing if not aching. Think rainy road-trip music. The only thing keeping Badcreek's overall sound this side of nihilistic is Campbell's punkishly upbeat alt-country riffs.
And besides punk, a little bit of proggy orchestration is probably the element that helps distinguish Badcreek. Look no further than keyboardist Riyad Elmasri's haunting, post-rock piano melody in "4th & Main." No harmonicas or fiddles here.
Badcreek began playing a little more than a year ago, but the band's roots trace back another year and a half to the death of Fort Worth singer-songwriter Chad Percy (a.k.a. Cadillac Fraf), a respected and much-loved local figure and friend of all five Badcreek members.
Percy crashed his motorized scooter late one night in September 2008 as Campbell followed in his own vehicle. Percy, 36, slipped into a coma and died four months later. Many musicians within his circle convened at memorial shows in Fort Worth and Austin to pay their respects.
Around this time, Campbell, Nash, and future Badcreek drummer Paul Hernandez — three friends who met a couple of decades earlier as twentysomethings in the Fort Worth punk scene — joined to create a backup band for a visiting friend of Percy's whose stage name was Skitz O'Fuel.
When Skitzo's statewide touring circuit brought him through Fort Worth, Campbell and company backed him as The Beautiful Train Wreck. Campbell now summarizes that musical collaboration as "meth country" and, like the other two former members now in Badcreek, he remembers fondly how the project taught him to veer outside punk metal.
But Skitzo and the Train Wreck failed to establish much of a local following, other than Waldron and a few other local musicians.
And even Waldron wasn't really there for the music. He had ulterior motives: He hoped to poach Campbell, Hernandez, and Nash, all three of whom he'd known for most of his adult life, for a new project. The Train Wreck three now say they were reluctant to join Waldron, citing initial misgivings about his willingness to stray the least bit from his straight-country style. But Waldron had tired of his former band, The High Lifes, and was determined to launch the new project.
They finally agreed to give it a shot in summer 2010. They also recruited Elmasri, who, now at 26, is roughly 15 years younger than the rest of the Badcreek guys. Elmasri met the others through his own ties to Percy.
Those early days of rehearsals in Waldron's cramped apartment were, creatively, some of Badcreek's most productive, members now agree. Waldron had written and stockpiled many songs that went nowhere with The High Lifes but were quickly finished by Badcreek, at a rate of one per rehearsal.
The band continues to write that way today, only not quite as quickly, with Waldron penning early versions of songs on his acoustic guitar whenever he finds time away from work at a Dallas beer distributorship. Almost without exception, these early versions are laden with the lead man's distinctive down-home hurt.
"That would be my biggest influence right there — heartbreak," Waldron said. "I don't really write happy songs. I almost want to never be happy. … It's like somebody coming off heroin."
On Sundays, the only time when every Badcreek member is free, Waldron brings out his rough versions. The other four inject an alternative edge into his largely acoustic sketches.
Or, according to Elmasri: A sketch from Waldron "would be the skeleton of a song, and we would stick the body on it."
Badcreek now has about six songs ready for mastering to compose the band's debut recording, though a three-song disc recorded earlier has been available at shows for a couple of months now. The debut EP should be ready within the next few months.
Badcreek
Fri, Jan 6, w/Guns of Navarone at Double Wide, 3510 Commerce St, Dallas. 214-887-6510.