There's this Tim Allen bit from the early '90s where he disparages German food thusly: "If you can't shove it into an animal casing, you don't eat it." And then he makes pig noises. In Germany, obviously, saying an event is a "total sausage-fest" has a far more literal meaning than it does here, but the idea that food from the land of lederhosen is nothing but pig parts is pretty unfair.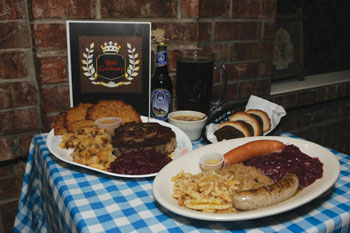 As if to prove that there's more to the motherland than links and strudel, Little Germany offers a menu that's light on the sausage and heavy on other hearty Central-European grub.
Located in the building that formerly housed Thai Tina's, Little Germany at first seems like some hole-in-the-wall to be easily overlooked. Of course, in the age of Guy Fieri, every foodie pretty much knows better than to automatically pass by such low-profile places. This sort of gastronomical awareness may be part of why Little Germany's parking spots are often full — that and the fact that one visit to its homey little dining room usually turns into a second. Indeed, both times I stopped in, I heard customers promising they'd be back.
Little Germany offers a lot to be enthusiastic about. For one thing, its owners haven't done a whole lot of remodeling — the mismatch between its vaguely Mediterranean motif and the baby-blue-and-white checkered tablecloths is kind of charming, as is the hulking frame of an old projection-screen TV, its colors faded like a magazine left in the backyard. And Christmas decorations were still up. In that kind of atmosphere, the food had better speak up. At Little Germany, it practically shouts.
On my first visit, dinner started with a huge appetizer of potato pancakes, cut into quarters to make room on the platter for ramekins of sour cream and apple sauce. The pancakes, slightly firm but soft and chewy, were enough for three or four people. I tried both the sour cream and applesauce but decided the pancakes were just fine au natural. Trying to leave room for my entrée, I stopped long before the don't-fill-up-on-potato-pancakes mark.
I'm not really sure what German-style means on the menu. Regardless, my dinner that night was "German-style beef steak," described as a meatball served with spaetzle (short, creamy egg noodles), fried onions, and sauerkraut. This is not the kind of meatball your Nona puts in spaghetti — Little Germany's meatball is the size of a softball. Covered in onions (I got mine grilled instead), the meatball was tasty and spicy, a nice counter to the mellow, buttery goodness of the noodles. The plate came with a cup of soup, either potato and sausage or goulash. I went with the potato and sausage, and I could have easily eaten a whole bowl of the stuff. The sauerkraut was adequately tangy, but I had so much food, I only nibbled at it.
Lunch was considerably cheaper but involved just as much food. Thinking I'd sample now/fill a to-go box later, I ordered the rouladen appetizer: a strip of beef wrapped around a pickle with bacon, red cabbage, and spaetzle on the side. If that sounds like a meal, you're right on the mark. I'm not sure why this thing was on the apps list. There was enough food for at least three people. In any case, the pot-roasted beef was tender and succulent. I didn't really notice the dill apart from one bite that was a little briny, but as an entrée unto itself, the rouladen was delicious.
My main plate was the German-style jaeger: breaded pork with mushroom sauce, mashed potatoes, and red cabbage, again served with a choice of soup. This time I went with the goulash, which was more like eating mushroom gravy –– spooned over bread spread with garlic butter, the goulash was scrumptious. The breading on the pork tasted similar to tempura. The mushrooms were a little chewier than I like, but the sauce was perfect for the light flavor of the breaded pork.
As for sides, I was particularly impressed with the red cabbage, so soft it practically melted in my mouth. After my third or fourth bite, I caught the flavor memory: the cabbage's sweet and mild tartness reminded me a lot of apple pie.
If Little Germany isn't on your dining radar, you should change that ASAP.
Little Germany
703 N Henderson St. 682-224-2601.
Sun 11:30am-8pm, Mon-Thu 10am-9pm, Fri-Sat 10am-10pm. MasterCard, Visa accepted.
German-style beef steak dinner .. $13.95
Rouladen (lunch) ………………………. $6.95
German-style jaeger (lunch) ………. $6.95