The Fort Worth Museum of Science and History is holding an unusual sort of film retrospective while the Stock Show is going on. The Lone Star Western Film Series is showing John Wayne movies on Sundays, but rather than focus on the star's agreed-upon masterpieces (such as Stagecoach, The Searchers, and Rio Bravo), the museum will be showing Westerns that Wayne made for the now-defunct Monogram Pictures in 1934, before he became famous.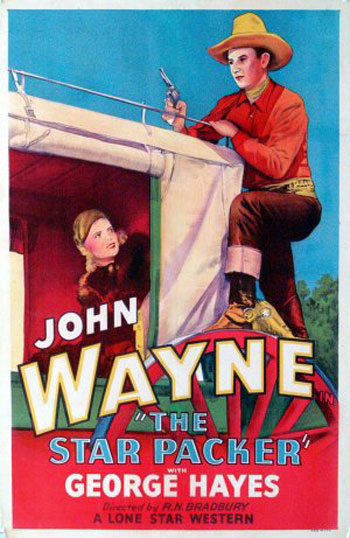 This Sunday features The Star Packer, in which Wayne plays a U.S. marshal trying to trap an outlaw gang leader who's so shadowy that he's known as The Shadow. Next Sunday has Blue Steel (not to be confused with the 1980s cop thriller by the same name that starred Jamie Lee Curtis), which has Wayne trying to foil a rich man who's trying to drive out the local ranchers. Both films were directed by Robert N. Bradbury, and both co-star George Hayes, who would later find such fame as a garrulous character actor that he was nicknamed "Gabby" after a role he played in a film called Southward Ho. (The sobriquet was well-earned — Hayes would go on to portray characters named "Gabby" in 48 films in only seven years.) Fort Worth author and historian Michael Price, who conceived this series, provides introductions to each screening. The films should open up a fascinating perspective on the making of the erstwhile Marion Morrison into an international icon.
The Lone Star Western Film Series is at 2pm Sun at Fort Worth Museum of Science and History, 1600 Gendy St, FW. Admission is free with Stock Show or museum admission. Call 817-255-9300.