WED ▪ 8
The Dallas Architecture Forum takes its lecture series to Arlington this evening when widely acclaimed architect James Carpenter comes to UTA to discuss the role of glass in architecture and his work developing new types of glass for construction use. The lecture is at 7pm at Maverick Activities Center, 500 W Nedderman Dr, Arlington. Tickets are $5-20. Call 214-764-2406.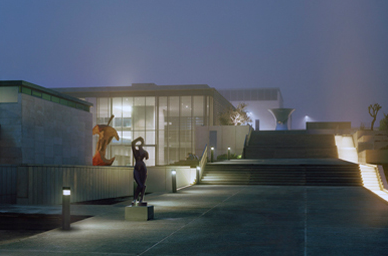 THU ▪ 9
Larry Herold's play The Sports Page, set among the Dallas Cowboys beat writers in the 1960s, receives its premiere at Stage West this weekend. The rise of the Cowboys' first dynasty (and the NFL's along with it), the shift from print to broadcast media, and the increasing role of women in the workplace would all seem to make for promising fodder for this debut. The play runs Feb 9-Mar 18 at 821 W Vickery Blvd, FW. Tickets are $15-30. Call 817-784-9378.
FRI ▪ 10
Too few people saw Anna Boden and Ryan Fleck's magnificent Sugar in theaters, but Rose Marine Theater is showing this observant and moving 2008 indie drama about a Dominican baseball pitcher who struggles to adjust to life in America while he pitches for a minor-league team in Iowa. The movie screens at 7pm at 1440 N Main St, FW. Admission is free. Call 817-624-8333.
SAT ▪ 11
If you missed Monty Python's Spamalot when it debuted in Fort Worth four years ago, you can catch the show again as it rolls through Bass Hall this week. Come sing along with the Knights of the Round Table and their unsingable rhymes. The show runs thru Sun at Bass Performance Hall, 555 Commerce St, FW. Tickets are $22-82.50. Call 817-212-4280.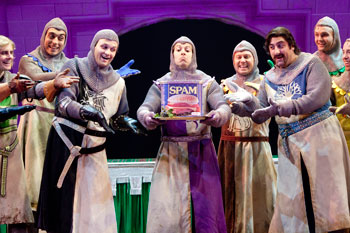 SUN ▪ 12
The Los Angeles Guitar Quartet look to have a crossover audience when they play this evening as guests of Fort Worth Classic Guitar Society. Not only will they perform guitar arrangements of Rossini, Stravinsky, and Bizet, but they'll also play versions of Miles Davis' "So What" and "Blue in Green" and John Coltrane's "Giant Steps," to give us some cool jazz along with the classics. The concert is at 7:30pm at Scott Theatre, 1300 Gendy St, FW. Tickets are $35-75. Call 817-498-0363.
MON ▪ 13
Every year great documentary films go unseen by the general public, so it's good to have the Thin Line Film Festival around. This year's fest features the Oscar-nominated Buck; Nostalgia for the Light, Patricio Guzmán's highly rated film about astronomers working in the Chilean desert; and Andrea Nevins' The Other F Word, following musicians from famous punk-rock bands as they adjust to middle age and fatherhood. The festival runs Feb 10-20 at Campus Theater, 214 W Hickory St, Denton and Square Donut Theater, 208 W Oak St, Denton. Tickets are $6-10. Call 888-893-4560.
TUE ▪ 14
Tuesday Evenings at the Modern has returned for the spring, and gay S&M fans will want to turn out for tonight's lecture. Texas State professor Andrew Campbell examines contemporary artists who repurpose artifacts of 1970s gay and lesbian leather culture in a talk called The Practice of Sex, the Work of History/The Work of Sex, the Practice of History. The lecture is at 7pm at Modern Art Museum of Fort Worth, 3200 Darnell St, FW. Admission is free. Call 817-738-9215.