The internal finance officer for Carter-Riverside High School left no doubt that she believes Christian beliefs should drive district policy.
In October, T. Victoria Martinez blasted an e-mail to the all district employees about the "abomination unto the LORD" of homosexuality.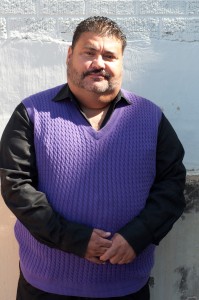 Martinez wrote the letter in response to Gender/Bender Day, a homecoming week event that included, among other things, a group of female students dressing like boys and playing football. She included a lengthy Bible verse in the letter and suggested that the school choose a different theme, like "Culture/Ethnic Wear Day."
"In this day and time in our culture where homosexuality is becoming more and more acceptable, it concerns me that we may be encouraging students into a lifestyle that is unnatural," Martinez wrote. "I, too, have friends who are homosexual and I express my concern with deep compassion and love, as I had a cousin I loved dearly, who was homosexual, and he died of AIDS … . We should stay away from any confusion/conflict of issues in this area, especially since it could very well have eternal consequences."
What most angered Cailin Daugherty, who teaches at Carter-Riverside and sponsors the campus' gay-straight alliance, was the district's silence afterward.
"It got sent to everybody," she said. "The district never sent out an e-mail saying, 'This is not acceptable.' If I had sent that out, I would have been fired on the spot."
Vasquez said Martinez was reprimanded for the e-mail, though he would not elaborate. He called the district's response "more than adequate."
"I don't think there was silence," he said. "It's counterproductive to make a big deal about it with the whole district."
The incident illustrates the general resistance among the district's administrators to defending the rights of LGBT teachers or students, Vann said. Their hesitancy filters down to the rest of the district, he said.
"One was left with the impression that it was apparently OK to slam gay people," Vann said.
It all comes back to the need for substantive training of all district staff, starting with administrators, said Herrera, who formerly was the district's diversity and sexual harassment trainer.
Herrera said the procedures to enforce the anti-bullying policies –– which supposedly protect teachers as well as students –– haven't been finalized and the system of reporting and dealing with complaints hasn't been clearly articulated.
Administrators in charge of implementing the policies didn't return calls for comment.
Herrera pointed to studies by the Gay, Lesbian and Straight Education Network and the National Gay and Lesbian Task Force showing that without nitty-gritty discussions at all levels of a school district, the harassment is likely to continue.
"The policies are beautiful, but what's next? I still get calls from employees and students [complaining about abuse]," she said. "The curtains are pretty, but let's see what the window looks like."
For now, the window looks a lot like Kristopher Franks.
After the Western Hills High School teacher cited a student for repeatedly using gay-related slurs in class, the principal suspended the student for two days. Then the mother threatened a lawsuit, and the student's record was cleared.
Instead, it was Franks who was suspended, investigated, and then reinstated. For weeks, he received hateful e-mails. One said: "Lots of us are waiting for the day when all this homo bullshit is reversed and assholes like you are either back in the closet or hanging on lampposts."
Even when a school district pledges to defend sexual orientation with the same vigilance applied to race or religion, it just doesn't work out that way, said Nelson.
"Nobody would ever tell a school, 'I don't want any child to be lectured about not bullying a black student,' " Nelson said. "Unacceptable behavior is more acceptable when the target is more acceptable."
If the solution is across-the-board training, that isn't going to happen anytime soon, Vasquez said.
He would fully support LGBT-specific training for faculty, he said, and he thinks nine out of 10 administrators would support it too. But Fort Worth, like districts across the state, is facing a budget shortfall of millions of dollars. The school board is considering major layoffs to make ends meet.
If Fairness Fort Worth and other gay rights groups want training, then Vasquez challenged them to hold their own voluntary Saturday trainings and invite teachers and administrators.
"They haven't attempted to do that," he said. "We have a lot of issues to deal with. We try to deal with them as best we can with the resources we have."
It's not something the district should be dealing with in the first place, said Cathie Adams, president of the conservative, family values-centered Texas Eagle Forum.
Talking about bullying is a massive waste of time, she said. The only thing school districts should do is discipline the kids who are caught bullying –– anything else amounts to "special treatment that is taking away our liberties," Adams said.
She doesn't believe students should be encouraged to discuss sexual orientation in any context.
"I like cats, you like dogs. Anybody who doesn't like my cat is going to have to have a special class to teach them that cats are OK. This is a waste of academic time," she said. "Children are going to bully. That is human nature … . You can have all those special classes. It's going to continue."
  ********