Even when she was 13, Sharon Herrera remembered, she was defending a gay friend who couldn't defend himself.
He was an easy target, wearing a pink backpack in middle school. When Herrera, who was still coming to terms with her own homosexuality, saw a handful of football players beating on him after school one day, she stepped in to help and got the same treatment. She returned home with blood on her shirt, unsure if it was hers or her friend's, and complained to her mother.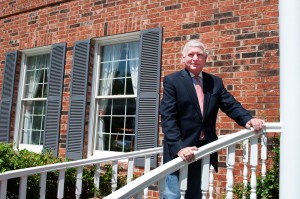 The response was something less than a hand-holding pep talk.
"My mother didn't hug me, just told me, who did I think I was to be complaining? Jesus was crucified."
That's the old mentality, and it's one that Herrera, who now works in the school district's office of student engagement, has spent years working to change for the sake of today's gay and lesbian students.
One way to provide immediate assistance for those students is through the creation of gay-straight alliances (GSAs), groups designed to weave an emotional safety net under kids who, like Caleb, may have no other place to go.
A few Fort Worth campuses, like Southwest High School, have had thriving GSAs for years, but at others, the groups never form at all –– primarily, the gay teachers and staffers said, because of a lack of support from principals and administrators. Gay teachers who have tried and failed to kick-start GSAs on their campuses said they came up against suffocating restrictions.
Any teacher can sponsor a gay-straight alliance but only after a student shows interest. By federal law, public school principals must provide equal access and opportunity to all student groups.
It doesn't always work out that way, however.
At Monnig Middle School, a teacher approached Principal Jennifer Orona about starting a gay-straight alliance. Orona told the teacher to "focus on her teaching," according to Vallarino, Herrera, and others.
Orona did not return calls and e-mails seeking comment.
The gay-straight alliance at Western Hills High School was formed three years ago, but its membership has suffered in the last year after campus administrators revoked its ability to make announcements or put up posters on campus.
Frustrated, the few remaining student members sent a letter early this year to Principal James Wellman, Superintendent Walter Dansby, and Fort Worth City Council member Joel Burns.
[pullquote_right]"We are tired of arguing within ourselves, fighting a losing battle and at the end being ignored by the adults who have power," the students wrote.  [/pullquote_right]The letter said the district's new LGBT policy was "completely meaningless" because officials refused to enforce rules meant to protect gay and lesbian students.
"We are tired of arguing within ourselves, fighting a losing battle and at the end being ignored by the adults who have power," the students wrote. "For us, it's obvious that no one does anything because everyone is worried about what religious people would say if anyone dares to truly help out and stand up for the 'gay kids.' "
According to juniors Shelby and Ashley (who did not want their last names used), founding members of the GSA who helped pen the letter, the group was told by Wellman they had to be "school-sanctioned" to use the intercom. But Shelby said other student groups that lack "school-sanctioned" status are still allowed to broadcast announcements about group meetings.
The students never heard back from anyone.
Dansby and Wellman did not return phone calls and e-mails from the Weekly seeking comment.
"It makes us feel like he doesn't care about us anymore," Shelby said of Wellman.
Burns told the Weekly he is encouraged by the district's progress in addressing LGBT bullying. He said he remains hopeful that administrators will provide real assistance but that the Western Hills students' letter isn't the only example he's heard of regarding hesitancy and perhaps hostility among some administrators.
"I've heard stories about administrators and counselors getting mixed  signals about acceptance [of LGBT-friendly policies] from other people in district. I still get calls and e-mails like that all the time," Burns said. "I've heard stories from teachers who want to be sponsors of GSAs but the principal pushes back, or they get the sense from other teachers they will be perceived negatively for it."
Only four of Fort Worth's 13 high schools have an active gay-straight alliance.
Herrera, along with Vallarino and a handful of other gay teachers, grew tired of seeing Fort Worth principals and administrators resist the creation of gay-straight alliances. So with the help of other openly gay teachers and staff members, they formed LGBTQ SAVES, a group designed as a district-wide gay-straight alliance.
In the fall, they organized a gay prom that brought in about 100 students. In May, they hosted a Saturday afternoon barbecue.
Shelby and Ashley attended, along with about two dozen other students. They ate hot dogs and fell over one another playing Twister. With their own GSA buckling under pressure, the group was a much-needed surrogate.
"It's a family," Ashley said. "It's a safe haven."
Herrera believes that nothing less than students' lives are at stake.
She knows from firsthand experience. As a 16-year-old, gay, depressed, and lonely, she considered swigging down a bottle of Drano.
"I got tired of praying for change," she said.
  ********