Artist of the Year
The past year has seen Burning Hotels undergo a remarkable transformation, from a post-punk quartet to a synth-driven power-pop duo (with a backing rhythm section) whose recent self-titled CD is one of the top North Texas releases of recent years. … Calhoun has been around almost as long as the Hotels (a decade) but only now seems to be hitting its artistic stride. Last year's 12-track Heavy Sugar was an embrace of pure pop instincts and another critical regional smash from the Fort. … In an era dominated by introspective music, The Hanna Barbarians fire up their audiences with heavy doses of expert blooze-rock psychedelia, good old-fashioned charisma — and the occasional onstage shenanigan. Burning a guitar as a sacrifice to the rock gods, anyone? … Veteran singer-songwriter Guthrie Kennard has a storied career opening for the likes of John Mayall, Taj Mahal, and Leon Russell, but it took the TV show Troubadour, TX to really spotlight his casual mastery of road-weary blues/folk-rock. … Only two Fort Worth bands' albums received love from the kingmaking blog Pitchfork this year: contempo-punks Mind Spiders and the goth-prog duo Pinkish Black, the latter for its symphonic self-titled debut album. Kudos to both bands but especially for PB, a duo of two veterans who deserve every ounce of recognition sent their way. … Longhaired swamp rock stalwarts Quaker City Night Hawks lived up to all the buzz about their awesome guitar-fueled stomp by backing L.A. singer-songwriter Jenny O. at a series of South by Southwest shows, putting the finishing touches on their sophomore album, and releasing a live EP, Live at Magnolia Motor Lounge. — Jimmy Fowler
Semi-Local Band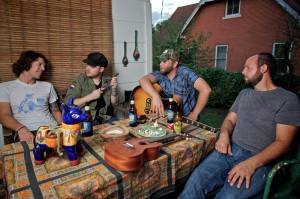 What the heck? Why should Fort Worth bands have all the fun this time of year? And by "semi-local," we mean "having some (however tenuous) Fort Worth/817 connection." Easily the most Fort Worthian of the nominees is Mon Julien, the brainchild of native Fort Worthians Cory Watson and Brian McCorquodale, ex-members of the dearly departed glam-rock Fort Worth quartet Black Tie Dynasty. (McCorquodale was also formerly a member of Fort Worth's beloved Telegraph Canyon.) Too bad Watson is off to the Big Apple. … Though all four guys in the arty indie-rock band Deep Snapper are Dentonites, their ranks have increased by Arlingtonian Aaron Bartz (Tame … Tame & Quiet). … Contempo-punks Mind Spiders are primarily Denton based but are fronted by a Fort Worth cat. … Two of the three guys in Oil Boom are from Dallas — the other, bassist Steve Steward, is a Fort Worthian — but they're all big fans of Cowtown, playing here probably more often than in Big D. … Angular indie-rocking jazz-punks The Two Knights are two young turks who've spent some time in the 817. … Until the neo-grunge quintet Darstar recently split up, three of the guys in the band were from here. — Z.S.
Male Vocalist
All six of this year's finalists have transcendent pipes though not often in the traditional hit-the-note sense. Vocals like these don't come from finesse. They draw from emotion. Just look at Quaker City Night Hawks' Sam Anderson and David Matsler. Sharing lead vocal duties, these young white dudes both sound like 70-year-old brothas. … Their closest musical cousin here is Josh Weathers. The frontman for Josh Weathers & The True+Endeavors is all heart and soul, capable of whipping audiences into frenzies. … Americana singer-songwriter Kevin Aldridge sounds like Neil Young but without the whine: high, clean, and clear. … Alan frontman Chris Hardee's bold yet jumpy voice ranges far and wide, fueling his quartet's symphonic tuneage. … Tim Locke's voice — sometimes aching, sometimes sweet, always loud and pristine — complements the tasteful indie rock of his band, Calhoun. — M.M.
Acoustic/Folk/Psychedelia
Singer-songwriter Jason Worley's project, Earthquake Country, which includes Telegraph Canyon's Tamara Cauble-Brown on violin, whips up a playful marriage of indie spunk and folksy sincerity, heavy on Dylanesque wordplay. … Two other wonderful wordsmiths are Keegan McInroe, whose latest collection of folk-blues, A Thousand Dreams, is nominated for Album of the Year, and Clint Niosi, easily the nominee most closely aligned with the North Texas indie scene — he frequently works with producer James Talambas, multi-instrumentalist for the Pitchfork-approved Theater Fire. … The other nominees run the gamut: from Jacob Furr's pastoral, luminescent folk to Tripp Mathis' soulful blues to Jake Robison's Texas Music-inflected acoustica to Darrin Kobetich's guitar-based instrumental "bluegrazz" (blues and jazz). — M.M.
Female Vocalist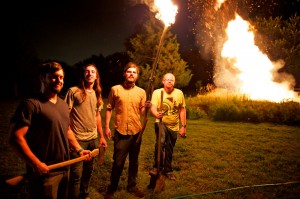 Gabrielle Douglas' entrancing vocals are a perfect match for the spacey sound of The Cush, the indie-rock outfit she leads with her husband Burette Douglas. … Meghann Moore's deep, self-assured voice grounds  A Pitch to the Wind, the eight-track debut by her band The Breakfast Machine, somewhere between the dance floor and a mildly psychedelic reverie. … Young and prolific Maren Morris' sweet but strong voice energizes her style of twang-free radio-friendly Texas Music. … We haven't heard much from Christian Lynette Williams since she became a mom, but that doesn't mean her soothing, seductive voice isn't worthy of a nomination. — Z.S.
Texas Music
The year has been a typically busy one for the offspring of Texas music legend Tommy Allsup — singer-songwriter Austin Allsup released a new album in the fall (Sink or Swim) and a new single last month ("Stay Right Here") and keeps on touring and earning comparisons to the likes of Lucinda Williams. … The patron saint of Stockyards honkytonks, singer-songwriter Brad Hines recently took his vast experience to television — The Texas Music Hour with Brad Hines is a laid-back chat show shot at the White Elephant Saloon and featuring interviews with the likes of Scott Copeland, Josh Weathers, and Deryl Dodd. … Troubadour Derek Larsen continues to mix his literary inspirations with the trademarked heavy rhythms of The Leavers to generate a hard-charging and mostly twang-less variety of Texas Music. Larson is finally in the studio laying down tracks for a new album — it's been a couple of years since his last one, Takers and Leavers. … The bespectacled veteran singer-songwriter James Michael Taylor lives on the folkie side of the Texas Music fence, with a decades-long musical background that encompasses both saloons and coffeehouses. … Phil "Philthy" Hamilton, with his long hippie hair and scruffy beard, looks every bit the Lone Star rebel, and his latest album, Renegade Rock 'n' Roll, is a typically raucous affair. … The frontmen for The Brandon Steadman band — singer-songwriter Brandon Steadman and lead guitarist Jorge Rodriguez — are Austin transplants to the North Texas music scene who tirelessly tour the state as young, proud standard-bearers of the Red Dirt tradition. — J.F.
C&W
Part blonde bombshell, part DJ (she does the afternoon drive show on KFWR/95.9-FM The Ranch), and all serious-minded musician, vivacious singer-songwriter Charla Corn keeps busy on weekends recording and performing her crowd-pleasing brand of old-fashioned, tear in my beer  country tunes. … Arlington-bred punk-country sextet Convoy & The Cattlemen, fronted by Tyler "Convoy" Morrison and Joel "Toker Ace" Adamson, bring a little thrash to the hoedown with their searing signature lap steel and fiddle playing. … The Dan Family — led by the two Dans (Daniel Payne and Dan Hardick) — has a hard-edged appeal, which is probably why the band has opened for everyone from 1100 Springs to Guthrie Kennard. … Proud TCU alum, singer-songwriter, and accordion player extraordinaire Ginny Mac has a new gig as the unofficial fifth member (and beloved little sister) of Brave Combo. Besides performing Vegas gigs with them, she sings and plays on their 42nd album, The Sounds of the Hollow. … The Moonshiners wear the Country-and-Western label a little uneasily, since their love of classic rock and heavy metal is just as likely to appear in their live shows. … Diminutive Oklahoma native Rachel T. Stacy pens tunes about regret and hard living that perfectly match the whiskey-throated fervor of her voice. She's been quietly earning a national rep opening for the likes of Keith Andersen and Ty England. — J.F.