A truncated version of The Texas Music Hour With Brad Hines was shown last night at River Ranch in the Stockyards.
Texas Music Hour is seeking a home on the small screen, and producer Rand Blair held a little party last night to show off his product.
Fort Worth Weekly introduced readers to the locally produced show back in May.
The format is casual but intimate: Hines kicks back on a comfortable couch and interviews Texas Music entertainers about their lives and careers, and then lets them play a few unplugged songs.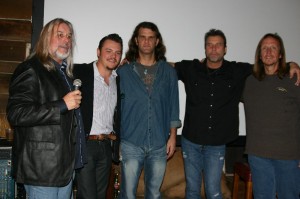 Scott Copeland, Josh Weathers, and Deryl Dodd were the first guests, and Blair planned to edit the footage quickly and market the show to television as soon as possible.
Six months later, the show's edited but hasn't yet landed a gig.
Blair invited the artists, guests, and some special friends (aka potential investors) to see clips of the show, which was taped at the White Elephant Saloon.
Texas musicians are already getting love on shows such as Troubadour, TX and Texas Music Scene.
Hopefully, Blair's entry can find its place in the mix.
Meanwhile, another show is brewing.
Allison Balson, who co-hosts the radio show Music Scene Live at The Thirsty Armadillo on Saturday afternoons, has begun videotaping shows as Music Scene Live TV.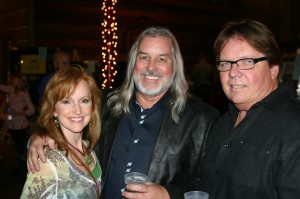 She, too, is seeking a spot on TV.  So far she's taped shows with Earl Musick and Undead Joe Trio.