If you've been on West Magnolia Avenue in the Southside over the last week, you might have noticed colorful knitted coverings on trees, street lights, bike racks, and other seemingly mundane objects that would otherwise blend into the cityscape. It looks as though a rogue gang of grandmothers got hopped up on some "cataract medicine" and went on a crochet bender. The decorations, however, were not the handy work of stoned grandmas, but rather that of school children and a few fun-loving adults.
The Magnolia  "yarn bomb" was the brain child of Amber Baily, local artist and teacher at Lily B. Clayton Elementary School. She is also the organizer of the Magnolia Make Believe — Youth Art Street Festival, to be held this Saturday, March 9. Aside from gussying up the Southside scenery, the knitted tree sweaters, light pole cozies, and other assorted coverings are there to promote the inaugural celebration of youth art.
"The festival is all about kids and every aspect of loving and living with art," she said. Baily wants her students to learn about more than just making art, "but also observing people making art, selling art, and starting an art collection."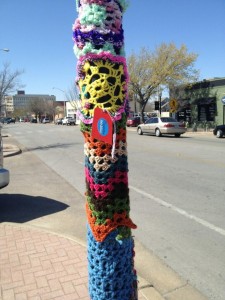 The Youth Art Street Festival will feature three "Make and Do" tents filled with crafts for kids and the works of 40 local artists, ranging in age and experience from elementary school students to professional adults. Baily said that art vendors were not charged for space with the understanding that they will keep the prices low.
Six blocks of Magnolia Ave. (from 6th Street to College Ave.) will be blocked off from traffic, from 5-10 p.m. The free event is family and pet friendly, and will include a musical performance by students from the School of Rock.
The highlight of the festival will be an unveiling of a 10-by-30-foot glass mural that takes up one whole side of the Chat Room Pub (1263 W. Magnolia Ave.). The work is a collaboration between students from eight different area schools and Connecticut artist Jerry Butler, with help from artists at Sinaca Studios School of Glass and Gallery.
"[Butler] took student drawings from all of the participating schools and combined the students' work and some of his own," Baily said.
Artists from the National Art Educators Association, of which Baily is a member, also contributed to the mural.  All of the supplies for the mural were donated. It will be unveiled at 7 p.m., and will stand as the first permanently installed piece of art on Magnolia Ave.
The promotional yarn bombing was inspired by an annual art project at Lily B. Clayton in which students knit tree sweaters.
"I was just driving to work and thought, 'man it would be so cool if this whole street was yarn bombed,'" said Baily. "Then I thought, 'we could use that to get attention [for the festival].'"
Baily and others organized a "crochet and play day" with students of all ages and some adults. Last Saturday the guerrilla yarn vandals met at Avoca Coffee and hung their wares at various points throughout the area.
" We were all out there just wrapping everything with yarn," she said. "Yarn bombing is a popular thing — it's the romantic comedy version of graffiti."