Les Misérables (PG-13) The best big-screen version of the bombastic Broadway musical that we were ever likely to get. Tom Hooper records the actors singing live on the set, and his approach yields mostly good results from Hugh Jackman as an anguished Jean Valjean, Samantha Barks outsinging her more famous castmates as Éponine, and Anne Hathaway going hellbent for leather as Fantine. Hooper can't do much with Russell Crowe's wobbly baritone (which seems to be emanating from inside a half-crushed beer can), nor can he do anything with the music bogging the show down in the second half as the boring characters of Marius and Cosette (Eddie Redmayne and Amanda Seyfried) take center stage. Still, the cast's singing and some un-stagey direction save the movie. Also with Sacha Baron Cohen, Helena Bonham Carter, Aaron Tveit, Daniel Huttlestone, Isabelle Allen, and Colm Wilkinson.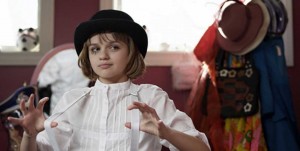 Mindless Behavior: All Around the World (G) Steven Goldfried's instantly forgettable documentary catches very little of interest as it follows the R&B/hip-hop boy band on their world tour. The four boys in the band (all of them age 15) seem like perfectly decent kids and have some nice dance moves, but the music is undistinguished, and whatever personality-defining antics they might have gotten up to on tour are drowned out in favor of corporate platitudes about working hard and being grateful to the fans.
New World (NR) This grim, overlong Korean cop thriller stars Lee Jung-jae as a burned-out deep-cover agent inside the mob who's torn between his callous police handler (Choi Min-sik) and his depraved, trashy, half-Chinese boss (Hwang Jung-min, providing the few notes of humor here). The movie owes an obvious and heavy debt to The Departed and/or its Chinese original, Infernal Affairs. The story's thoroughly bound by the clichés of thrillers about cops who are in too deep, and by the time it starts to fiddle with them, too much time has gone by. Also with Park Sung-woong, Song Ji-hyo, Choi Il-hwa, and Lee Kyoung-young.
Olympus Has Fallen (R) Gerard Butler stars in this thriller as a haunted-by-failure Secret Service agent who infiltrates the White House after North Korean terrorists breach the perimeter and massacre everyone who's supposed to protect the president (Aaron Eckhart). The only thing that's done well is the staging of a large-scale, multiplatform, paramilitary assault on the White House, executed in scarily plausible detail by director Antoine Fuqua (Training Day). Everything else here is lame, jingoistic, obvious, and casually racist. Oh, and the plot is full of holes, too. Every story beat is shamelessly cribbed from Die Hard, and not well, but that 13-minute White House sequence is worth buying a ticket to a different movie and then sneaking into this one for. Also with Morgan Freeman, Angela Bassett, Melissa Leo, Dylan McDermott, Rick Yune, Robert Forster, Finley Jacobson, Radha Mitchell, Cole Hauser, and Ashley Judd.
Oz the Great and Powerful (PG) A good-looking mess. Sam Raimi directs this movie that stars James Franco as a circus illusionist who is transported to the magical land of Oz, where he meets three magically empowered sisters (Mila Kunis, Rachel Weisz, and Michelle Williams) and becomes the wizard. Raimi and cinematographer Peter Deming render Oz and its creatures in eye-popping color, but the movie is tone deaf, lurching from slapstick comedy to lyricism to action thriller at will. It misses badly, whether it's aiming for pathos or cuteness — the talking monkey voiced by Zach Braff is a big mistake. The only cast member who looks comfortable is Williams, finding the balance of funny and ethereal that the rest of the movie lacks. Also with Bill Cobbs, Tony Cox, Abigail Spencer, Joey King, and Bruce Campbell.
Safe Haven (PG-13) The latest Nicholas Sparks adaptation is more of the same. This narcotizing weeper stars Julianne Hough as a woman who flees a violent incident in Boston for an idyllic Carolina coastal town (there is no other kind of coastal town in Sparks' novels) and tries to put her past behind her. Sparks' decorous brand of melodrama brings out the worst in director Lasse Hallström, and while Hough can be an asset in a musical, she's overtaxed trying to play a paranoid battered wife. Movies of Sparks novels tend to be watery, but this one evaporates right off the screen. Also with Josh Duhamel, David Lyons, Noah Lomax, Mimi Kirkland, Red West, and Cobie Smulders.
Silver Linings Playbook (R) Bradley Cooper stars in this volatile, terribly funny comedy as a bipolar former schoolteacher and die-hard Philadelphia Eagles fan who leaves a mental institution to move back in with his parents. Adapting a novel by Matthew Quick, writer-director David O. Russell (The Fighter, Three Kings) captures the rage and instability inside his characters by filming ordinary domestic scenes with a whirling fury. His approach spreads to his actors, including Robert De Niro, bringing more energy than he's brought in 20 years to the role of the hero's combative dad, and Jennifer Lawrence, deploying her fierceness for comic effect as a cop's widow with her own mentally troubled history. This is Russell's warmest and most likable film, a tribute to the unconditional love that binds you to your family and your football team. Also with Jacki Weaver, Julia Stiles, Anupam Kher, John Ortiz, Shea Whigham, Paul Herman, Dash Mihok, and Chris Tucker.
Snitch (PG-13) Dwayne Johnson plays a construction firm owner who infiltrates a drug cartel in order to reduce the 10-year prison sentence on his teenage son (Rafi Gavron) for dealing drugs. Johnson is ill-suited to this sort of heavy drama, though his underacting is still preferable to the overacting by various actresses in this movie's one-dimensional suffering wife parts. Look past that, though, and you'll find a plausible and surprisingly gripping thriller about how an ordinary guy might get into a drug kingpin's inner circle. Also with Jon Bernthal, Barry Pepper, Melina Kanakaredes, Nadine Velazquez, Michael K. Williams, Harold Perrineau, Lela Loren, David Harbour, Benjamin Bratt, and Susan Sarandon.
Spring Breakers (R) As an act of storytelling, this movie is a failure. As a long-form Skrillex music video, it's a roaring success. Harmony Korine's fascinating piece of weirdness is about four bored college girls (Ashley Benson, Selena Gomez, Vanessa Hudgens, and Rachel Korine) whose spring break in Tampa turns into a lurid spree of drugs, sex, and murder. Instead of treating this as a thriller, the director films it in a dreamlike fashion and manages to more or less sustain the mood of evanescent hedonism. James Franco turns up as a blinged-out, cornrow-sporting rapper who bails the girls out of jail, and he's funny and compulsively watchable. The movie's wacko high point comes when he sits at his white poolside grand piano and croons Britney Spears' "Everytime" to three AK-47-toting hot chicks in bikinis and pink ski masks. I think that was a dream I had once. Also with Heather Morris, Sidney Sewell, Thurman Sewell, and Gucci Mane.
Stoker (R) A slow-churning, delicately crafted psychological thriller that burrows under your skin. Mia Wasikowska stars as an 18-year-old girl whose uncle (Matthew Goode) moves in with her and her mother (Nicole Kidman) after her father's death in an accident. All three of these characters are creepy, and director Park Chan-wook (Oldboy) builds a gathering air of dread, with the warm sunlight flooding the screen unable to disguise the anticipation of violent death. The script could benefit from a few specifics, but it plays into Park's longtime obsession with evil, and Wasikowska is scary like we haven't seen from her. Like the movie, she's a study in primal impulses waiting for the right moment to be set free. Also with Dermot Mulroney, Alden Ehrenreich, Lucas Till, Phyllis Somerville, Harmony Korine, and Jacki Weaver.
Temptation (PG-13) Early on, a therapist tells her patient, "I'm not judging you." No, that's Tyler Perry's job. The filmmaker's myriad issues reach pathological levels in this Fatal Attraction rip-off starring Jurnee Smollett-Bell as a young aspiring marriage counselor whose job at a matchmaking agency leads her to cheat on her solid, unexciting husband (Lance Gross) with a wealthy, charming social-networking mogul (Robbie Jones). Perry actually comes up with some perceptive stuff in the early going about how couples go stale, but then the movie degenerates into hysteria fueled by his typical need to punish professionally ambitious female characters, especially if they have sex outside marriage. This is truly reprehensible. Also with Kim Kardashian, Vanessa Williams, Renée Taylor, Ella Joyce, and Brandy Norwood.
21 and Over (R) The obvious comparison: The Hangover. The more useful comparison: Weekend at Bernie's. Neither comparison flatters this lame comedy starring Skylar Astin and Miles Teller as two friends who visit their buddy (Justin Chon) in college on his 21st birthday, get him drunk and passed out, and then spend a frantic night trying to take him home in time for his medical-school interview the next morning. Jon Lucas and Scott Moore (the writers of The Hangover, here making their directing debut) don't do too badly with pacing and mechanics, but the hijinks are second-rate and the movie seems to be madly trying to convince us that we're having a good time. You're much better off going to a real party. Also with Sarah Wright, Jonathan Keltz, François Chau, and Russell Hodgkinson.
Warm Bodies (PG-13) This movie wants to be scary, funny, and romantic all at once, and while it succeeds fitfully at those things, it mostly proves that the combination is tough to pull off. Set in a world largely overrun by zombies, the movie stars Nicholas Hoult as a zombie who falls in love with a human girl (Teresa Palmer) and finds that the experience cures him of his zombiehood. Writer-director Jonathan Levine (50/50) scores with the zombie's neurotic interior monologue and some warm romantic flashbacks, but the material needed a wackier, more satirical comic sensibility. Even though Hoult does some remarkable work in a difficult role, the actors here largely seem lost, even as experienced a comic actor like Rob Corddry. Charming though this movie is, it's a well-intentioned misfire. Also with Analeigh Tipton, Dave Franco, Cory Hardrict, and John Malkovich.
DALLAS EXCLUSIVES:
Beyond the Hills (NR) The latest film by Cristian Mungiu (4 Months, 3 Weeks, and 2 Days) stars Cosmina Stratan as a Romanian woman who must decide whether to become a nun or leave her homeland to live with her lesbian lover (Cristina Flutur). Also with Valeriu Andriuta, Dana Tapalaga, Catalina Harabagiu, Gina Tandura, Vica Agache, Nora Covali, and Ionut Ghinea.
Family Weekend (R) Olesya Rulin stars in this comedy as a high-achieving high-school student who takes her parents (Matthew Modine and Kristin Chenoweth) hostage in response to their inadequate parenting. Also with Joey King, Eddie Hassell, Robbie Tucker, Chloe Bridges, and Shirley Jones.
The Gatekeepers (PG-13) Nominated for the Oscar for Best Documentary, Dror Moreh's film interviews all six men who have served as head of the Shin Bet, Israel's domestic security agency.
Ginger & Rosa (PG-13) This autobiographical drama by Sally Potter (Orlando) stars Elle Fanning as a teenage girl growing up in 1960s London who discovers a terrible secret about her family and her best friend (Alice Englert). Also with Christina Hendricks, Alessandro Nivola, Timothy Spall, Jodhi May, Oliver Platt, and Annette Bening.
No (R) Nominated for the Best Foreign Film Oscar, the latest film by Pablo Larraín (Tony Manero) stars Gael García Bernal as an advertising executive who's brought in to work on a political campaign to defeat the dictator Augusto Pinochet during Chile's 1988 elections. Also with Alfredo Castro, Luis Gnecco, Néstor Cantillana, Antonia Zegers, Marcial Tagle, Pascal Montero, and Jaime Vadell.
On the Road (R) Walter Salles (The Motorcycle Diaries) adapts Jack Kerouac's novel about a young writer (Sam Riley) who takes a road trip across America with his best friend (Garrett Hedlund) and his new girlfriend (Kristen Stewart). Also with Amy Adams, Kirsten Dunst, Viggo Mortensen, Tom Sturridge, Alice Braga, Danny Morgan, Elisabeth Moss, and Steve Buscemi.