The recording's release raised as many questions as it answered. For one, observers wondered, was the leak intentional?
Sutherland wouldn't speculate as to whether the leak was intentional, nor would she say what the board discussed during the gap in the recording.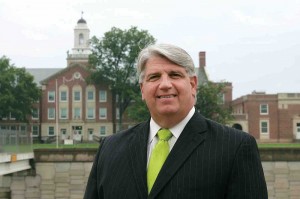 Palazzolo believes that the posting proves that the district was negotiating in bad faith after the two sides had reached a settlement. On July 1 his attorney filed a motion to compel the district to produce the full record of the meeting. If the audio is produced, it could be used as evidence in a new trial of Palazzolo's case.
District spokesman Clint Bond said in an e-mail that the audio was not leaked but rather was "because of a failure of the audio feed to cut off. … The board and others in the closed session did not believe they were being recorded.
"The district has taken serious steps to prevent this type of unintentional disclosure from ever happening again," he said.  
Palazzolo said he "immediately knew it was not an accident. Later when I learned the audio had been edited, I felt it was further proof of intent.
"It is obvious from the discussion in the audio that most [trustees] on the board still have no idea what the true facts of this case are," he said. "The board's discussion on the audio was not even remotely related to my understanding of the agreement reached with Judy Needham and Walter Dansby by phone at the courthouse. It appeared to be all about saving face and not resolving differences based on fact."
Bond denied that any district official would intentionally leak audio of its board's executive session.
"The district certainly has absolutely no incentive to harm itself by revealing confidential legal advice and settlement discussions," he said.
Palazzolo filed a complaint with the TEA asking the agency to investigate. "At best this would appear to be an intentional defamation and violation of the code of ethics," he wrote in his complaint.
TEA spokesman Pablo Carrasquillo responded, telling Palazzolo that the state agency has no jurisdiction.
"As you know, school board members are elected officials and generally do not fall under the Educator Code of Ethics," he said. "In addition, school board executive sessions are codified under the Government Code, not the Education Code; you may want to seek assistance from your local district attorney's office."
The audio stayed on the district's website for a week before it was taken down. The district had it removed from YouTube on the basis that it was copyrighted material.
  ********
In his opening remarks in the Decatur courtroom, Brandt listed the alleged reasons the school district terminated Palazzolo: lying about and covering up a federal conviction for failing to pay a child support fine, disrespecting and bullying students, and violating various district policies.
"He simply did not live up to the standards we expect in any school district," Brandt said. "Mr. Palazzolo was fired because of his repeated wrongdoing at Arlington Heights. He was fired because he lied, he covered it up, he bullied, and he discriminated."
Ironically, many of its critics feel it is the district that is lying, covering up, bullying, and discriminating.
Brandt asserted that it was in fact Chief of Schools Robert Ray, not Palazzolo, who blew the whistle on the goings-on at Heights, along with special education teacher Chad Whitt and Sharon Herrera, who was then the district's diversity coordinator. Brandt claimed Palazzolo jumped on the bandwagon as a way to protect himself from being fired.
Rather than punishing the whistleblowers, the attorney said, the district rewarded Ray with a promotion, and both Whitt and Herrera kept their jobs. But Palazzolo, Whitt, and Herrera (in statements made previously) partially contradict Brandt's version of events.
Palazzolo and his attorney believe that the district tried to intimidate not only Whitt and Herrera but Sutherland as well.
In a deposition taken in March, Palazzolo testified that after he took his findings to Michael Menchaca, then chief investigator of the district's office of professional standards, Menchaca went directly to Ray with the information. Palazzolo said he was told that Menchaca disclosed Palazzolo's identity to the deputy superintendent, despite an agreement that he would not.
"One of the investigators in Michael Menchaca's office told Sharon Herrera, who told me," he said in the deposition.
Whitt said he also believes the district didn't keep its whistleblowers' secrets.
"Somebody had to have given our names to people in administration," he said. "When we had to out our names on our complaints, then our names were all over the district. How that happened, I don't know. But it wasn't kept private."
In 2011, Whitt told a TEA administrative law judge that he was threatened with termination after testifying in a TEA hearing on behalf of Palazzolo.
"[The district] threatened to have me fired," he told the Weekly in a recent interview.
Whitt has been a vocal supporter of Palazzolo from the onset. He said that Ray had nothing to do with revealing the problems at Heights.
It was Whitt and a coach who brought the attendance fraud to Palazzolo's attention. Whitt praised Palazzolo for speaking up on behalf of other teachers and believes the district gave the credit to Ray for political reasons.
"In all of my discussions with Michael Menchaca, Joe, Sharon, there was never any mention of Robert Ray," he said. "To the contrary, [another district employee] warned us about Robert Ray, that he was going to be an issue.
"I never spoke with Robert Ray, I never had a single conversation about Robert Ray," he said.
In a tactic eerily similar to how the district justified firing Palazzolo, attorneys for the district informed Whitt that he too had lied on his application, when he wrote that he had never having been convicted of a misdemeanor.
The late Betty Brink, a longtime Weekly staffer, reported Whitt's account of his misdemeanor on the paper's website.
In the post, Whitt acknowledged committing "a stupid act" as a teenager by damaging the car doors of a guy who was flirting with Whitt's girlfriend. "I kicked a car," he said. "I was a kid." He told Brink that he paid for the damages, the charges were dropped, and the judge told him the record would be expunged.
In a recent interview, Whitt said that he is certain he would have lost his job had the 20-year-old charges against him not been dropped.
"You're talking about 20 years later they were trying to get me on that … because I testified, and my testimony was damaging to the district," he said. [The district] paid someone to go downtown and look through the records."
Herrera declined to comment for this story, "due to fear of any further retaliation."
But in 2011 she told the Weekly how her bosses had sent her to a seminar at Harvard University on issues including workplace bullying, encouraged her to build a district-wide program to combat bullying — and then, when they realized how many problems she was uncovering, threatened to eliminate her job.
She was eventually moved to another position.
"I've never worked in a place like this … I am in shock," she said at the time. "It is truly a toxic environment."
Palazzolo and others also point to the board's censure of Sutherland as further proof of its attempts at intimidation. Sutherland is listed as a witness for Palazzolo, even though she made the motion that ultimately led to his dismissal.
One of the reasons the board gave for censuring her was that she was "engaging in a breach of fiduciary duty by waiting until the eve of trial to disclose opinion testimony that would be harmful to the district, thus needlessly harming the district … ."
Palazzolo said he thinks the board is trying to bully her into silence. "It's…disturbing that the board would censure someone that I listed as a witness, apparently in part because they did not like how she would testify," he said  "It's an insult to the judicial process and makes me worry about the other witnesses I listed who still work for the district and are reporting retaliation.
"This is not the first time Fort Worth ISD has threatened my witnesses," he said, referring to others besides Whitt, Herrera, and Sutherland but declining to name them.
Sutherland told the Weekly that she does not plan to testify, "because everything I know [about the Palazzolo case] is either privileged information or hearsay."
When asked about the reasons she was censured, she responded, "You'll have to ask them," referring to other trustees.
 ********