Board trustees may be rekindling the fires of the Arlington Heights scandal by failing to reach an agreement with Palazzolo.
The conditions at Heights were so bad during the administration of former Principal Neta Alexander that even Brandt referred to the school as "a mess" in his opening statement.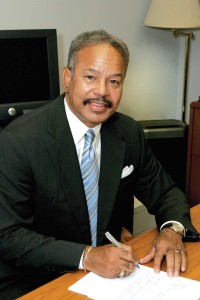 One of the issues that caused Palazzolo and others to bring their complaints to the district was the behavior of Height's former athletic director, Isabelle Perry. Palazzolo received numerous complaints about Perry's abrasive, abusive, and often lewd behavior.
Dozens of teachers complained about Perry's behavior through written statements to Palazzolo.
Several teachers recounted Perry's habit of telling students and faculty the details of her sex life, including lewd descriptions of oral sex with another teacher and the sexual positions he preferred.
Another teacher wrote that she had become "numb" to Perry's verbal abuse and that she had repeatedly gone to Alexander for help, only to have her trust betrayed. Alexander, according to the teacher, told Perry about the complaints in detail.
"She [Perry] will send a student to interrupt your class," the teacher wrote. "She will instruct the student to 'say exactly what I tell you: Get off your fat ass and get to her office right now.' The student would apologize and state that she will get in trouble if she doesn't do as instructed."
The teacher added that at the office, Perry would make the teacher repeat the insult back to her, in front of other teachers and students.
Another teacher wrote that "Alexander, Chuck Boyd, and Judy Needham have allowed her to ruin the work environment at AHHS. Isabelle Perry controls everything and everyone at Heights. I hope this letter doesn't ruin my job. I tried to go through the proper chain of command and have not gotten any help or relief. I am tired of the abuse and manipulation."
Several other teachers wrote that Perry often bragged about her friendship with Needham and threatened that the school board trustee would retaliate against anyone who spoke against Perry.
In her deposition, Needham denied having any nonprofessional relationship with Perry.
In another incident, Palazzolo said he witnessed school administrators handing TV sets to about a dozen students who had dropped out, as bribes to get them to return  for the first day of school.
The school gets state tax money based on attendance at the beginning of each semester. However, Palazzolo said, the TVs were handed over before the semester started, and only one of the students actually showed up.
 ********
The district turned the heat up on Palazzolo after the Weekly published Brink's story on Arlington Heights ("Powder Keg at Arlington Heights," Aug. 11, 2010).
In her deposition in April, Needham said that she had no knowledge of Palazzolo's involvement in the story. However, in a July 2010 e-mail to then-Superintendent Melody Johnson, Needham referred to Palazzolo and Brink working together on the story.
"Can you believe that evil woman and Joe," Needham said in the e-mail.
Johnson later testified during a hearing on Palazzolo's case that the comment was inappropriate.
In her deposition Needham said she "could have phrased it better."
In his words to the jurors in Wise County, Brandt said one reason for Palazzolo's firing was that he lied on his job application by not reporting a misdemeanor.
But the district began to look into Palazzolo's background only after he reported the wrongdoings at Heights.
The district claimed Palazzolo lied when he answered "no" on his online application question as to whether he had ever been convicted of a crime. District investigators found a 13-year-old misdemeanor in Palazzolo's records relating to a disputed child support case in Oklahoma, which had been settled. The court never filed any record of the $10 fine until 2010, after the Fort Worth school district contacted them. Palazzolo believed the conviction had been cleared from his record, especially since he had previously passed several criminal background checks by the school district.
In the leaked executive session audio, Dansby alluded to a man "they have used before" to supervise problem employees, in referring to Palazzolo coming back to work for the district.
Critics believe Dansby is suggesting that he would assign Paul Galvan to supervise Palazzolo. Galvan received a similar assignment when he supervised a former principal who was suspected of misconduct.
"Walter Dansby is clearly heard outlining planned retaliatory acts," said Palazzolo, "and both he and T.A. Sims are clearly heard saying things about me that were threatening, false, hurtful, and simply untrue."
Dansby could not be reached for comment.
Palazzolo believes that it was no accident that the district struck a deal with a law firm that collects taxes three weeks before he received a letter from the same firm trying to collect a 30-year-old debt from Oklahoma.
In the deposition, Needham admitted visiting the home of Barbara Williams, a partner of the law firm Linebarger, Goggan, Blair, & Sampson — the firm that collects delinquent taxes for the district, Tarrant County, and Fort Worth.
Needham told Smith she could not remember if her visit was before the board voted to award the firm the contract to collect taxes for the district. She and Williams met again, along with Mayor Betsy Price and trustee Tobi Jackson, at Michael's Restaurant to discuss the contract.
The board hired the firm in October 2010, and the following month Palazzolo received a letter from Linebarger trying to collect the $435 debt owed to the state of Oklahoma. Linebarger claimed the debt, with late fees and penalties, had ballooned to $26,000. Palazzolo claims he paid off the debt long ago. (Linebarger also collects back taxes for Oklahoma.)
In an e-mail to the Weekly, Needham said that the meeting at Michael's had nothing to do with Palazzolo.
There was absolutely no discussion of 'going after Joe' at the luncheon," she said. "His name was never mentioned."
Price could not be reached for comment.
  ********
The Weekly obtained dozens of letters written by Heights staffers in support of Palazzolo. The letters were addressed to Ray and Deputy Superintendent Patricia Linares and were written to convince the district not to transfer Palazzolo out of Heights.
One of the writers called Palazzolo proactive, consistent, and fair, noting, "This past year he was given many unpleasant tasks because Mrs. Alexander knew that she could count on him … . When one is given the dirty work, one often runs into resistance."
Another credited Palazzolo with convincing the letter writer not to give up on teaching, despite the school's turmoil.
"Mr. P is exactly the person we need to help undo the wrongs of previous leadership," the letter's author suggested.
Almost every 9th-grade teacher with whom Palazzolo had worked wrote a letter of support.
On the recording of the school board executive session, Brandt speculated that if a settlement weren't approved, Wise County District Judge John Fostel, who is hearing the case, would be more sympathetic to Smith's arguments.
"If we don't get a deal, my life is going to be a living hell during the case, before the judge," he said. "He will not be predisposed to being gentle with me in the future … ."
Whitt said that he came forward hoping to make the school district better and to change its culture of fear and intimidation.
"There are a lot of teachers who come to me with problems," he said. "They just don't feel like there's an avenue to address those problems. They see what's going on, and they have a lot of fear. If you stand up and report wrongdoing or bullying or anything else, there is retaliation.
"Hopefully we can [convince] the school board and the superintendent that there are a lot of problems in the district, and we can work on them," he said. "We don't have to shove the problems in a closet."