Underrated Pro Athlete
Readers' choice: Tony Romo, Dallas Cowboys
Critic's choice: Blas Pérez, FC Dallas
The 32-year-old striker seems to be putting all the balls in the net for the offensively challenged FC Dallas. The Panama City native can score with his head or either foot, hustles after loose balls, and is good enough to trouble even the defenses of USA and Mexico when he plays for Panama's national team (which has an outside shot of getting into the World Cup next year). If FC Dallas — nicknamed "the Hoops" — manages to make this year's MLS playoffs, they'll owe this 6′ 2″ forward a big share of thanks.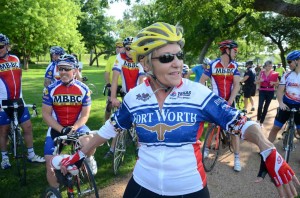 Pro Athlete Almost Worth His Salary
Readers' choice: Yu Darvish, Texas Rangers
Critic's choice: Yu Darvish
Not many pitchers have entertainment value, but the Rangers' staff ace is one of the most watchable pitchers in the majors. He's so good that internet users make GIFs to illustrate his prowess at disguising his dazzling array of pitches. Is the native of Osaka going to blow his 94 mph fastball by you, or will he bend your knees with his 71 mph curve? Not only does the big right-hander bring in fans from Japan, he also gets neutral fans across the world rooting for the Rangers just so they can see Darvish in action. All that makes him well worth his $10 million annual salary.
Use of Taxpayer Money
Critic's choice: Phyllis J. Tilley Memorial Pedestrian Bridge
According to architects, the Tilley is the "first arch-supported stress-ribbon bridge" in the country. What it really is: an elegant steel and concrete structure, a beautiful addition to the landscape between downtown and the Cultural District, and a much-needed connector on the city's hike-and-bike trail system. Who says we never say anything nice about a Trinity River Vision project effort?
Neighborhood Group
Critic's choice: West Meadowbrook Neighborhood Association
It's no secret that the East Side is Fort Worth's red-headed stepchild. But the good citizens aren't accepting the status quo. Oh, no. Activists are sprouting up all over — cleaning parks, volunteering at schools, agitating for code compliance and increased police services. When the gas companies threatened to drill on and under and around anything they liked, neighborhood leaders tried to stop them. When that effort failed, they negotiated to get the best compensation for homeowners.
Example of Grit or Gumption
Readers' choice: Wendy Davis
Critic's choice: Davis' 12-hour filibuster
On June 25, Davis led a filibuster to prevent a vote on Senate Bill 5, a draconian anti-abortion measure. She spoke for more than 12 hours, not allowed to sit down at or lean on her desk, under what seemed to be particularly stringent interpretations of Senate rules. When Lt. Gov. David Dewhurst ended the filibuster because of a technicality, chaos followed: Questions erupted about the propriety of Dewhurst's ruling and other issues, and Davis supporters in the gallery began a loud "people's filibuster." Amid the madness, the clock struck midnight, and, although it took awhile for the official declaration, SB 5 was dead — if only for that session.
Watchdog
Critic's choice: Yamil Berard
Fort Worth Star-Telegram reporter Yamil Berard isn't afraid to take on controversial topics or give them the kind of in-depth reporting they deserve. In 2010, she wrote a four-part series that proved Tarrant County was among the nation's leaders in municipal-bond defaults due to its authorization of risky bonds. In a July story, she exposed excessive punishments dealt out by Fort Worth police to traffic offenders.
Blog
Critic's choice: The Fort Worth Gazette
Written by Pete Charlton –– a map designer, historian, collector, and publisher who spent four decades in broadcasting and computer software design –– the Gazette isn't fancy but is chock-full of Cowtown history, vintage imagery, and opinions about the here and now. (Tarrant County College's downtown campus is one thing that really grinds Charlton's gears.) But education is the chief objective, and with that the Gazette succeeds admirably.
Preserver of History
Critic's choice: Hollace Weiner
The official historian of Tarrant County's Jewish community, former Fort Worth Star-Telegram writer Hollace Weiner has written extensively about local history. From 2008 until 2011, Weiner worked to uncover the secrets and weave the decades of stories of Fort Worth's River Crest Country Club. She might have been hampered by club members' stiff upper lips in final editing, but there's still quite a bit of color to River Crest Country Club, The First 100 Years, which was finally published last year. With chapter titles like "If These Greens Could Talk," Weiner combines hitherto-untold stories about Ben Hogan and Byron Nelson with rare club photos of these golf legends. And she dug up little-known historical nuggets, like Olympian track and field star Babe Zaharias making the transition to her second sports career, in golf, thanks to a club tournament.
Unused P.R. Slogan
Critic's choice: "The Trinity: Come on in, the water's … well, we'll test it later."
The actual online flier for the Tarrant Regional Water District's "Tubing the Trinity" promotion said, "There's no better way to beat the Texas heat than jumping in the Trinity River and floating up to the best seat in the house for a summer full of free concerts." Sorry, but until the district does a demonstrably better job of water-quality testing, we'll just let things — whatever they are — float along without us.
Hype
Critic's choice: Bikes! Bike! Bikes!
That is, Fort Worth's new all-bikes/all-the-time emphasis from fit and friendly Mayor Betsy Price. At least 80 percent of this –– her rolling town hall "meetings," more attention to hike-and-bike trails and bike lanes on city streets –– is good. But sometimes the priorities get out of whack: showers (for biking employees) at city hall paid for with money that was supposed to go to other maintenance uses and some bike-lane decisions that have neighborhood folks shaking their heads. What else? Oh, right: Fort Worth's continued fear of real mass transit options, which leaves us falling further behind Dallas all the time in the effort to create livable, walkable, breathable cities for all the people, regardless of how many wheels they travel on.
Best-Kept Secret
Critic's choice: Richard Serra's "Vortex," Modern Art Museum of Fort Worth, 3200 Darnell St, FW
Thousands of residents in and visitors to Fort Worth know about "Vortex," the 67-foot-tall echo chamber made of 2-inch- thick steel at the corner of the Modern's sidewalk. So how is Serra's gorgeous sculpture, where people love to make noise, a secret? Well, few people realize that if you step into "Vortex" when others are not around, you can work out more problems just by yelling them away than you can with six months of psychiatry. Try it — you'll be amazed at what it will do for your psyche. Now that's a secret worth sharing.
Sign of the Apocalypse
Critic's choice: Apparent failure to save the Fort Worth Prairie Park, 10700 Old Granbury Rd
This 2,000-acre natural prairie near Benbrook Lake holds some serious bounty for nature lovers –– rolling hills covered with native grasses and wildflowers that create an ecological paradise thick with wildlife –– and even a buffalo or two. Unfortunately, that's not enough to stop the bulldozers. Prolonged efforts by the Great Plains Restoration Council couldn't keep this paradise from being slated for pavement. The state owns the land, and bureaucrats and developers would rather say adios to the grass and animals and "¡Hola!" to the Chisholm Trail Parkway and soon-to-follow gas stations, restaurants, convenience stores, and other revenue generators. Those deadbeat butterflies, jackrabbits, birds, and buffalo should have gotten off their butts and started contributing to the tax rolls.