Top Five Artworks
"Attention Retention" by Bradly Brown
Exhibited as part of his TCU MFA thesis at Fort Worth Contemporary Arts, Brown's simple yet beguiling found-object piece –– three multicolored beach balls held aloft by three industrial fans –– is mostly defined by its absences: no sweat equity, no asymmetry, and no strings attached.
"Fox Hollow" by David Conn
Former TCU professor Conn transforms otherwise peripheral tableaux into gritty, powerful affirmations of the present tense in black and white. With "Fox Hollow," exhibited at Artspace 111, he rendered a forest nook as a stark lair.
"Goliath" by Michelle Brandley
It's a photorealist painting that looks like a postmodern collage. The focus belongs to the 50-foot woman from B-moviedom, her head and feet cropped out, standing in all her busty glory, about to heave an automobile through the air. In the background, a scandalously pink ice cream treat drips into a pan as an attractive young blonde in sunglasses, her visage multiplying horizontally across the canvas, checks her cell phone mindlessly. And there's not a brushstroke to be found. A version of this piece hung at Artspace 111.
"if I wanted forgiveness, I'd ask — eve" by Georganne Deen
A Fort Worth native and current Angeleno, Deen applied her fascination with the underside of Hollywood glamour to a solo exhibit at Brand 10 Art Space last spring. And what a trip. The centerpiece of forever eve was this painting, a potent oil-and-graphite portrait of a fox-eared, bouffant-haired pixie, her lustrously shadowed eyes dramatically closed, wearing a diamond-encrusted facial ornament of sorts. Simple yet outré. Waaay outré.
"Textual Healing — Women Doing Yoga" by James Lassen
Selected by William Campbell of William Campbell Contemporary Art, Gallery 76102's annual juried competition 897 Square was excellent and not least because of Visionary Award winner Lassen's wry and lighthearted contribution: a photorealist depiction of a cell phone screen containing the text of a conversation between two people (ostensibly women) about the superwomen in TV commercials.
Solo Dance Performances
Critic's choice: Texas Ballet Theater's Carolyn Judson, Lucas Priolo
TBT rising star Judson gave one of her best classical performances to date as the Sugar Plum Fairy in the company's new Nutcracker. Her elegant phrasings and beautiful, languid movements in the best Royal Ballet tradition were a joy to see. Priolo, a true danseur noble, shows us new facets of his skills each season.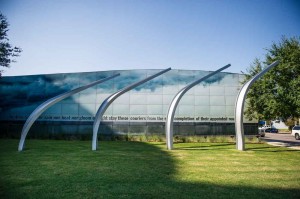 Outdoor Cultural Event
Critic's choice: Fort Worth Symphony Orchestra's Concerts in the Garden
FWSO has been offering 16 free, family-friendly concerts every summer for the past 16 years and doesn't look to be slowing down. Repertoire selections range from orchestra-backed rock 'n' roll to piano concertos, and every concert ends with a fireworks display. This year, associate FWSO conductor Andres Franco was designated artistic director of the series and is proving to be versatile and capable.
Gallery Art Show of Last 12 Months
Critic's choice: Infinite Bloom by John Holt Smith, William Campbell Contemporary Art
John Holt Smith's colorful geometric paintings are more than just eye candy. There's a lot of subtext behind them. Through spectroscopy, the scientific study of matter's interaction with energy as visible light in space, Smith reduces naturalistic photographs –– of wildflowers, human eyes, deep space –– to their purest color essences. Infinite Bloom was as spectacular as a laser light show and twice as intellectually stimulating.
Contemporary Museum Art Show of Last 12 Months
Critic's choice: Tenth Anniversary Acquisitions, Modern Art Museum of Fort Worth
Though the Modern has been quiet over the past several months –– no major traveling exhibits have graced its signature concrete walls –– the museum has more to offer now than ever. The Modern recently acquired additional work by Vernon Fisher, Dan Flavin, Howard Hodgkin, So LeWitt, Bruce Nauman, and Nicholas Nixon, among others, making its permanent collection one of the most diverse in the country and easily the best between New York and L.A.
Classic Museum Art Show of Last 12 Months
Readers' choice: Bernini: Sculpting in Clay, Kimbell Art Museum
Critic's choice: Bernini: Sculpting in Clay
Organized by the Metropolitan Museum of Art and the Kimbell, this exhibit was spellbinding and transportive. The dozens of incredibly lifelike studies and drawings –– of saints, angels, and religious iconography –– were displayed among massive black-and-white photographs of the actual sculptures. Bernini: Sculpting in Clay was the next best thing to a trip to Rome.
Performing Arts Organization
Critic's choice: Van Cliburn International Piano Competition
Every four years the Cliburn puts Fort Worth on the international music radar, and there were questions this year of how the contest would unfold after a raft of resignations in key administrative positions and the death of the competition's namesake. Jacques Marquis, the new head honcho, seemed to have everything under control, and things appeared to run smoothly. Certainly there was no lack of talent in the competition. The real test will come in four years, when the new regime is fully in control and can make its own decisions about the competition's future.