Gay or Lesbian Bar
Readers' choice: Rainbow Lounge, 651 S Jennings Av, FW
Critic's choice: Best Friends, 2620 E Lancaster Av, FW
Our favorite online review of Best Friends, one of North Texas' friendliest gay bars, reads, "It's a real lowbrow place. I love it there." If "lowbrow" means "people of all ages, races, genders, and income levels are made to feel welcome by laid-back yet attentive staff and patrons who actually carry on conversations rather than just cruise," then label us "bar trash" and save us a spot near the pool table.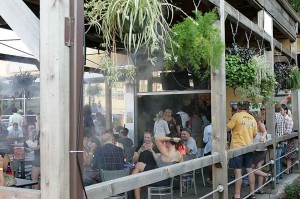 Wine Bar
Critic's choice: Max's Wine Dive, 2421 W 7th St, Ste 109, FW
The name may say "dive," but the ambiance is more "cave" in this new, welcoming spot in the West 7th corridor. With high ceilings, black-and-gray interior, and dark woods, Max's, part of a small Texas chain that's getting national press, could be a tasting room at the entrance to a vintner's cellar. The extensive selection of wines from "most everywhere" is paired with a short menu of "gourmet comfort food." So blow right past brunch and mimosas and try scrambled eggs with bacon and a glass of viognier (very good, actually). or mac 'n' cheese 'n' malbec. This gets a big vote as a place to hide and work or, you know, just hide.
Hotel Bar
Critic's choice: Whiskey & Rye, 1400 Houston St, FW
We hate to keep picking the same place year after year, but the hard fact is that this lounge nestled in the posh Omni Hotel beats every other similar joint just on liquor selection alone. Then there's everything else, like the name and the oak barrels outside the door signaling that this is a serious drinking establishment. The accommodations are spacious, with TVs and pool tables and lighting that manages to be low enough to keep the atmosphere mellow without putting you to sleep. Meanwhile, the appetizers, entrées, and desserts will keep the alcohol from overpowering you. Whiskey & Rye is good enough to make even locals drop in for a nip.
Sports Bar
Readers' choice: Frankie's Sports Bar & Grill, 425 W 3rd St, FW
Critic's choice: Flips Patio Grill, 6613 Fossil Bluff Dr, FW
The waitresses don't wear skimpy clothing: So that's one thing that makes Flips different. The food is outstanding: So there's another. And this cavernous ski-lodge-looking North Fort Worth establishment is also somewhat miraculously suitable for either a game-watching day/night with friends or a family outing.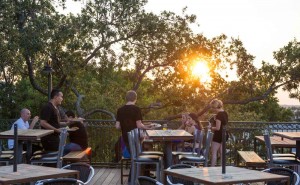 Gentlemen's Club
Readers' choice: Rick's Cabaret, 7101 Calmont Av, FW
Critic's choice: Bucks Cabaret, 2345 Meacham Blvd, FW
Bucks is your little slice of Vegas right here in Cowtown. Party packages run $300 to $600 and include reserved seating, rounds of house shots or beers, bottle service, a champagne toast, and a dance for the bachelor. But non-groom guys looking to chill are just as welcome. During NFL games, beers are only a dollar a pop. Dollar beers, football, and good-lookin' ladies? See ya at Bucks.
Expensive Beer
Critic's choice: The Live Oak Music Hall & Lounge, 1311 Lipscomb St, FW
This swanky Near Southside venue boasts a massive beer menu that includes an impressive assortment of Texas suds, craft brews from far-flung locales, and just about everything in between.
Margarita
Readers' choice: Joe T. Garcia's,  2201 N Commerce St, FW
Critic's choice: Chuy's, 2401 W 7th St, Ste 110, FW; 4001 Bagpiper Way, Ste 199, Arl
Many restaurants and bars rely on a margarita mix that involves a lot of Green Dye No. 6, but not Chuy's. The Texas-based franchise's ratio of silver tequila to freshly squeezed lime juice to ice is apparently a closely guarded secret. During happy hour, the frosty beverage is only $3.95, and you also get free queso.
Martini
Readers' choice: The Usual
Critic's choice: M Lounge, 835 Foch St, FW
Perfectly blended martinis crafted by experienced mixologists? Plus relaxing but posh ambiance? It's all at M Lounge, one of the first bars in the West 7th corridor and easily the best martini bar in town. M offers a vast selection of specialty 'tinis and never skimps on the vodka or gin.
Bar Décor
Critic's choice: Vee Lounge, 500 Throckmorton St, FW
Vee Lounge is a disco, yes, but it's a really elegant, sexy one, with a multicolored dance floor, illuminated columns, and sumptuous furniture. The only thing prettier may be the regular clientele.
Jukebox
Critic's choice: Malone's Pub, 1303 Calhoun St, FW
This category is rife with contention. For one thing, most places these days have internet jukeboxes, pretty much rendering curated jukes obsolete. And the few places that still have curated jukes don't offer much if any local music, which is a crying shame, considering the mind-blowing wealth of awesome bands in North Texas. Thank goodness there's still Malone's box o' rock. Though small, it's loaded with lots of Fort Worth action, including Burning Hotels and a couple of Weekly compilation albums. True, the global indieverse is full of great tuneage –– but it's also lousy with crap and stuff you've heard a zillion times before. Why not replace the bad/overplayed with the homegrown? It's win-win.
Bar Games
Critic's choice: Barcadia, 816 Matisse St, FW
Barcadia is like a much more stylish, grown-up version of Chuck E. Cheese, keeping the skee-ball, Spy Hunter, and pitchers of beer while chunking the children and crappy pizza. Galaga, Asteroids, Donkey Kong Jr., and Street Fighter II Turbo are joined by pool tables, giant Jenga, giant Connect 4, air hockey, and even a Ted Nugent pinball machine, which makes a much more pleasing racket than the actual Sweaty Teddy. Best of all? Mondays and Tuesdays feature free play and sweet specials on beer.