Cheap Buzz
If you're griping about Mondays, stop by Baker Street Pub (6333 Camp Bowie Blvd, FW) to whine over $2.50 glasses of red and white house vino. On Tuesdays, lead your herd to Buffalo Bros. (3015 S University Dr, FW) for $2 domestics, $3 premiums, and $1.50 drafts of their finest PBR. Is there such a thing as cheap craft beer? The Live Oak Music Hall & Lounge (1311 Lipscomb St, FW) says yes on Wednesdays, when pints and half-pints of "everything left of Texas" are $3. Robert Smith might not care about Thursdays, but maybe that's because he hasn't been drowning his sorrows at Frankie's Sports Bar (425 W 3rd St, FW), where a bucket of five domestic longnecks is only $14. At the end of the work week, head to The Bottom (3468 Bluebonnet Cir, FW), where everything Crown and down is only $4.
Overall Drinking Establishment
Critic's choice: The Boiled Owl Tavern, 909 W Magnolia Av, Ste 8, FW
The main reason the Owl wins is its clientele. Artists, professionals, blue-collar types –– they're all regulars here, and they share a love of not-too-pricey booze and genuine bonhomie. And they have a grave distaste for dumbass college kids, meatheads, and druggies.
Happy Hour
Readers' choice: Blue Mesa Grill, 1600 S University Dr, FW
Critic's choice: VIP Lounge, 3237 White Settlement Rd, FW
Located on the edge of Monticello, this lovable watering hole isn't going to win any style points, but with some of the sweetest, friendliest, hardest-working bartenders in town; cheap drinks; and a cozy interior, the VIP –– or "V.I.P.'s" or "Vips" –– is perfect for drinking off the stink of a hard day at work.
Bartender
Readers' choice: Les Bennett, Zio Carlo Magnolia Brew Pub, 1001 W Magnolia Av, FW
Critic's choice: Dave Mayer, The Chat Room Pub, 1263 W Magnolia Av, FW
Dave "Tiki Dave" Mayer uses gourmet ingredients to turn classic cocktails into destination libations at The Usual, and he slings fast 'n' loose with the shot-and-a-Yellabelly crowd at The Chat Room Pub. One part Don the Beachcomber, two parts Mr. Boston, Tiki Dave is a bartender's bartender, matching cocktail knowledge with the wit and geniality that make you look forward to buying the next round.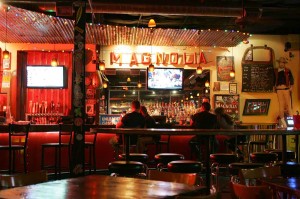 Bouncer
Readers' choice: James Jones, The Boiled Owl Tavern
Critic's choice: Andy Pickett, The Chat Room Pub
Pickett's imposing frame, wildly curling mane and beard, and penchant for camouflage clothing make him seem like someone you don't want to mess with. But the real reason you shouldn't mess with him is that he's a truly nice guy. Certainly, when the occasional customer gets a little too weird (or hammered) for the Chat's always-eclectic crowd, Andy knows what to do. But more than that, his mere presence encourages the clientele to mellow out and leave their dramas outside. He also plays piano on Sundays at the nearby Live Oak Music Hall & Lounge. How nice is that?
Cocktail Lounge
Readers' choice: The Usual, 1408 W Magnolia Av, FW
Critic's choice: Brownstone Kitchen + Bar, 840 Currie St, FW
The food is top-notch, sure, but this vibrant West 7th staple is also a classy, non-pretentious, and eminently affordable spot for a snazzy libation or two (or seven). Dallas quality without the Dallas 'tude? Must be Brownstone.
Pub
Readers' choice: Zio Carlo Magnolia Brew Pub
Critic's choice: Poag Mahone's Irish Pub, 700 Carroll St, FW
With a welcoming embrace of dark wood, comfy seating, and soft lighting, Poag's simply looks like a pub. And with its vast array of craft brews, games (especially darts and pool), and stellar bartending, Poag's isn't trying to be anything other than a pub –– and the best one, at that.
Bar Bar
Readers' choice: The Boiled Owl Tavern
Critic's choice: The Boiled Owl Tavern
Don't let its hip Near Southside location and the abundance of guys wearing band t-shirts fool you. The Owl is an everyman's watering hole, a friendly, not-too-expensive place where everyone (well, most everyone) knows your name.
Biker Bar
Readers' choice: Magnolia Motor Lounge, 3005 Morton St, FW
Critic's choice: Fuel, 2626 E Belknap St, FW
Come by Fuel at lunch, and you'll find a nice bar where you can grab a tasty burger and a cold beer. Come by a few hours later, and you can still get your daily requirement of red meat and malted hops, except you'll be elbow-to-tattooed-elbow with a bunch of bikers. Whether you wear a cut or not, or even get there on four wheels instead of two, Fuel is a haven for road kings of all stripes. Just be mindful of the row of Harleys lined up out front — they like you knocking back beers, but knocking over bikes is a huge no-no.